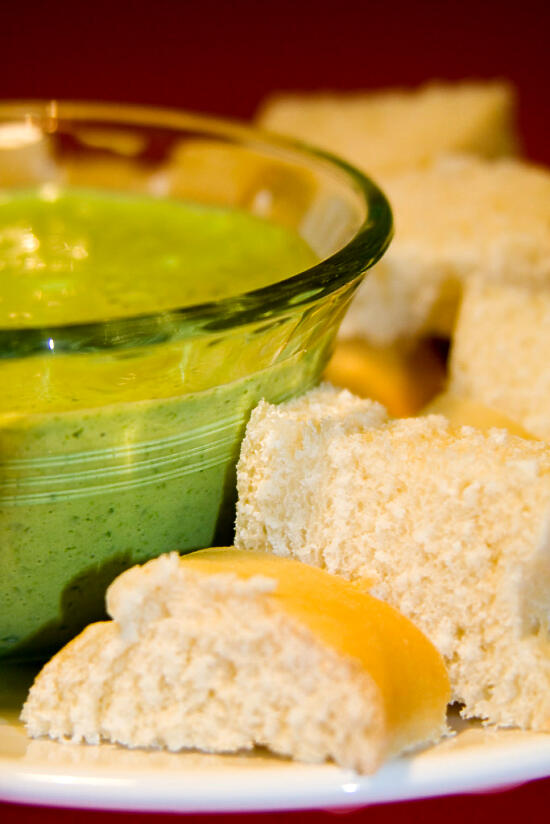 Memories.
I was turning three years old, and I had chicken pox. Since I was so highly contagious, my parents cancelled my birthday party with my friends from pre-school, so none of them would catch it from me. Instead, we had a party with all of my relatives, who had all had chicken pox already. My sister was only eight months old, not even walking yet. It would be several years before my brother was born. I recall very little from that birthday, except that there were a lot of big people standing around (What? I was tiny then) and there were many balloons floating by the ceiling. The only thing I remember about the food was a three tiered serving dish (this dish made appearances at many parties) with spinach dip in the bowl-shaped tier, and cubes of French bread on another tier.
Elementary school. Every year I would have a birthday party, and everyone loved mine. Perhaps I'm a bit biased, but I always thought my birthday parties were the most fun. I never had sleep overs, and I was never allowed to have a bounce house like many of my friends did. No… what made my parties so great were the treasure hunts. In the weeks before my party, my dad would make up different puzzle hints that we would have to solve in order to find the next clue. Each clue was accompanied with a box of silly little prizes – erasers, pencils, pieces of candy… and the team who finished the treasure hunt first would win a prize. We always had so much fun running around the house and the yard, trying to figure out each clue. For every birthday party, I would request spinach dip. Some of my friends would be a little hesitant about trying a green dip made out of spinach, but once I made them try it, they always loved it.
In 2006, I threw a graduation party for Son. He had just gotten his master's degree in computer science, and I wanted to throw him a party to celebrate. I spent the entire day cooking. I made won-tons, apple pie, deviled eggs, even a little sushi. (This was several months before I started Sushi Day, and my sushi-making skills were severely lacking.) But my favorite dish of the night was the spinach dip. Out of everyone who showed up, I probably ate the most spinach dip.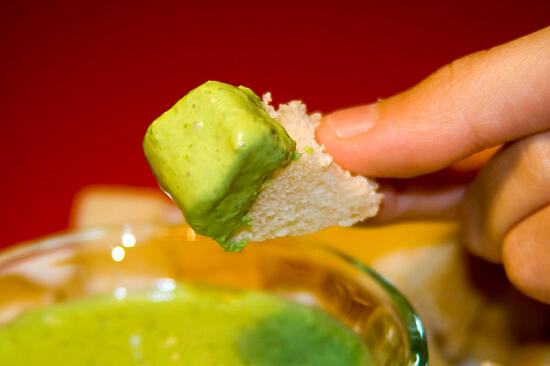 Every family has their one food (or two or three) that makes it to every party. For some it might be a pasta salad, for others it could be your grandma's cheesecake. For us, it's spinach dip. Since the beginnings of time, there has not been a party at my parents' house (and now at mine) that did not involve a dish of spinach dip, accompanied by cubes of French bread to dip in it.
Not only is the recipe ridiculously easy, it's also the best spinach dip I have ever tasted. Don't believe me? Just try it… you may not be able to stop yourself from eating the entire batch.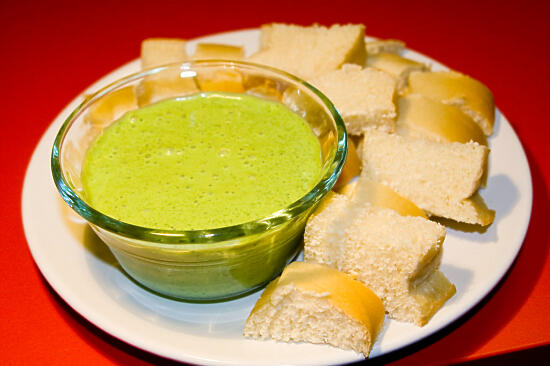 Ingredients
1 bunch of spinach
1 cup sour cream
1/2 cup mayonnaise
a dash of onion powder
a dash of garlic powder
French bread
Cooking Directions
Break the spinach leaves off of the stems, discard the stems and any bad looking leaves.
Wash the spinach very well.
Put the spinach, sour cream, and mayonnaise in a blender or food processor, blend until smooth. You might have to add the spinach in several batches, blending it in between, since an entire bunch of spinach takes a lot of room. When you add the spinach, try to mix it into the sour cream/mayonnaise or the already blended dip – this makes it so the spinach is heavier and will sink to the bottom where the blades are. Otherwise it takes forever to blend it all!
Chill the spinach dip. (You could eat it right away and it will still be good, but trust me, it is SO much better cold!)
When you are ready to eat the spinach dip, cut the French bread into cubes.
Generously dip the bread into the dip, and enjoy!