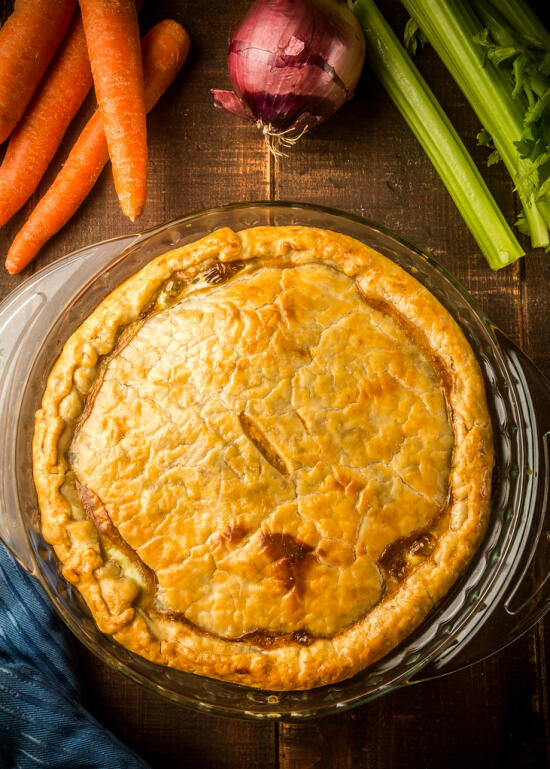 Happy Pi(e) Day!!!
As a unabashed math nerd, this is definitely my favorite food holiday.
Because really, who doesn't love an excuse to eat pie?!
And since pi(e) day falls oh so close to St. Patrick's Day, a Beef and Guinness Pie fits the holidays perfectly!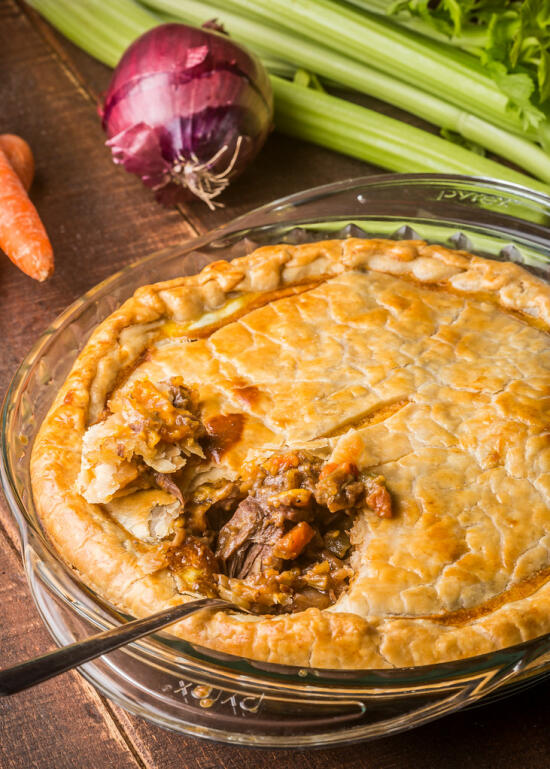 I had originally intended for this to be part of the Fridgg Top Ten series we were doing for about a month. It was so much fun to have an excuse to cook all sorts of recipes that I might not otherwise! But it took so much time… and there were a lot of things that I was "supposed" to make that just weren't things that would get eaten around here – like waaaay more desserts that a household of two can (or should!) reasonably consume.
You'll still see some of the recipes – there were quite a few things that got cooked and photographed for future Top Ten posts that will show up on Fridgg eventually. But this is the year where we're letting go of all the things that just don't work for us… and the Top Ten series just wasn't working.
But back to the pie! Definitely no regret about trying this recipe out. I made it during a period of cold and rain… so I can authoritatively tell you that it's perfect comfort food.
Confession… we didn't use the Guinness. We don't love the taste, don't typically have beer in the house, and let's be honest, I was just plain too damn lazy to go out and get some just for this recipe. So I replaced it with an equal amount of beef stock.
Don't do what I did. Holy mother of ducks, was it salty! If you don't want to use the Guinness, maybe replace it with a different beer, or use half beef stock and half water instead?
But despite the beef stock faux pas, this was still really, really tasty.
Whether you're celebrating Pi(e) Day or St. Patrick's Day… you should definitely try this!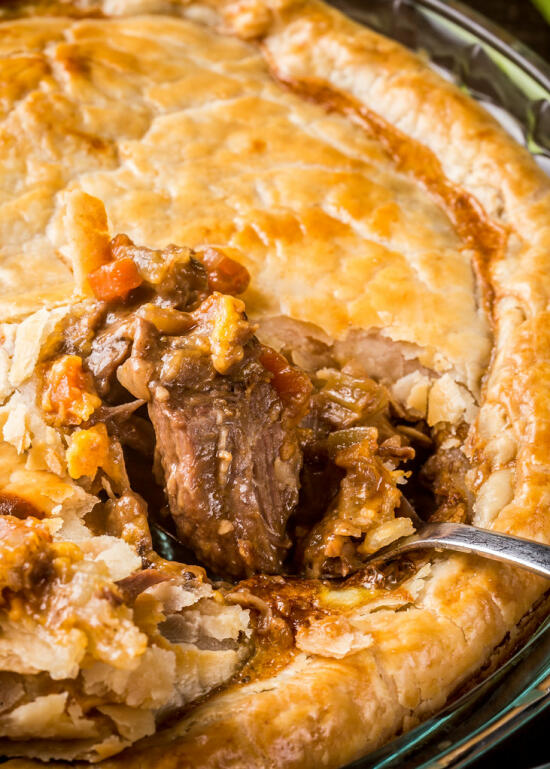 Beef and Guinness Pie
Recipe from Abbe's Cooking Antics.
Warning: if you're going to make this, read all the directions ahead of time! In total it will take at least 5 hours to make, although most of that time is hands-off so you can do something else at the same time.
Ingredients
1 tbsp olive oil
1 red onion, chopped
2 cloves garlic, crushed
2 medium carrots, peeled and chopped
2 sticks celery, chopped
4oz white mushrooms, sliced
1lb good quality stewing steak
1 tbsp fresh rosemary, chopped OR 1 tsp dried rosemary
pinch of salt
1/2 tsp pepper
1 heaping tbsp plain flour
9 fl oz Guinness (half a can)
4 fl oz beef stock
4oz cheddar cheese, grated
2 store-bought pie crusts, or your favorite recipe for a double crust
1 egg, beaten
Cooking Directions
Preheat the oven to 375°F.
Heat the olive oil in a large ovenproof saucepan on a low heat.
Add the onions and fry gently for about 10 minutes.
Turn the heat up, add the garlic, carrots, celery, mushrooms, beef, rosemary, salt, and pepper. Stir it all together gently.
Cook for 3 or 4 minutes, then stir in the flour and cook for a minute before pouring in the Guinness and beef stock.
Bring to a simmer, then cover the pan with a lid and place in the preheated oven for about 1 and half hours.
Remove the pan from the oven and give it a stir then put it back into the oven and continue to cook for another hour, or until the meat is very tender. Remove from the oven.
If at this stage your beef pie filling is still a bit wet, put it back on the stovetop and simmer gently to reduce the sauciness a bit. If it's too wet your pie base will turn to mush – too dry and you'll have no sauce in your pie.
When you're happy with the consistency, stir in half of the cheese, and remove from any heat.
Allow to cool for at least an hour (to prevent a soggy pie bottom).
Preheat the oven to 375°F.
Grease a pie dish with butter.
Dust a clean work surface with flour and roll out one half of your pie crusts to 1/8″ thick.
Line the base of your greased pie dish with the crust.
Roll out the remaining crust to the same thickness, large enough to form a lid.
Spoon the pie filling into your crust-lined pie dish.
Scatter the other half of the cheddar across the top of the pie filling.
Brush the beaten egg around the edges of the crust, then place the second pie crust on top.
Pinch the edges together to form a crust and trim to fit the pie dish.
Brush the top with beaten egg and make a small slit with a knife in the center of your pie crust, to allow steam to escape.
Bake the pie for 45 minutes, or until the pastry is cooked, puffed, and golden.