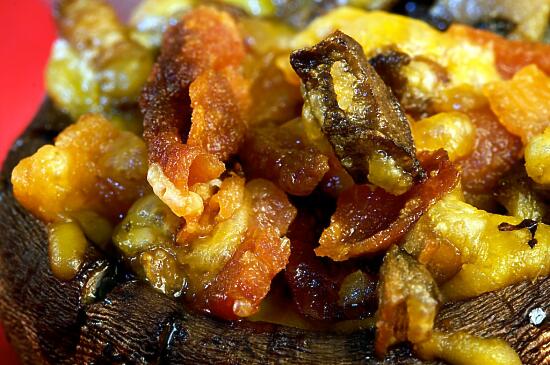 Just look at the crispy bacon and oozing cheese…
This year, for the first time ever, I didn't spend New Year's Eve with my family. Normally, we'll all be home together – eating deviled eggs, shrimp with cocktail sauce, spinach dip, these bacon and cheddar stuffed mushrooms, and washing it all down with sparkling cider while we watch Dick Clark's New Year's Rockin' Eve. However unlike myself, my two younger siblings are social butterflies, and they both had plans to go out and party for New Year's Eve. Since it would be considerably toned down at my parents' and we'd be celebrating New Year's with my family anyways, Son and I decided to stay home and celebrate by ourselves.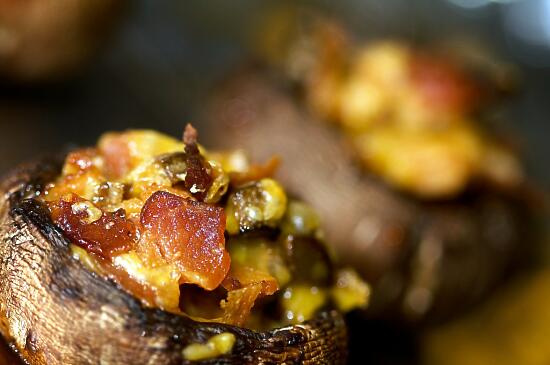 Still, even though it would just be the two of us, there are some traditions that I enjoy keeping alive. We stuck some sparkling cider in the fridge for our midnight toast, and of course I had to make my two most beloved appetizers: the spinach dip that my mom has made for birthdays and holidays for as long as I can remember, and these stuffed mushrooms that I found on AllRecipes that I've made for my family for the past several years. (And one other dish that I'll tell you about real soon!) Though quiet, I think Son would agree that this was one of the nicest New Year's Eves that we've ever had together, and also one of the most delicious.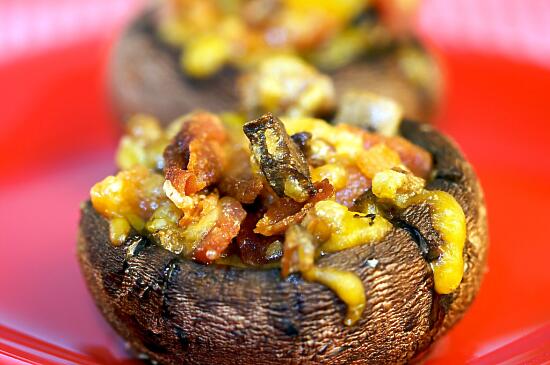 The perfect party appetizer.
Ingredients
3 slices bacon
8 crimini mushrooms
1 tbsp butter
1 tbsp chopped onion
3/4 c shredded Cheddar cheese
Cooking Directions
Place bacon in a large, deep skillet.
Cook the bacon over medium high heat until evenly brown.
Drain and dice the bacon, and set aside.
Preheat oven to 400° F.
Remove mushroom stems. Set aside caps.
Chop the stems of the mushrooms.
In a large saucepan over medium heat, melt the butter.
Slowly cook and stir the chopped stems and onion until the onion is soft. Remove from heat.
In a medium bowl, stir together the mushroom stem mixture, bacon and 1/2 cup Cheddar.
Mix well and scoop the mixture into the mushroom caps.
Bake in the preheated oven 15 minutes, or until the cheese has melted.
Remove the mushrooms from the oven, and sprinkle with the remaining cheese.