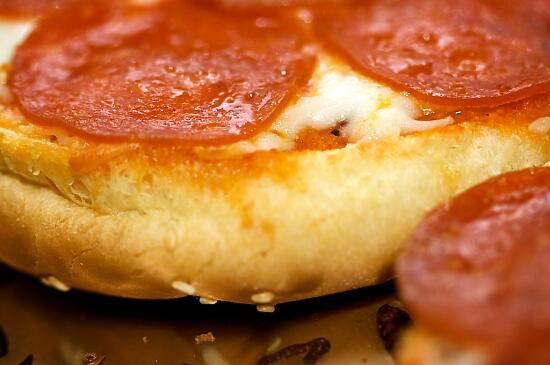 Mini hamburger bun pizzas…
Since Son and I decided to stay home for New Year's Eve, we had an itsy-bitsy party for just the two of us with spinach dip, stuffed mushrooms, and sparkling cider. Of course, as yummy as the appetizers were, we needed some real food to get us through the night. I suggested ordering a pizza since in our 3.5 years together we've never, ever ordered a pizza, but for some reason Son is incredibly opposed to having a pizza delivered. So along the same lines of having pizza (what? I was craving pizza) I suggested homemade pizzas using flour tortillas as the crust, like my family used to eat when I was younger.
But no, Son had a better idea. Apparently when he was younger, his dad used to also make mini homemade pizzas, using hamburger buns as the crust. We decided to go his way, and oh man, that wasn't a mistake at all.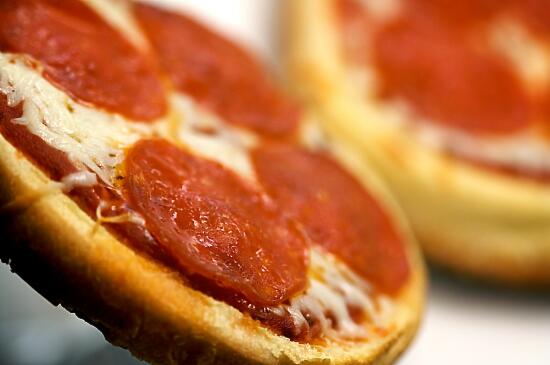 …great topped with pepperoni, mushrooms, and bacon.
Both ways have their benefits. The tortilla pizza is thin and crunchy, like a super thin-crust pizza. On the other hand, the hamburger bun pizza is thicker, crisp around the edges and softer in the middle. The bread adds a nice sweetness to the pizza, and it holds all the toppings without any sagging.
We've made these pizzas several times since New Year's Eve, and because we had a French bread roll left over from the spinach dip, we made a pizza with that. We found that these pizzas might actually be better with French bread, but of course it's all up to your own preferences.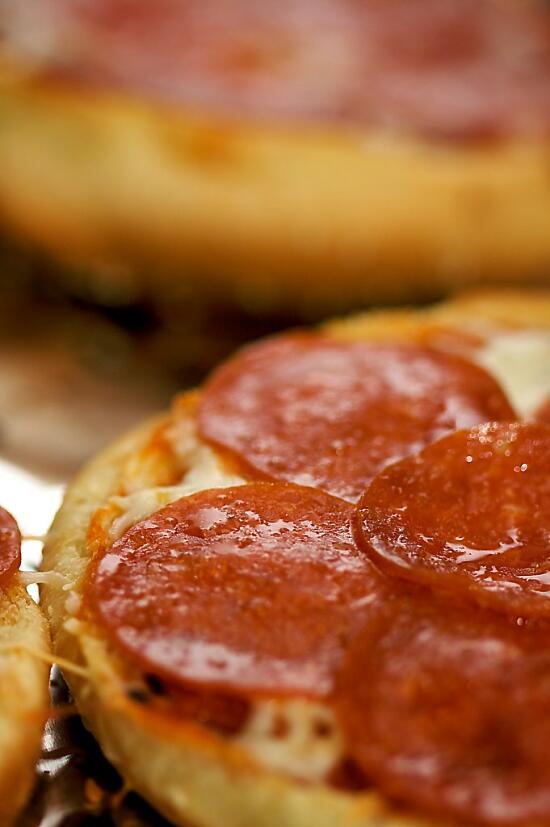 Quick, easy, and delicious!
Ingredients
4 hamburger buns
1 cup pizza sauce
4 cups shredded mozzarella cheese
pizza toppings (pepperoni, mushrooms, bacon, onion, etc.)
Cooking Directions
Preheat the oven to 400° F.
Split the hamburger buns apart and place flat side up on a baking sheet.
Spread each hamburger bun half with 1/8 cup of pizza sauce.
Sprinkle each hamburger bun half with 1/2 cup of cheese.
Top with pizza toppings of your choosing.
Bake 10-15 minutes, or until the cheese is melted and the toppings are beginning to brown.
Enjoy! Serves 4.