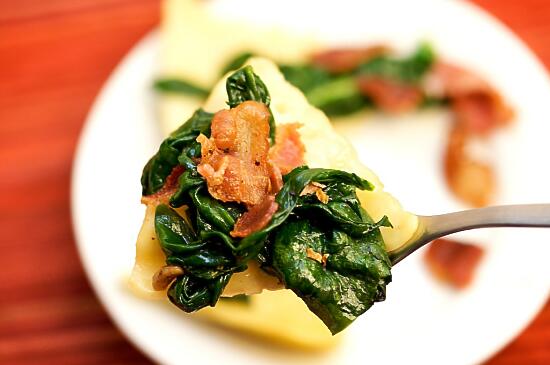 Ravioli with Spinach and Bacon
In the northern hemisphere, it's summer. Has been, for a while. But in Southern California, it has felt like spring up until a few days ago. Temperatures have been in the low 70s, which is just fine by me. Which is why, just days ago, a quick meal like this one that just happened to use the stove a little was a great dinner.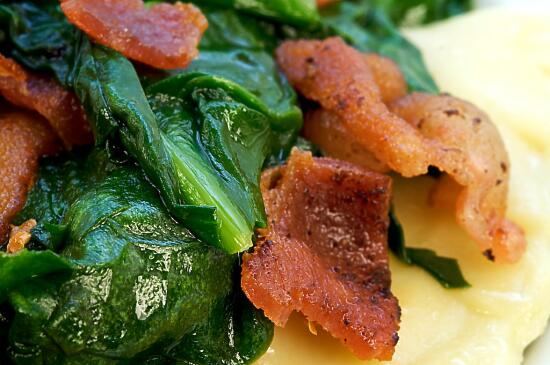 I couldn't get enough of that spinach.
But now, it's hot. Not inland, desert, burn-your-face-off-the-moment-you-step-outside hot. We are fairly close to the beach, after all. But in an upper-story apartment with no air conditioning and a downstairs neighbor who smokes 24/7 (meaning we can't open our windows), it's quite uncomfortably hot. Sweltering. Even despite the fans running all the time when we're in the room.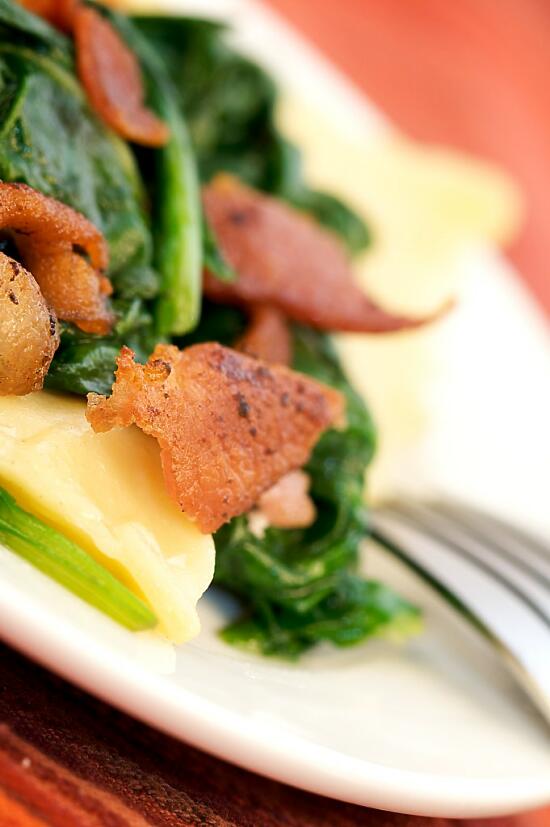 Who needs the ravioli? I'd eat the spinach all by itself.
So now, with the heat, it wouldn't be so comfortable to make this dish like it was just days ago when I made it. But even so… I would. Oh man. That spinach… that spinach! Screw the ravioli (which wasn't all that great anyways – I used chicken and mozzarella ravioli… meh), I could eat that spinach by the bunch, all by itself. Even the bacon… a nice extra, but not entirely necessary. And if you know me at all – lover of all things bacon, not so much a friend of anything vegetable-like – you'll know that says a lot.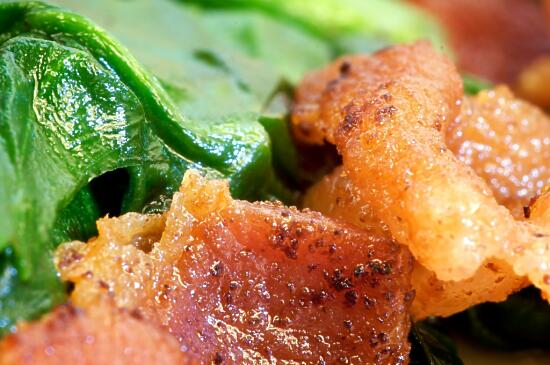 Had to get that money shot of the bacon.
I got this recipe from the May 2009 issue of the Real Simple magazine. I did make a couple of changes, which are reflected in the following recipe.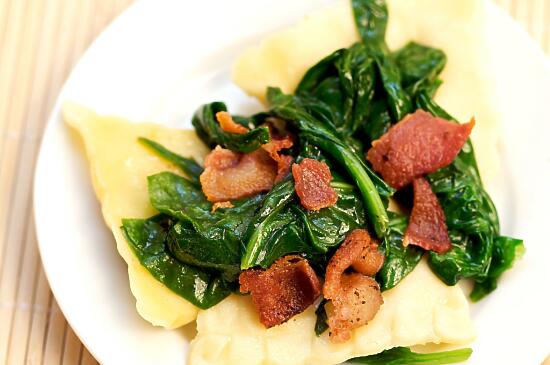 Just sitting there, waiting for someone to eat it.
Ingredients
1 lb ravioli
6 slices bacon
2 cloves garlic, sliced (you can use more, if you like garlic. We do.)
2 bunches of spinach, stems removed
Cooking Directions
Cook the ravioli according to package directions. Drain and divide among bowls.
Meanwhile, cook the bacon in a skillet over medium-high heat until crisp, about 6 to 8 minutes; transfer to a paper towel-lined plate. Crumble.
Drain all but about 2 tbsp of the bacon grease. Add the garlic and cook, stirring occasionally, until golden, about 1 to 2 minutes. Add the spinach. Cook, tossing, until just wilted, about 1 to 2 minutes.
Stir the bacon into the spinach. Spoon the mixture over the ravioli.