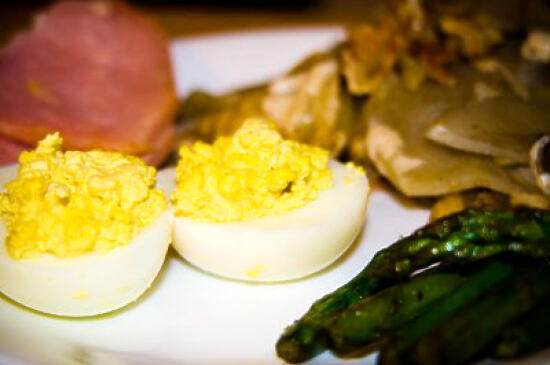 Deviled eggs are a tradition for my family. Nearly as much as spinach dip, deviled eggs find their way to every family function I go to. Up until just over three years ago, I had never met someone who had never heard of deviled eggs.
That all changed when Son and I started dating. He had grown up in Vietnam, so many of the foods that we assume to be common in the United States were unfamiliar to him. His first encounter with deviled eggs was on the Fourth of July in 2005. We had invited him to join our family barbecue, and set off fireworks afterward. (In our city, it is legal to set off fireworks.) We had our usual barbecue fare – spinach dip, beef teriyaki, hamburgers, potato salad… and deviled eggs.
One bite and Son was in love. (Should I be jealous? Maybe…) In fact, he adores deviled eggs so much that my mom will sometimes make deviled eggs just for him. (Every woman likes a man who loves her cooking.) Every time we have them at a party, he's the first person we tell.
And what's not to love? (Ignoring the lack of health benefits, of course.) Deviled eggs are perfectly-sized, creamy, and slightly salty finger food – the perfect party appetizer. I haven't yet found a person who doesn't love them, and it's a recipe that is very easy to scale up to feed many. Sure, they may be slightly high in fat and cholesterol, but who goes to a party expecting to eat healthy food? I certainly don't.
I think you'll love this recipe that my mom uses from a cookbook called "Picnics & Tailgate Parties".
Ingredients
6 hard boiled eggs
3 tbsp mayonnaise
1 tsp dijon mustard
salt and pepper
Cooking Directions
Peel the eggs.
Slice each egg in half lengthwise.
Carefully remove egg yolks into a bowl; set egg whites aside.
Mash egg yolks with mayonnaise, dijon mustard, and salt and pepper.
Evenly fill egg whites with yolk mixture.
Refrigerate until ready to eat.