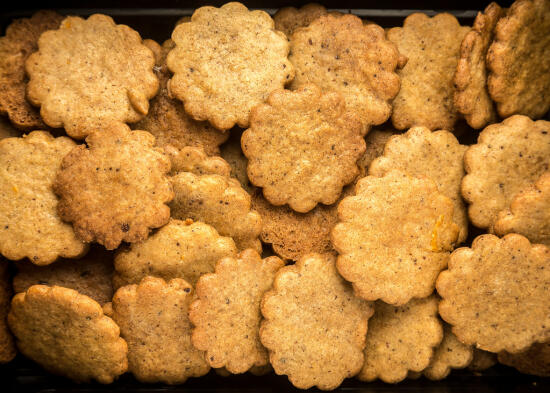 "Peppahkaka!" my aunt exclaimed, when we showed up with these cookies.
"Peppahkaka!" my uncle gave me two thumbs up, when he arrived two hours later.
~~~~~
When, while cleaning out a house that has been well-lived in (and accumulating boxes) for multiple decades, you open a box and find a hand-written recipe in your grandmother's writing… of course you need to find an opportunity to make it.
Half a year later, this recipe was first in line on my holiday baking list. I gathered the ingredients, softened the butter (which is surprisingly difficult in a house that tends to stay colder than 60°F all winter), and started mixing.
It's funny how strong scent memories can be. Based on the name, I hadn't had any recollection of ever eating these cookies. But as I stuck my hands in the bowl, kneading the stiff cookie dough together, the scent wafting up brought me back to my childhood.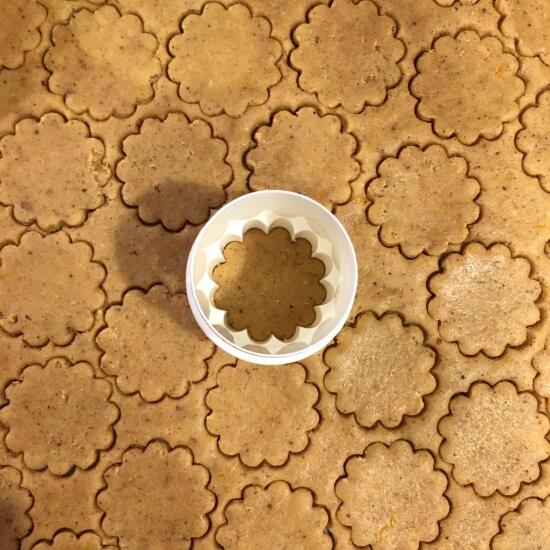 The best feeling ever is when someone goes back for seconds (and thirds!) of something I've cooked or baked. (And, not to worry – I've had plenty of failures over the years, which make the successes that much sweeter!)
Over the course of the last two days, my aunts, uncle, and both grandparents have been sneaking cookies left and right! They've told me that these taste just like how Grandma used to make them. A Christmas success!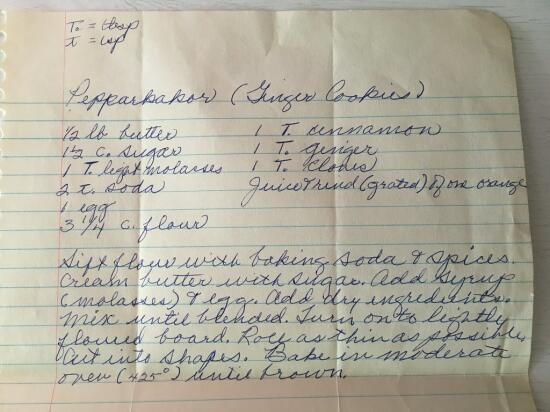 Pepparkakor (Swedish Ginger Cookies)
Makes ~25 dozen small (1″) cookies, or fewer larger cookies
Ingredients
3 1/4 cups all-purpose flour
2 tsp baking soda
1 tbsp ground cinnamon
1 tbsp ground ginger
1 tbsp ground cloves
1/2 lb unsalted butter
1 1/2 cups granulated sugar
1 tbsp light molasses
1 large egg
juice and zest of one orange
Cooking Directions
Preheat the oven to 425°F.
Sift the flour with the baking soda and spices.
Cream the butter with the sugar. Mix in the molasses and egg. Add dry ingredients, then mix until blended. (You may need to use a stand mixer with a paddle attachment, or if you're like me, just use your hands.)
Turn onto lightly floured board (or sandwich between two sheets of parchment paper). Roll as thin as possible, then use cookie cutters to cut into shapes.
Bake 7 – 10 minutes, or until slightly browned around the edges.
Enjoy!