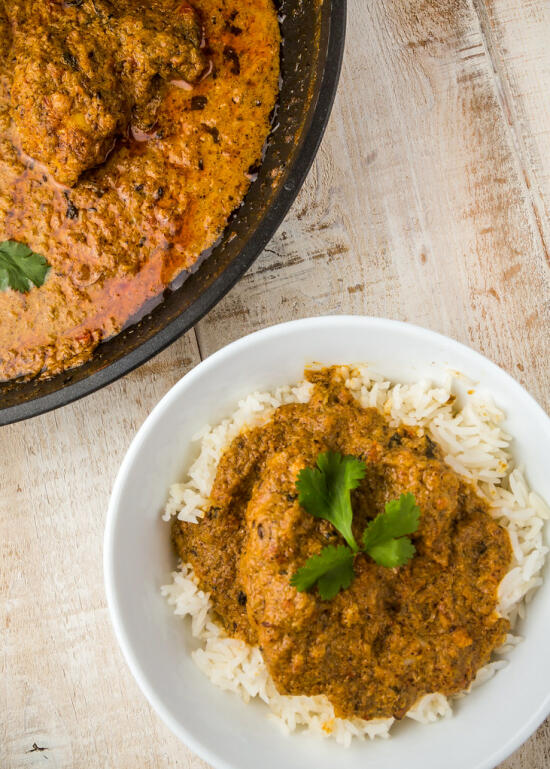 If you follow the Fridgg blog, you've probably noticed the top ten posts that I've started doing every week, to feature our Fridgg users and the recipes they've contributed.
It's been a ton of fun cooking the recipe that comes in at the number one spot every week. I love the excuse to cook all sorts of things I may not have had a good enough reason to cook otherwise (ahem, like yesterday's amazing raspberry chocolate mousse cake!), and it's an awesome opportunity to highlight all the fantastic photos and recipes our users have uploaded over the last few years.
Next week's top recipe is a fun Valentine's Day treat, which happens to involve butter chicken. The original recipe calls for a jarred butter chicken sauce, which, in the spirit of ease as well as keeping true to the original recipe, I ordered from Amazon.
… and then I received a bubble-wrapped package of broken glass and sauce that smelled more like Spaghetti-Os than butter chicken. (Thank goodness for Amazon's amazing refund policy!)
So in the spirit of trying out Fridgg's top recipes, I figured, why not try making our most popular butter chicken recipe from scratch instead?
After a quick search, I found that our top butter chicken recipe is this one, from Pepper Garlic Kitchen. Looks tasty, and as authentic as can be!
Don't let the long list of ingredients scare you. Most of them are fairly common or can be easily bought online, and the recipe itself is easy enough to make.
And it's ever so delicious – much better than instant sauce that tastes like Spaghetti-Os, I'm sure.
Plus, Wednesday's recipe won't use the entire batch of butter chicken – so you get two meals in one!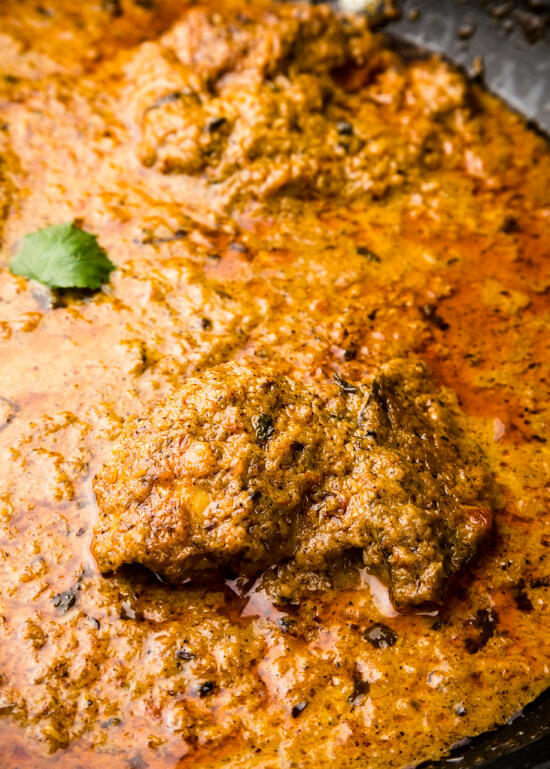 Butter Chicken
Recipe from Pepper Garlic Kitchen.
Ingredients
To marinate chicken:
1 lb chicken
1/4 cup yogurt
1/4 tbsp ground ginger
1/4 tbsp garlic powder
1 tbsp paprika
1 tsp garam masala powder
Sauce:
1 tbsp vegetable oil
1/4 cup butter, divided
1 tsp cumin seeds
1 dried bay leaf
1 inch cinnamon stick
1 medium onion
1/2 inch ginger
5-6 garlic cloves
2 green chiles
1 tsp whole black peppercorns
1 medium tomato
1/2 tsp ground turmeric
1 tsp ground coriander
1 tsp red chili powder
1 tsp garam masala powder
1 1/2 tsp dried fenugreek/methi leaves
1/2 cup heavy cream, divided
salt to taste
cilantro for garnish
Cooking Directions
In a large bowl or ziploc bag, mix the yogurt, ground ginger, garlic powder, paprika, and 1 tsp garam masala powder with the chicken.
Marinate the chicken in the refrigerator for at least 30 minutes.
In the meantime, heat the vegetable oil in a heavy bottom pan over medium-low heat. When oil is hot, melt half of the butter into it.
Add cumin seeds, bay leaf, and cinnamon stick to the oil.
Coarsly cut up the onion, then puree in a food processor until it forms a paste.
When seeds start to splutter, add the onion paste and cook until golden.
Puree the ginger, garlic, green chiles, and peppercorns in the food processor.
Add the ginger paste to the pan. Let it cook for a couple of minutes.
Puree the tomato in the food processor.
When mixture in the pan starts bubbling, add the pureed tomato.
In a bowl, mix the ground turmeric, ground coriander, red chili powder, and remaining garam masala powder. Add just enough water to make a paste. Transfer it to the pan, and cook while stirring occasionally.
When the mixture starts to release oil, add the marinated chicken. Stir it well so that all chicken is coated with the sauce.
Add 1/4 cup of the cream, the fenugreek leaves, and salt. Let it simmer for around 10-15 minutes. Stir occasionally to keep the chicken from sticking to the pan.
Cover with a lid and let cook until the chicken is cooked thorugh. Add the remaining cream and butter.
Stir well, so everything is combined.
Garnish with garam masala, fenugreek leaves, and/or cilantro leaves. Serve with naan or rice.
Enjoy!