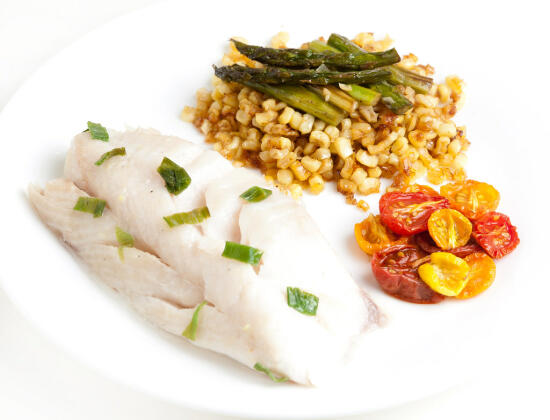 If you read the interview with the guys from I Love Blue Sea that I posted on Sushi Day a few days ago, you'll recall that I snuck off with a top-secret black cod recipe…
Okay, so they willingly gave me the recipe. But still. T'was top secret before I got my hands on it. Really. (At least, that's what I tell myself… 😉 )
(And if you haven't read the interview… well, why not? It's good stuff. Don't worry, we'll wait right here while you go read it…)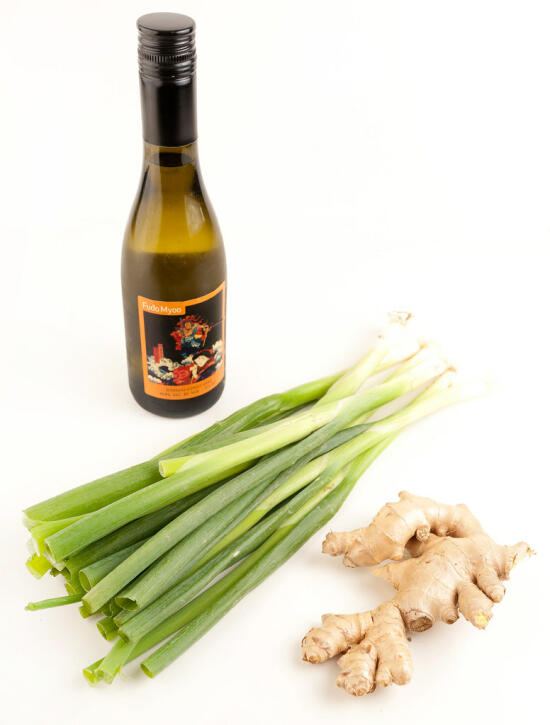 Ingredients for the Sake-Steamed Black Cod
Son and I have recently become huge fans of black cod. We probably eat it at least once a week. So of course there was no question that we had to try this 'top-secret' recipe.
Top-secret means it's got to be amazing, right?
Yes.
It looks so simple and innocent. Doesn't seem like anything all that special, from looking at the ingredients. (Kind of like a good top-secret spy should look, right?) I mean, sake, ginger, green onion, salt… there's nothing fancy about that, right?
Then it comes out of the oven, and you unwrap the foil… and an amazing scent ninja-kicks you in the face and makes your knees go weak. It totally sneaks up on you. You never saw it coming… never had a chance.
The buttery flesh practically falls apart at the merest touch of your fork. It has the essence of sake and a hint of ginger, without the bitterness of spirits or the harsh bite of the medicinal root.
No exaggeration… I would consider this to be the best cooked fish I have ever had. And probably one of the best things I have ever personally cooked.
You have to make this. It's amazingly good… and ridiculously easy. Really there's no excuse not to.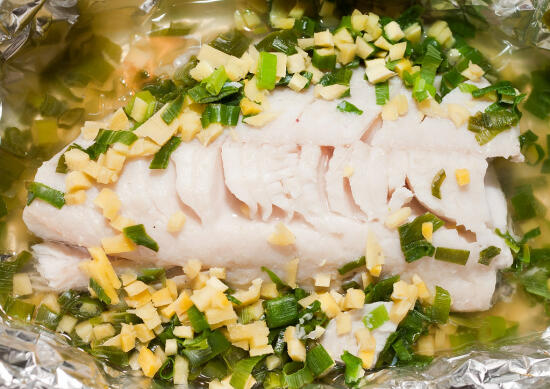 The black cod, straight out of the oven
I estimated all the amounts, so you can add more or less to your tastes. A 1 lb fillet was enough for Son and I, with enough leftovers for an additional meal, so plan accordingly.
And if you're wondering about the sides – the roasted cherry tomatoes and pan-fried asparagus and corn, not to worry! Those recipes will be posted soon.
Ingredients
1 lb black cod
kosher salt
4″ fresh ginger, peeled and diced into small cubes
6 stalks green onion, chopped
about 1 cup sake
Cooking Directions
Rub the fillet with salt. Wrap it in plastic, and refrigerate for a couple of hours.
Preheat the oven to 350°F.
Rinse under cold water, then place on a sheet of foil large enough to seal around the fish.
Douse with the sake, then top with the ginger and green onion.
Wrap the black cod loosely in foil, leaving a little airspace, and seal tightly so the sake won't spill out.
Bake for about 30 minutes. Actual baking time will depend on the size and thickness of your fish, so check to see if it will flake easily with a fork and bake longer if needed. It should flake very easily when done.
Enjoy! Serve with rice and kimchi, or with pan-fried vegetables like I did.