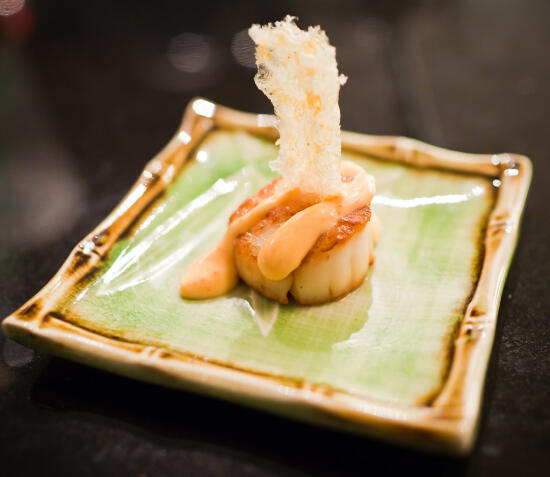 Seared Scallop with Spicy Mayo & Chicharrones
After my interview with the men of I Love Blue Sea, they sent us home with a gift of some beautiful black cod and scallops, which we cooked for my relatives that we were staying with that evening. With the black cod we made sashimi (very good!), faux-nagi, and miso black cod (recipe to come soon!). With the scallops we made Hajime's Hotate, sashimi, and these delicious seared scallops.
Since I had wanted to stop by Boccalone in the Ferry Building to get prosciutto for the Hajime's Hotate, I also stopped by the 4505 Meats booth at the farmer's market (they're there Thursdays and Saturdays) to pick up a few bags of their chicharrones, because I heard they're to die for. (They are! Consider me addicted, now.)
After lunch at Tataki, Son and I got to thinking on the way back.
"You know what would be really good?" He paused for a long moment, keeping me in an impatient suspense while he thought about it. "What if… you know how they have bacon-wrapped scallops?"
I nodded, not sure where he was going with that.
"Well, what if we did chicharrones instead?"
"Yeah…" A slow smile grew on my face, as I saw what he was getting at. "That might be good…"
"With lemon juice," he insisted.
"And something else…" I thought for a moment. "What if we put spicy mayonnaise on it, too? Add a little spice, to go with the spice in the chicharrones, a little creaminess…"
"Yes!" Son exclaimed. "This is going on the menu at my restaurant."
(He has a hypothetical someday restaurant… anytime we come up with a particularly delicious recipe, it goes on the list of random things that will be on the menu if he ever opens a restaurant. Do any of you do that too? ;))
When we made this later that day, it was a hit. Delicious.
It's definitely going on the menu.
Ingredients
scallops
clarified butter
mayonnaise
sriracha sauce
lemon juice
chicharrones (preferably from 4505 Meats)
Cooking Directions
Pat the scallops dry between two paper towels.
Heat the butter in a pan until it is almost smoking.
Sear the scallops on one side without moving around for a couple of minutes, until caramelized on the bottom. Flip and cook for a minute longer, before removing to a plate.
Mix the mayonnaise and sriracha sauce.
Top each scallop with a drizzle of spicy mayonnaise, a squirt of lemon juice, and a chicharron.
Enjoy!