I was the pickiest of children, growing up. There were only a few vegetables that I'd tolerate, and only under very specific circumstances:
steamed broccoli liberally dipped in a mixture of mayonnaise and shoyu (which is far better than it sounds, and still my favorite way to eat steamed vegetables)
corn on the cob with butter and salt (with those little yellow corn holders, of course)
steamed artichokes, with plenty of butter to dip it in
potatoes. In any form. Obviously.
I was not a fan of cauliflower, hated steamed carrots, and frozen peas were my arch nemesis. Don't even get me started on all those weird, exotic vegetables like eggplant (heh), asparagus, or brussels sprouts. And tomatoes? Totally gross.
I'd like to say this all changed when I grew up and became a bit more mature in my tastes, but what really happened was that I discovered the joys of roasting.
Pretty much any vegetable will taste great if you toss them with a little salt and olive oil, roast them until they show their sweet side, and then stand in the kitchen eating them with your fingers straight from the hot baking sheet.
Not that I do that.
Nope, definitely not.
(Although if I did, I could tell you that that is when roasted vegetables are at their best – straight from the oven, when they're nearly so hot they burn your fingers, and nice and crispy and caramelized.)
Should you roast asparagus? Do it.
Brussels sprouts? Totally.
Carrots and radishes, and then toss them in a yummy dill butter? Obviously, do you even have to ask?!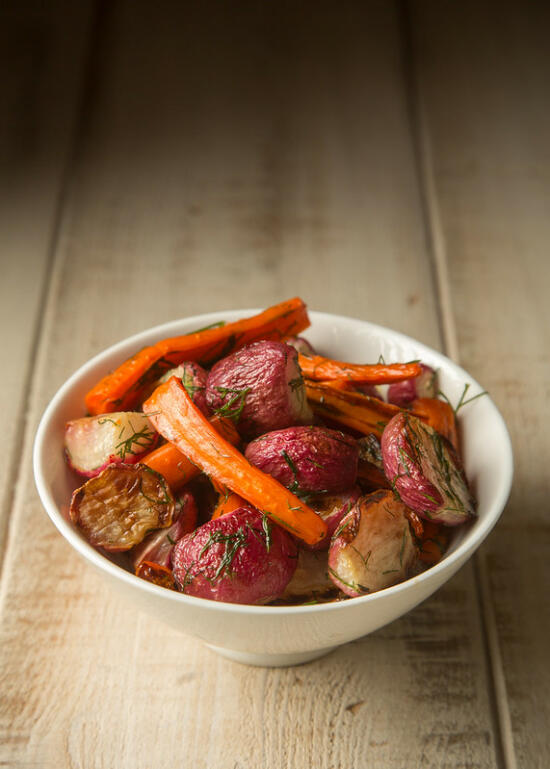 Recipe originally from Sweet Peas and Saffron, although I can no longer find the recipe on her blog.
Ingredients
1 bunch of radishes, trimmed and sliced in half
1 bunch of carrots, trimmed and sliced in half lengthwise
1 tbsp olive oil
1 tbsp butter
1 tbsp minced fresh dill
salt and pepper, to taste
Cooking Directions
Preheat oven to 400°F. Toss prepared carrots and radishes in olive oil, then arrange on a rimmed baking sheet lined with parchment paper. Roast for 20 minutes, then toss and roast for an additional 20-30 minutes, or until vegetables are tender.
Melt butter, then stir in minced dill. Toss the roasted carrots and radishes in butter, then season with salt and pepper to taste. Serve immediately.
Enjoy!