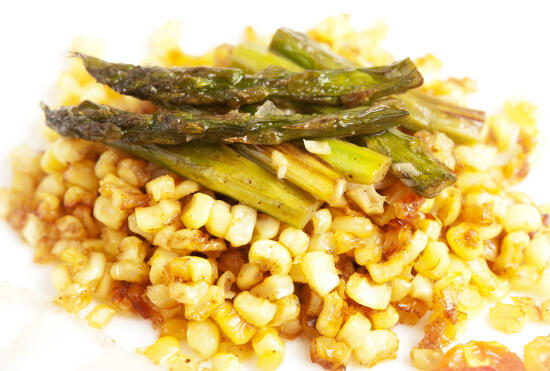 Pan-Fried Corn and Asparagus
BUTTER.
I do love it so.
Especially when browned and used to fry my favorite types of vegetables and ohmygoodness yum.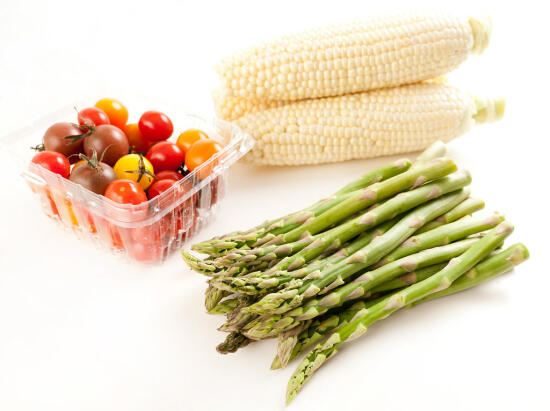 And Momofuku? My Dad got me the cookbook for my birthday. As I read through the book, every page or so you'd hear, "Ohmygosh, they have a recipe for [insert something I've always wanted to learn how to make here]!!!"
I was beyond excited. So when Son came home with some fish for me to cook for dinner (I made it with a miso marinade that I'll be posting soon), I knew I just had to make this recipe for asparagus from the book.
Which I did. And we ate it all up. And then I made it again, to eat with the sake-steamed black cod that I made, except this time I tweaked the recipe just the tiniest bit to add corn, and didn't make the miso butter (or use the poached egg) that the recipe from the book included.
Believe me. You want to make this. You WILL make this. *jedi hand-wave*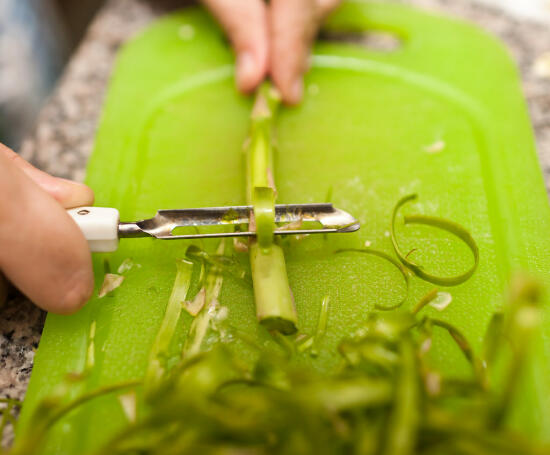 Tip: In the book, the recipe says to peel off the outer layer from the bottom couple of inches of asparagus. But I'm lazy. And I'd never done this before for asparagus, so I figured it was one of those little things that you could probably just skip.
Don't do what I did. Don't skip that step.
The bottom half of each stalk of asparagus ended up stringy, and I actually had to spit it out a couple of times because I just couldn't chew it up. I know. Ew. So take the extra time to peel it – the asparagus will be infinitely better than if you don't. And it really doesn't take all that long anyways. Trust me on this one.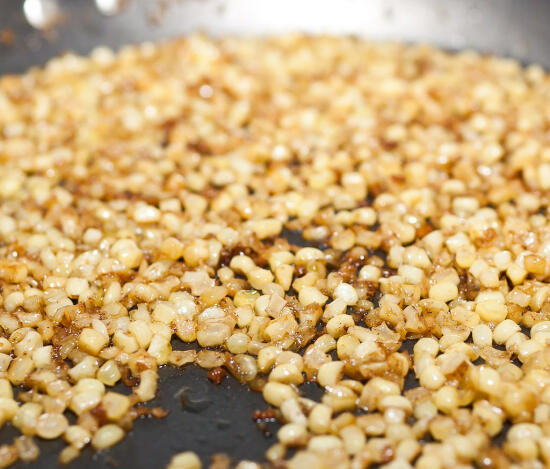 Adapted from Momofuku, by David Chang and Peter Meehan.
Ingredients
1 bunch asparagus
3 cobs of corn
1/2 stick (4 tbsp) unsalted butter
salt
Cooking Directions
Wash the asparagus, trim off the bottom 1-2 inches of each stalk.
Peel the skin off the lower 2-3 inches of each stalk of asparagus.
Using a sharp knife or a corn shaver, carefully shave the kernels off the three cobs of corn.
Melt the butter in a large, flat pan.
Add the asparagus to the butter, allowing all pieces to lay flat on the pan. Don't crowd the asparagus – if they don't all fit, do it in batches.
Let fry without moving them for a few minutes, or until they begin to brown on the bottom. Salt the asparagus, then flip and brown the other side.
Once the second side has browned, remove the asparagus from the pan and add the corn kernels.
Fry, stirring, until the corn begin to look transluscent and a beautiful golden-brown.
If you'd like, you can chop the asparagus into thirds.
Enjoy!