I'm no chef. Heck, I'm not even that great of a home cook. Most of the things I make (aside from sushi) are from cookbooks or other blogs or recipe sites… it isn't often that I come up with a recipe all on my own.
But sometimes, a recipe idea will just walk up and kick you in the face and force you to run with it. Even if you have no idea whether it will work out or not.
That's what happened here.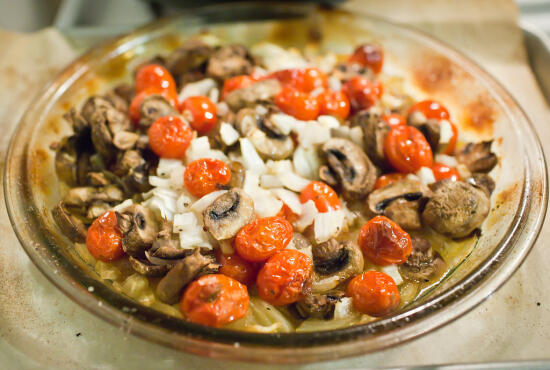 Roasting the vegetables in the oven
I was at my dad's, working on my garden in his backyard, and we were barbecuing for dinner. We had decided to make vegetable skewers – onion, grape tomatoes, mushrooms…
One taste of those grilled grape tomatoes and I knew I had to try them in spaghetti.
So I went home, tossed some grape tomatoes, chopped onions, mushrooms, and some garlic with some olive oil and stuck it in the oven.
And voila! The perfect, fresh, flavorful spaghetti sauce. The roasted grape tomatoes burst when you press your fork down on them. Add some spaghetti noodles and some garlic bread, and you've got a perfect summer meal.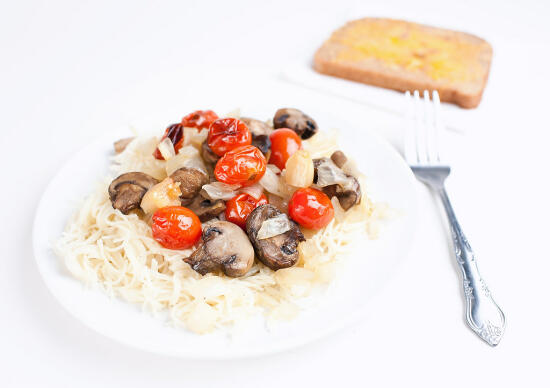 Roasted vegetable spaghetti!
Ingredients
1 cup grape tomatoes
1 medium onion, chopped
1 cup sliced mushrooms
4 cloves – 1 head garlic (depending on how much you like garlic
2 tbsp olive oil
dash of salt and pepper
spaghetti noodles, cooked
Cooking Directions
Preheat the oven to 350° F.
Toss the grape tomatoes, onion, mushrooms, and garlic with the olive oil, salt, and pepper.
Roast for half an hour.
Top spaghetti with roasted vegetables. Enjoy!