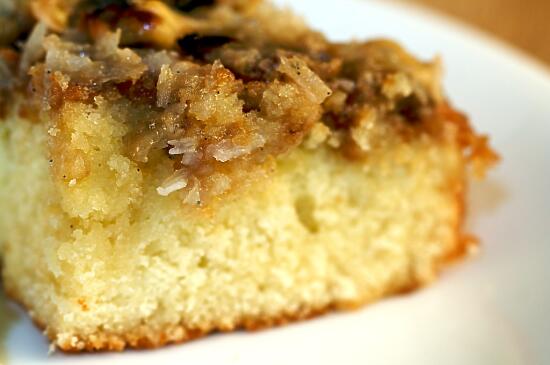 Recently, my dad celebrated his birthday. These days, since I've discovered a love for cooking and baking, it only makes sense for me to bake something every time a family member or close friend has a birthday.
As long as I can remember (and probably since before I was born), my dad's favorite cake has been this Hot Milk Cake. Known as such because, you guessed it, it uses hot milk as one of the main ingredients. It's a slightly dense, moist cake, with a delicious caramelized frosting. Although it is fantastic fresh out of the oven, it's even better if you let it sit for a few hours and allow the cake to soak up some of the frosting.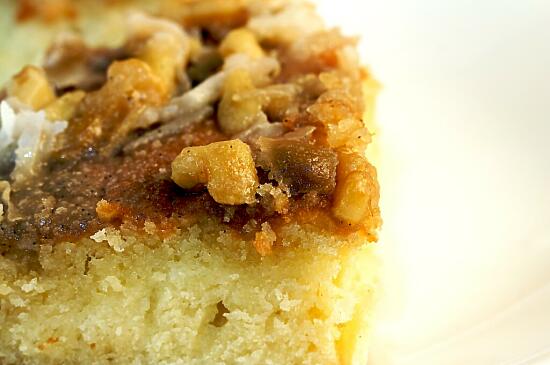 Ingredients
2 eggs
1 c granulated sugar
1 c all-purpose flour
1/8 tsp salt
1 tsp baking powder
1/2 c milk
1 tbsp unsalted butter
6 tbsp unsalted butter, melted
2/3 c brown sugar
1/4 c heavy whipping cream
1/2 c unsweetened, shredded coconut
1/2 c walnuts, chopped
1/2 tsp vanilla extract
Cooking Directions
Preheat the oven to 350° F.
Line an 8″ square cake pan with parchment paper.
Beat eggs until light and thick.
Slowly add sugar.
Beat with a spoon for 5 minutes, or 2 1/2 minutes with an electric mixer.
Sift the flour, salt, and baking powder together, then fold into the egg and sugar mixture all at once.
Heat the milk in a saucepan until it is hot but not boiling.
Melt 1 tbsp of butter into the hot milk.
Add all at once to mixture. The folding in of dry ingredients and adding milk should take only 1 minute.
Pour the cake batter into the prepared pan.
Bake for 30 minutes.
To make the frosting, combine 6 tbsp of melted butter, brown sugar, cream, coconuts, walnuts, and vanilla extract.
Spread the frosting over the warm cake.
Brown the top of the frosted cake lightly in a broiler.
Enjoy!