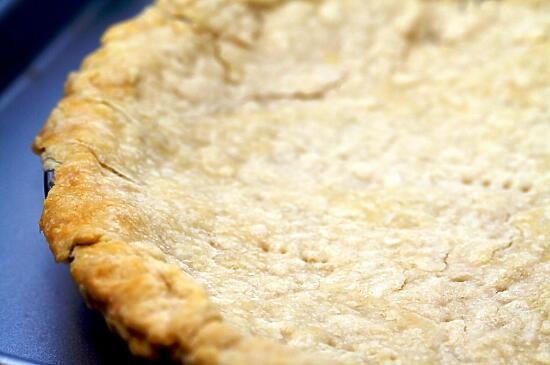 Late yesterday afternoon, I realized that today is Pi Day. Today's 3/14… pi is 3.14… yeah. So, nerd that I am, of course I just had to make pie for today. Thankfully, the pie crust recipe I use is easy as can be – only three ingredients, super quick to make, and so yummy that I've often asked my mom to make an extra crust, just so I can eat it by itself.
Of course, this is my maternal grandmother's recipe. Because obviously, Grandma's recipes are always the best.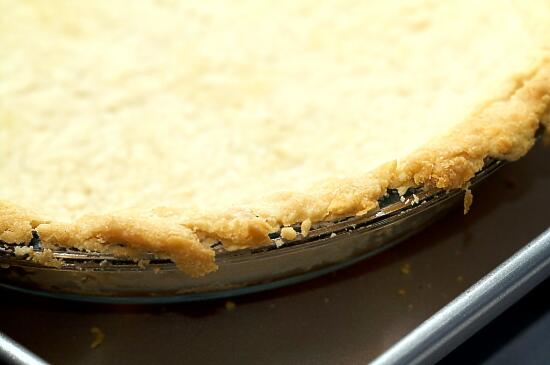 Ingredients
1 1/3 cups all-purpose flour
1/2 cup shortening
1/4 tsp salt
2 tbsp water
Cooking Directions
Preheat the oven to 400° F.
Using a pastry cutter, food processor, or two knives, cut the flour, shortening, and salt together until you get a well-blended, crumbly mixture.
Add the water.
Knead into a ball of dough, adding a little more water if needed to hold the dough together.
Turn out onto a sheet of waxed paper, then cover the dough with another sheet of waxed paper.
Roll the dough out into a large, flat circle, a few inches wider than the circumference of your pie plate.
Transfer the dough to your pie plate, making sure it's snug against the bottom and sides of the pie plate.
Crimp the dough around the edges of the pie plate.
Using a fork, poke holes around the bottom of the pie crust, so it doesn't poof up during baking.
Bake for 15 minutes, or until it is slightly golden brown around the edges.