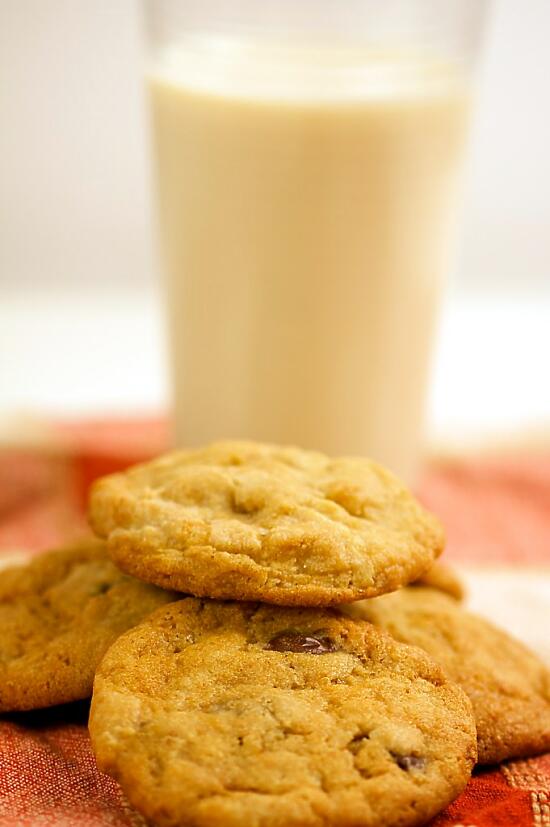 Chocolate Chip Cookies, with a big glass of milk
Over the summer, there was a big hullabaloo about chocolate chip cookies. EVERYONE was making these cookies. Though I'm certainly not the biggest chocolate chip cookie fan out there, I thought I'd try my hand at them as well.
Of course, there are always setbacks. I couldn't find cake flour at my normal grocery store, and didn't have the time to try Whole Foods. I forgot about these cookies for a while, and it wasn't until Deb of Smitten Kitchen posted about them that I remembered how much I wanted to make them. Finally I found me some cake flour at Whole Foods, and got around to making them!
Yum. And now, something odd about me. All my life, my favorite way to eat chocolate chip cookies was without the chocolate chips. I used to always eat around them, then eat all the chocolate chips together at the end. Because of this, my mom would always make two or three plain cookies just for me. Of course, I had to make at least one plain cookie for myself, and… oh man. That was good. Caramelized sugar, crunchy around the outside, soft in the inside, and chewy in-between. Definitely preferred to the Nestle Toll House chocolate chip cookies I grew up on (though those are still enjoyable!) As always, the cookies are at their best enjoyed fresh out of the oven, with a tall glass of cold milk. Mmmmmm.
So are they worth all the extra work? Well, all the different flours… maybe not. The salt on top… well, I forget it nearly every time, so until I actually remember to put it on, I can't really tell you if it's worth it. But the 24-36 hour refrigeration, YES. However, this method isn't new to me at all – even with the Nestle Toll House recipe, my mother ALWAYS stuck the cookie dough in the refrigerator at least overnight. My mother is a wise woman indeed!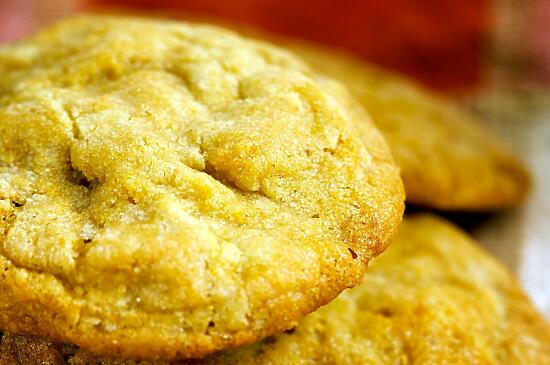 Soft, melty chocolate chip cookies.
Ingredients
2 c minus 2 tbsp (8 1/2 oz) cake flour
1 2/3 c (8 1/2 oz) bread flour
1 1/4 tsp baking soda
1 1/2 tsp baking powder
1 1/2 tsp coarse salt
2 1/2 sticks (1 1/4 c) unsalted butter
1 1/4 c (10 oz) light brown sugar
1 c plus 2 tbsp (8 ounces) granulated sugar
2 large eggs
2 tsp vanilla extract
1 1/4 pounds bittersweet chocolate chips
Sea salt
Cooking Directions
Sift flours, baking soda, baking powder and salt into a bowl. Set aside.
Using a mixer fitted with paddle attachment, cream butter and sugars together until very light, about 5 minutes.
Add eggs, one at a time, mixing well after each addition.
Stir in the vanilla.
Reduce speed to low, add dry ingredients and mix until just combined, 5 to 10 seconds.
Drop chocolate pieces in and try to incorporate them without breaking them.
Press plastic wrap against dough and refrigerate for 24 to 36 hours. Dough may be used in batches, and can be refrigerated for up to 72 hours.
When ready to bake, preheat oven to 350 degrees.
Line a baking sheet with parchment paper or a nonstick baking mat.
Form balls of dough a little smaller than golf balls, set on baking sheet about 2-3 inches apart.
Sprinkle lightly with sea salt.
Bake until golden brown but still soft, 18 to 20 minutes.
Transfer sheet to a wire rack for 10 minutes, then slip cookies onto another rack to cool a bit more.
Repeat with remaining dough.
Enjoy with a big glass of milk!