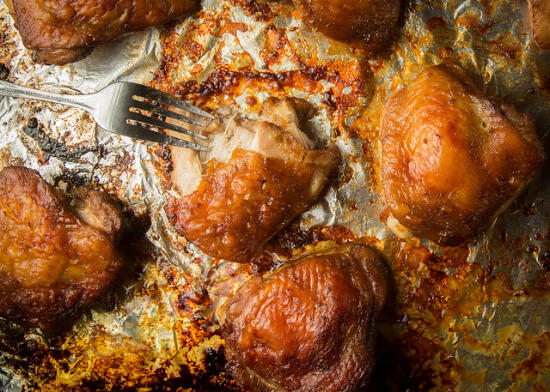 Garlicky Oven-Roasted Chicken
Is there anything better in this world than shatteringly crispy, crunchy chicken skin?
I think not.
Except, perhaps, when it comes attached to an incredibly moist, flavorful chicken thigh… and the entire package is insanely easy to make.
Son's been craving Vietnamese food lately, but we've been spending a ton of time working, so I haven't had much time to cook lately. Luckily for me, Andrea Nguyen's wonderful cookbook, Into the Vietnamese Kitchen: Treasured Foodways, Modern Flavors
, came to the rescue. I needed a meal that would be quick, delicious, Asian enough to satisfy Son, and hopefully something that would make enough that I wouldn't have to cook much the rest of the week. This recipe fit the bill perfectly – so well, in fact, that I'll be making it again this weekend. 😀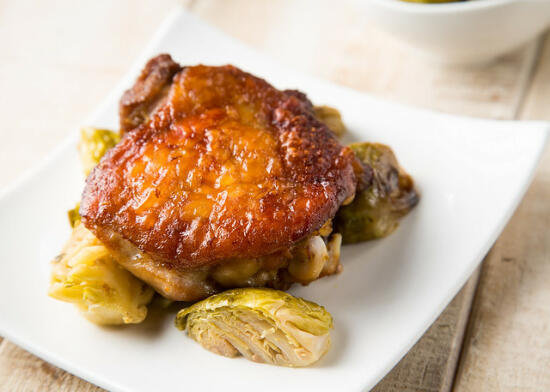 Just look at that crispy skin!
Ingredients
4 large cloves of garlic, finely minced
1 1/2 tsp sugar
1/4 tsp salt
3 1/2 tbsp Maggi sauce, or shoyu
2 1/2 tbsp canola oil
4 lbs chicken thighs, bone-in (about 10 thighs)
Cooking Directions
In a bowl large enough to hold the chicken, mix all ingredients except the chicken well, then add the chicken pieces and massage the marinade into them. When possible, peel back the skin to get some marinade between the flesh and the skin as well. Cover and marinate in the refrigerator for at least 2 hrs, or up to 24 hours (recommended).
Half an hour before cooking the chicken, remove the chicken from the refrigerator. Line a baking sheet with foil and put the chicken pieces on the sheet, skin-side down. Position a rack in the middle of the oven and preheat to 400°F.
Put the chicken in the oven. After about 15 minutes, when you hear sizzling, use a pair of tongs to carefully flip each piece of chicken. Continue to roast for another 25-45 minutes, or until the skin is browned and crispy, and the juices run clear.
Enjoy!