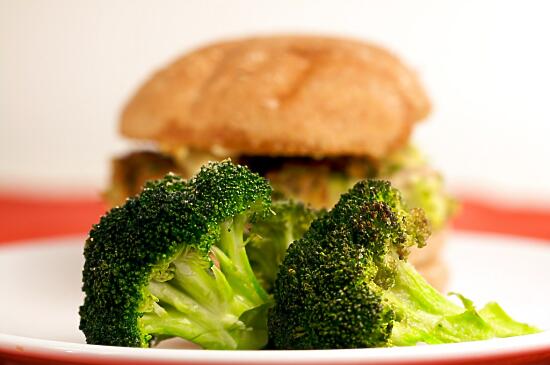 The yummiest roasted broccoli!
I've said it before, and I'll say it again. I am not a vegetable fan. I was the girl who would never eat her vegetables, and everyone knew it.
Now that I'm older, things are changing. Lucky for me (well, for my health) Son won't take any nonsense when it comes to me eating healthy, so I don't have much of a choice. To make life a little more enjoyable for myself, I've tried to find vegetable recipes that I actually enjoy, rather than having to force them down.
The credit for finding this recipe goes to my sister. She'll randomly send me links to recipes that she wants me to make for her, and this was one of the better ones… in fact, just plain amazing! Sure, broccoli used to be one of the only vegetables I'd eat, but I certainly wouldn't go out of my way to eat some when I was younger. Who would've ever known I'd crave broccoli?
Recipe adapted from Amateur Gourmet.
Ingredients
4-5 lbs broccoli
5 tbsp olive oil
1 1/2 tsp salt
1/2 tsp pepper
1 1/2 tsp garlic powder

Cooking Directions
Preheat oven to 425°.
Wash broccoli and dry extremely well (or don't wash it and hope the heat kills any germs.)
Cut broccoli into florets.
Toss all ingredients together.
Spread the broccoli evenly on a cookie sheet.
Roast in the oven for 20-25 minutes, or until the tips of the broccoli are browned.