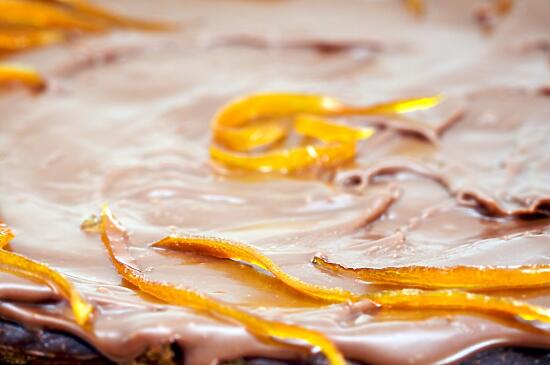 Chocolate-Orange Cheesecake…
The April 2009 challenge is hosted by Jenny from Jenny Bakes. She has chosen Abbey's Infamous Cheesecake as the challenge.
For many months I have watched the Daring Bakers from afar, as they tackled baking challenge after baking challenge. At first my feelings were of curiosity – what is this super secret baking group, and how do they manage these amazing challenges every month? Then, insecurity – man, I would love to be a part of the Daring Bakers, but… but… just look at those crazy challenges they complete every month! I could never ever be a good enough baker to keep up with them! Finally, these feelings became those of hope – what's the worst that could happen? Well, I suppose I could end up with something completely inedible if I completely screw it up, but in the months since I first saw the Daring Bakers challenges around the food blogosphere, I've become much more confident in my baking skills. So… heck, why not? I decided to take the leap.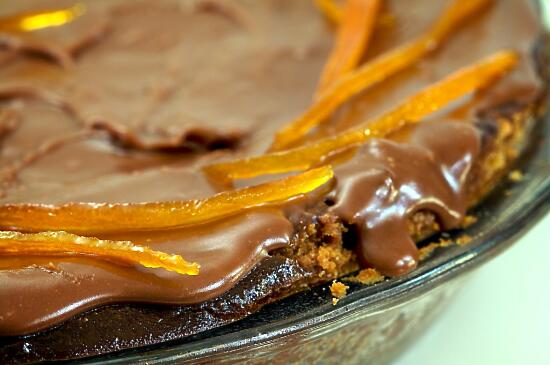 …with chocolate ganache and candied orange peels.
I have to admit, when I saw the challenge was cheesecake I was a wee bit disappointed. Heck, I wanted a challenge. Cheesecake? Been there, done that, and I already have a tried and true recipe that I love dearly. But this cheesecake ended up being more of a challenge than I could have imagined.
You see, my friends, I am not a creative person. Logic is my best friend, but creativity? Ergh, not so much. You give me a blank slate and infinite options for how to fill it, and I freeze. So given a basic cheesecake recipe and being told to make it my own, using whatever flavors or garnishes I wanted… I was like a deer in the headlights of a monster truck.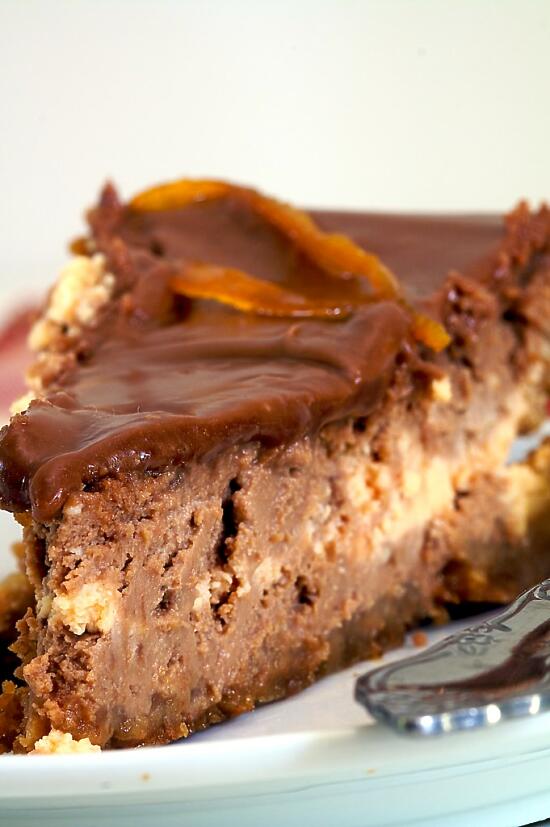 You can see the different layers…
So how did I remedy this problem? I asked mom, of course. Her birthday is in April, and she likes cheesecake, so I figured I'd make her choose the cheesecake flavorings that she wanted. She picked citrus, and it's common knowledge that my mom loves anything chocolate, so it was the next logical step to think of making a chocolate- and orange-flavored cheesecake. Combine that with a chocolate ganache that is a regular in my family, and some candied orange peels that I recently posted about on Fridgg… and we've got a cheesecake. And a damned good one, at that.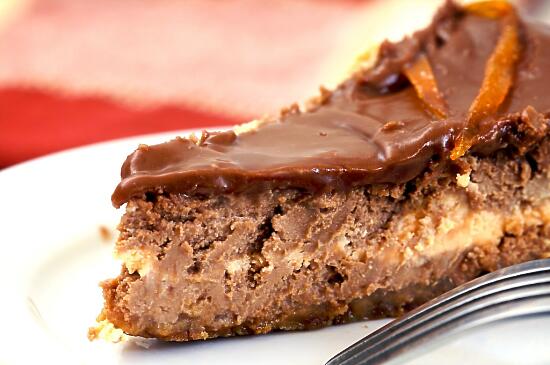 … of chocolate- and orange-flavored cheesecake.
Of course, I made quite a few changes to the recipe to accommodate my preferences. I have an irrational but deep-seated hatred of water baths, so that was out of the question. (Not to mention, I don't have a casserole dish that could fit my cake or pie pans, so… not going to happen.) Since my all-time favorite cheesecake recipe is made in a pie plate, it was natural for me to want to use a pie plate for this as well and press the graham cracker crust all the way up the sides. Of course, a 9″ pie plate has a smaller volume than a 9″ springform pan, and since I added a whole bar of chocolate and an orange-worth of juice into the batter… I had way too much batter for one cheesecake. So I made another, flatter one, in a 9″ cake pan. (You'll have to make an extra batch of crust and an extra batch of the chocolate ganache if you want to do this.) This actually worked out excellently in my case, because I brought the cheesecakes to my family's Easter celebration and several of us are either lactose intolerant or pre-diabetic or both – so the thinner cheesecake was actually pretty popular.
Everyone loved the cheesecake, but it was very, very rich. If you like those little chocolate oranges (that you smash against the ground to break apart!) and like decadent cheesecakes, then you would love this. As for me, I still prefer my grandmother's lighter cheesecake recipe, but it was nice to have a change from my usual cheesecake routine, just this once.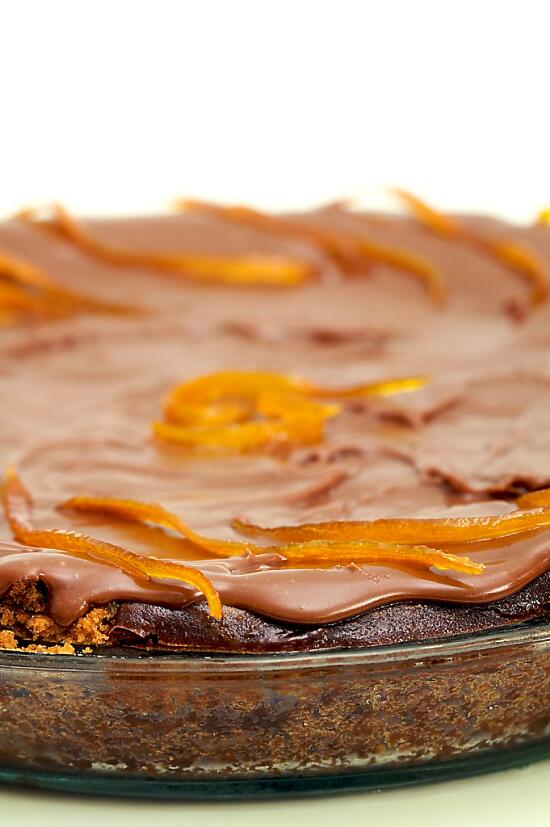 Abbey's Infamous Cheesecake
Ingredients
Crust
2 cups graham cracker crumbs
1 stick butter, melted
2 tbsp sugar
1 tsp vanilla extract
Cheesecake
3 sticks of cream cheese, 8 oz each (total of 24 oz) at room temperature
1 cup sugar
3 large eggs
1 cup heavy cream
1 tbsp vanilla extract
4 oz bittersweet chocolate
The juice of one orange
1 tsp orange extract
red and yellow food coloring (optional)
1 batch of chocolate ganache
Cooking Directions
Preheat oven to 350°F.
Mix together the crust ingredients and press into the bottom and up the sides of a 9″ pie plate, or into the bottom of a 9″ springform or regular cake pan. Set crust aside.
Combine cream cheese and sugar in a large bowl and cream together until smooth.
Add eggs, one at a time, fully incorporating each before adding the next. Make sure to scrape down the bowl in between each egg.
Add heavy cream and vanilla and blend until smooth and creamy.
Divide the batter into two equal portions.
Melt the chocolate, and mix into one half of the cheesecake batter.
Mix the orange juice, orange extract, and food colorings into the other half of the cheesecake batter.
Alternating between chocolate and orange cheesecake batters, pour batter into prepared crust and tap the pan on the counter a few times to bring all air bubbles to the surface.
Bake 45 to 55 minutes, until it is almost done – this can be hard to judge, but you're looking for the cake to hold together, but still have a lot of jiggle to it in the center. You don't want it to be completely firm at this stage.
Close the oven door, turn the heat off, and let rest in the cooling oven for one hour. This lets the cake finish cooking and cool down gently enough so that it won't crack on the top.
After one hour, remove cheesecake from oven and lift carefully out of water bath. Let it finish cooling on the counter, and then cover and put in the fridge to chill.
Top with the chocolate ganache, then garnish with the candied orange peels.
Refrigerate for another hour until the ganache has set, then enjoy!