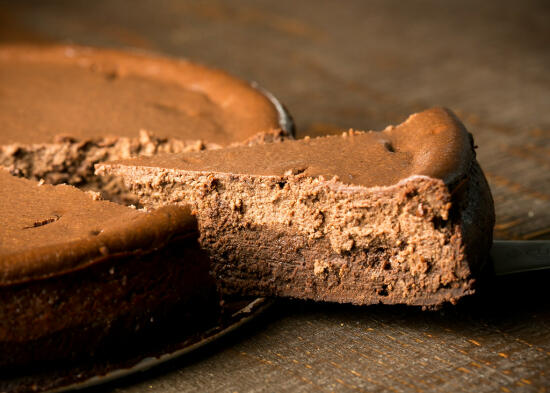 Death by chocolate… very appropriate for Halloween, don't you think?
I made this a few years ago, when my grandmother had to go gluten-free so we planned an entire gluten-free Thanksgiving for her. This cheesecake is rich, decadent, and oh so chocolatey… and completely flourless! Highly recommended for all the chocolate-lovers in your life.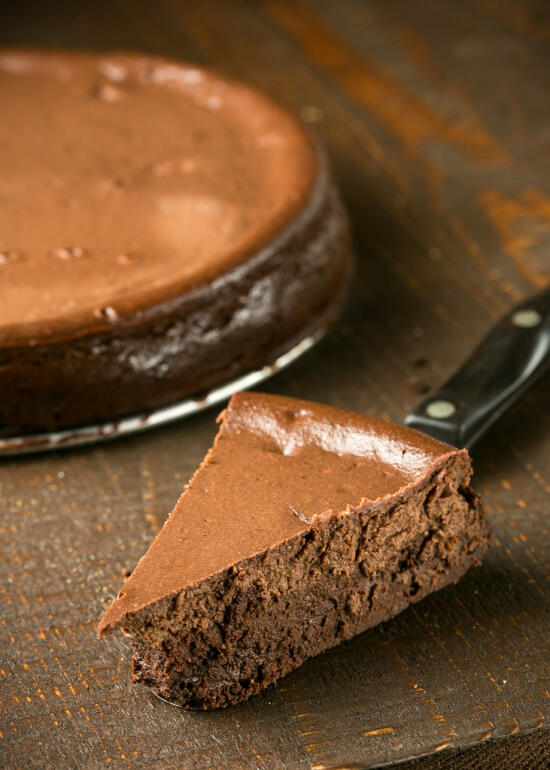 Recipe originally found on Fridgg, but sadly the original link to the recipe no longer works.
Ingredients
For the brownie bottom:
4 eggs
1 cup dark chocolate cocoa powder
1/2 cup honey
1 tbs vanilla extract
1/3 cup coconut oil
3/4 cup milk chocolate chips
3/4 cup semi sweet chocolate chips
For the cheesecake:
2/3 cup mascarpone cheese
1 cup fat free ricotta cheese
1 egg yolk
1/3 cup dark chocolate cocoa powder
1/3 cup milk chocolate chips
1/3 cup semi sweet chocolate chips
1 tsp vanilla extract
1/4 cup honey
Cooking Directions
Preheat the oven to 350°F. Grease the bottom of a pie tin with a bit of coconut oil.
Combine the first 5 brownie ingredients in a large bowl. Mix with a hand mixer until all the ingredients are incorporated.
Combine 3/4 cup of milk chocolate chips with 3/4 cup of semi sweet chocolate chips in a microwave safe bowl. Melt the chocolate chips by microwaving on low and stirring every 20 seconds until the chocolate is melted. Make sure not to overcook the chocolate chips!
Pour the melted chocolate into the existing brownie batter stirring the batter as your pour. Once incorporated, pour the brownie batter into the prepared pie dish and bake for 15 minutes at 350°F.
After 15 minutes, remove the pie plate from the oven and set aside to cool while you make the cheesecake part. The brownies will be very underdone at this point, but that's ok. Reduce the oven heat to 325°F.
Combine the 1/3 cup of milk chocolate chips and the 1/3 cup of semisweet chocolate chips and melt them in the oven using the technique described above.
Once chocolate is melted, combine the mascarpone, ricotta, egg, egg yolk, vanilla, cocoa powder, honey and melted chocolate in a large bowl and beat with a hand held mixer until smooth.
Pour the cheesecake filling onto the partially baked brownie bottom. Bake in a 325°F oven for 40-50 minutes or until the center of the cheesecake springs back when touched.
Let cool, and enjoy!