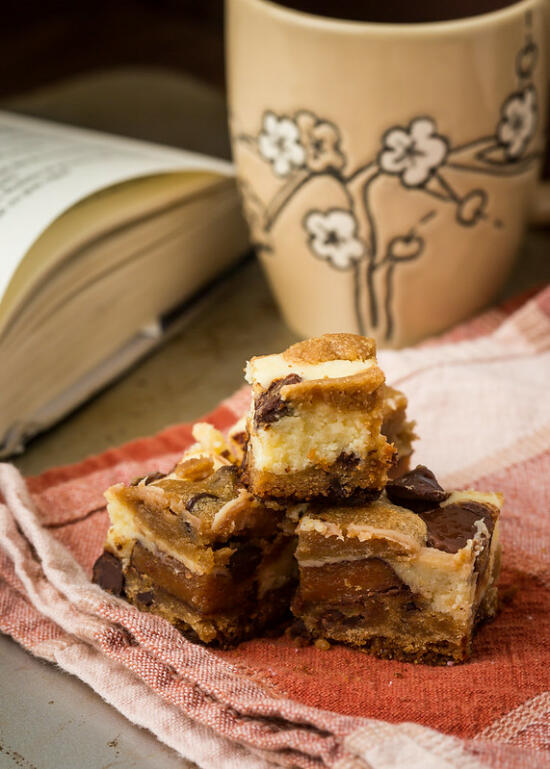 I've been a huge fan of Culinary Concoctions by Peabody for quite some time now. She always comes up with the craziest recipes (kind of like what I do on Sushi Day), but as wacky as they may be, they quite often also sound delicious.
I had the opportunity to meet her at IFBC back in 2010, and can attest to the fact that she's just as awesome (and hilarious) in person as she is on her blog. These days, I also consider myself pretty lucky to be able to call her a friend.
There are a lot of things from her blog that I've bookmarked to make in the future, but the only thing I've ever gotten around to making was her vanilla nutmeg caramels for my own version of scotch kisses.
But then, every once in a while, there comes a recipe that you see and just have to make RIGHT THAT INSTANT. This is what happened when I saw her recipe for Peanut Butter Cup Peanut Butter Chocolate Chip Cookie Dough Cheesecake Bars. OMG. (Plus, it doesn't hurt that she gave Fridgg a shout out in her post, sending TONS of traffic our way – thank you so much, Peabody!)
The bottom layer is a peanut butter cookie with chocolate chips mixed in. Then you top it with full-sized Reese's Peanut Butter Cups. Then a layer of cheesecake. Then top it with more of the peanut butter chocolate chip cookie dough, more chocolate chips, and mini Reese's Peanut Butter Cups.
If you don't think that sounds amazing, there's something wrong with you. Or you're allergic to peanuts. But still. It sounds ridiculous, right?
Obviously, I had to make it, and bring it to Son's office for his coworkers. (They just started serving free lunches there, and one of his former bosses said to me, "I was going to tell you we don't need you anymore now that we get free food, but this is MUCH better!") Everyone loved them. They're totally over-the-top decadent, but if you cut them into small squares, they're just right.
So head on over to Peabody's post for the recipe, then come back and let me know what you think!