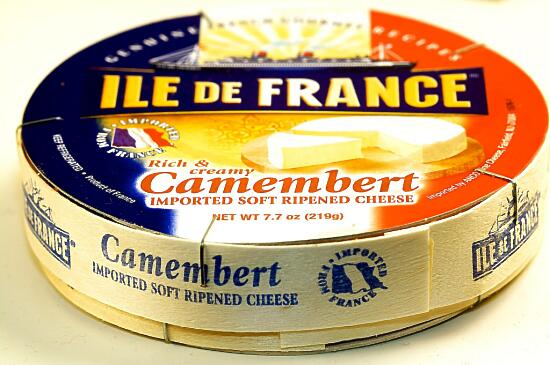 Ile de France Camembert Cheese
I love cheese. My lactose intolerant, high cholesterol body hates me because of this. But my love of cheese and all things dairy can't be ignored so I take Lactaid, excercise a little more… anything so I can have all the cheese (and other bad-for-me things) that I want.
But despite my love of cheese, I haven't actually tried that many cheeses. Growing up, we were a very basic family when it came to our culinary preferences. So of course we've had basic cheddar, mozzarella, parmesan… but none of this "exotic" camembert cheese.
So, though I was a little nervous I might not like it (a silly fear indeed), I jumped at the opportunity to try an Ile de France camembert cheese for free.
Between 2 slices of bread smothered with jam…
This delicious cheese is buttery, mild, and ever so delicious. I love it. I would have eaten the entire disk of cheese just with bread, if I could have. But we were given the challenge of making a recipe using the cheese, so I had to put my creative skills (or lack thereof) to work.
The first thing that came to mind was sushi. Because, well, you know me. I'm the sushi girl. But I couldn't come up with a good sushi recipe, and I've been so crazy busy with rehearsals that I just didn't have the time to pull that off. But then I thought… grilled cheese… french toast… OOOHHH… and that's how I ended up with this.
So how did it turn out? Very delicious. I would make it again… it would make a fantastic brunch dish.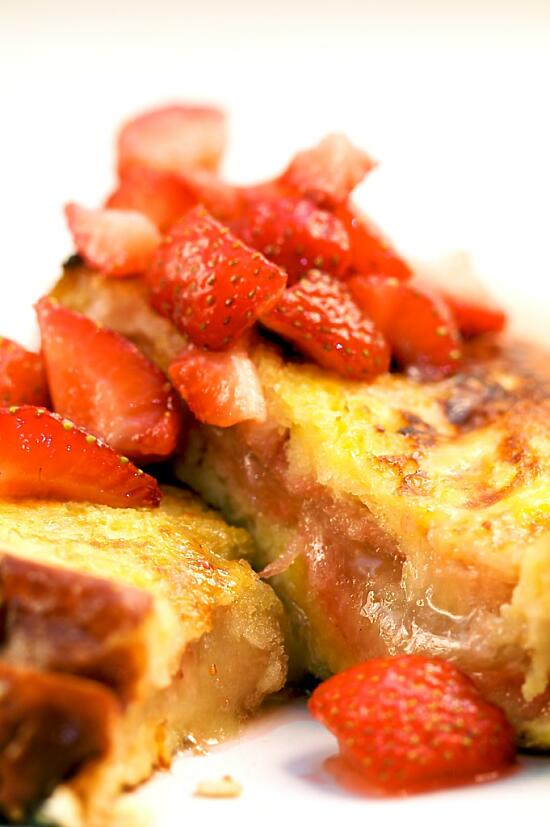 …makes an excellent French toast.
Ingredients
8 slices of bread (I used Hawaiian Bread)
4 tbsp strawberry jam
7.7 oz (1 package) camembert cheese
6 large eggs
1/2 cup milk
1 tbsp vanilla extract
2 tbsp butter
Cooking Directions
Spread one side of each piece of bread with strawberry jam.
Layer slices of camembert cheese on top of the jam on four of the slices of bread, then cover with the other four slices of bread to make four sandwiches, jam side in.
Whisk the eggs, milk, and vanilla together.
Dip the camembert sandwiches in the egg mixture, making sure to coat both sides.
Melt 1 tbsp of butter in a frying pan, then place two of the sandwiches in the frying pan.
Let cook until the bottom has browned, then flip and cook the other side.
Remove to a plate and cover with a clean towel to keep warm.
Melt the other 1 tbsp of butter in the pan, then repeat with the other two sandwiches.
Top with maple syrup or chopped strawberries mixed with sugar.
Enjoy!