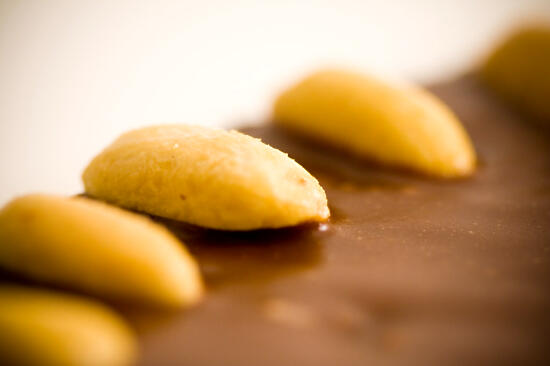 Caramel-Peanut-Topped Brownie Cake?
Welcome to week two of Allison screws up the Tuesdays with Dorie recipe! Last week, the crème brûlée had all it's parts, tasted delicious, but just wasn't very pretty. This week, however… oh dear. The recipe was for Caramel-Peanut-Topped Brownie Cake – sounds simple, right? Well, that which *should* have gone wrong turned out fine, while that which should have been easy-peasy failed miserably.
I do not own a springform pan. I did not have time to go out and buy a springform pan. The recipe says to use a springform pan. Um… oops? Instead, I used an 8″ circular cake pan. You know I breathed a sigh of relief when the cake turned out beautifully. I don't think anything was lost by using a different pan! *whew* Thank goodness I at least got the base of the recipe right!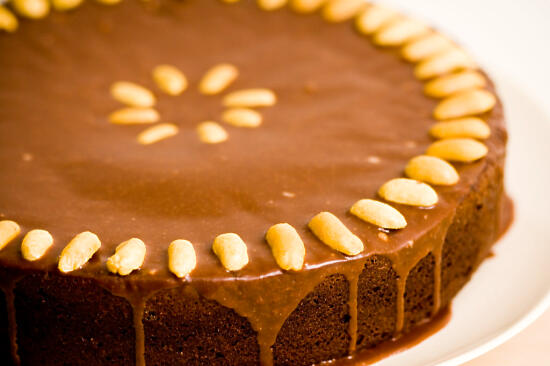 Caramel Chocolate-Peanut-Topped Brownie Cake
Well, let's see. If I got the cake right, what else could I possibly mess up? That's right, the topping. I was *supposed* to make a caramel topping for the cake. Should have been pretty simple, right? Or not. The recipe said to cook the caramel 5-10 min before putting the heavy cream and butter in. I cooked it 20 minutes, and it still wasn't darkening much, so I put the dairy in. Crudmonkeys. Bad idea. The topping turned out to be a soupy mess, and cooking it longer in hopes that it might caramelize only turned it into a *stinky* soupy mess. Dang.
Normally, I would have tossed it and tried again. But, um, that was the last of my heavy cream. And I didn't have time to go to the store, because I had to leave on *another* trip. Shoot. After a few moments of panic (what the heck am I going to top this cake with?!?!), I called my mother in hopes that she had a frosting/glaze recipe that was easy and that I wouldn't have to buy extra ingredients for. My mother is a lifesaver. She has a chocolate glaze recipe that she uses quite often that worked wonderfully with the cake. And I managed not to screw it up. Yay!
Although I'll bet the caramel topping would have been wonderful, I thoroughly enjoyed the cake with the chocolate glaze, garnished with peanut halves. Yum.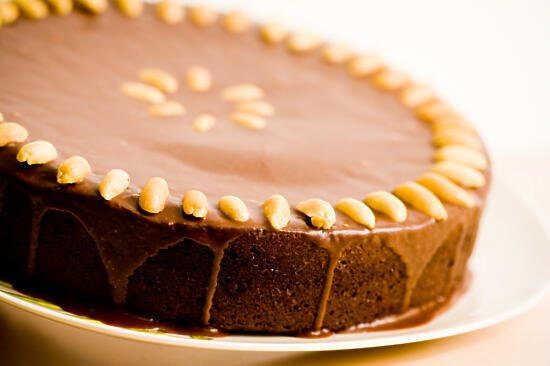 Delicious and chocolate-y!
The original recipe for the Caramel-Peanut-Topped Brownie Cake can be found on Wee Treats By Tammy. I give to you the recipe for the chocolate glaze:
Ingredients
1 oz unsweetened chocolate
1 tbsp butter
2 tbsp hot water
1 cup sifted powdered sugar
Cooking Directions
In a small saucepan, melt the chocolate and butter together.
Add the hot water.
Quickly stir in the powdered sugar.
Pour the glaze over the cake, let cool.