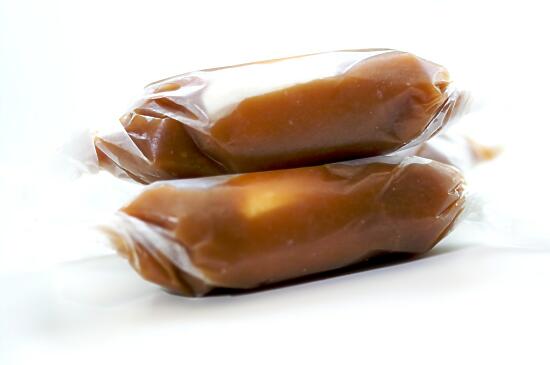 Throughout my life, See's Candy has always shown up at special occasions. Birthdays, Christmas, Easter… certain holidays just wouldn't be complete without something from the little white and black colored store. There were many favorites – polar bear claws, scotchmallows, bordeaux, raspberry truffles (my mom's all-time favorite) – but for us three kids, there was one candy that stood above all the rest. Scotch Kisses.
Something about the See's caramel just makes me melt. I've never found the same sort of soft, buttery, perfect caramels anywhere else. And then the marshmallow, well, how can you go wrong with that? To me, it's a perfect combination.
So when I made this caramel recipe and discovered that it tasted almost exactly like the See's caramels, well. I was ecstatic. And I knew exactly how I was going to use it. I already had some marshmallow made (left over from these), so it was easy as can be to make some quick scotch kisses! With the leftover caramel, I just wrapped pieces in wax paper in a similar way… delicious. Irresistible.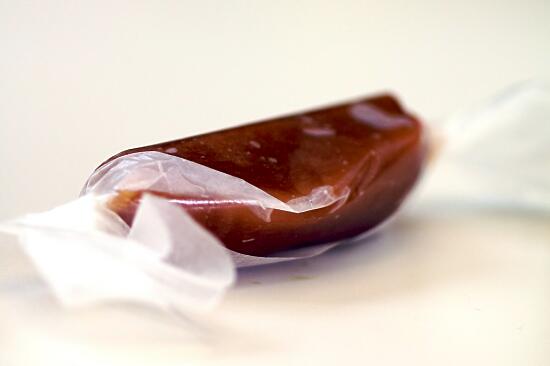 Ingredients
Cooking Directions
Cut wax paper into 4×4″ squares.
Using a pair of clean scissors, cut the marshmallows into 1/2″-1″ squares.
Using a spoon, scoop about a tablespoon of caramel. Place in the top-center of the wax paper.
Spread the caramel on the wax paper, so it is flattened and reaches from almost the top of the wax paper to between a third and half of the way down. There should be at least an inch of uncovered paper on each side of the caramel.
Place a piece of marshmallow in the center of the caramel.
Tightly roll the paper toward you, so the caramel surrounds the marshmallow.
When the paper is completely rolled up, twist each end tightly right next to the caramel (but not too tightly, or the paper will tear).
Repeat until you have used up the caramel.
Enjoy!