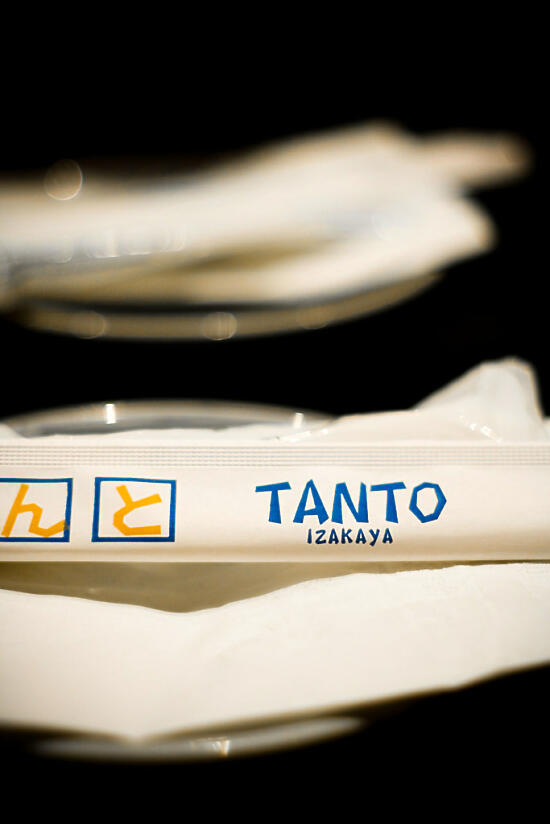 Every now and then, Son has to travel up to Sunnyvale for work. Now that I've graduated and am no longer required to be in Southern California all the time, I travel along with him. When we are in Sunnyvale, we will often go to dinner with his co-workers. This week we visited a Thai restaurant and a Chinese restaurant, neither of which I'm going to review. However, we also went to a Japanese Izakaya – Tanto.
For those unfamiliar with this type of restaurant, an izakaya is like the Japanese version of a tapas restaurant. Many small dishes are served, and meant to be shared by the entire table rather than as individual meals. However we instead decided to order dishes individually, instead of to share as a table.
Son and I ordered several dishes to share between the two of us. The first to arrive was the edamame. This was, well, meh. Nothing special. It wasn't bad, but it definitely could have used more salt.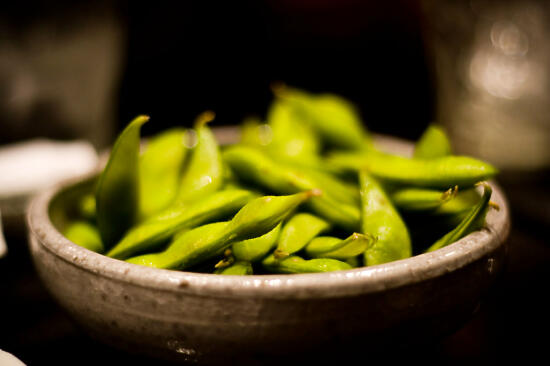 As we always do when offered, we ordered a sashimi dish. Since we like to try new types of sashimi when given the opportunity, we decided to try the white tuna. This was alright, not something I'd order again though. Whoever sliced the sashimi did a poor job – they looked like chunks of meat rather than expertly sliced sashimi. The taste was… interesting. Much meatier than other types of fish, and while it wasn't going bad, it didn't have the same sort of fresh, clean taste that most types of sashimi have.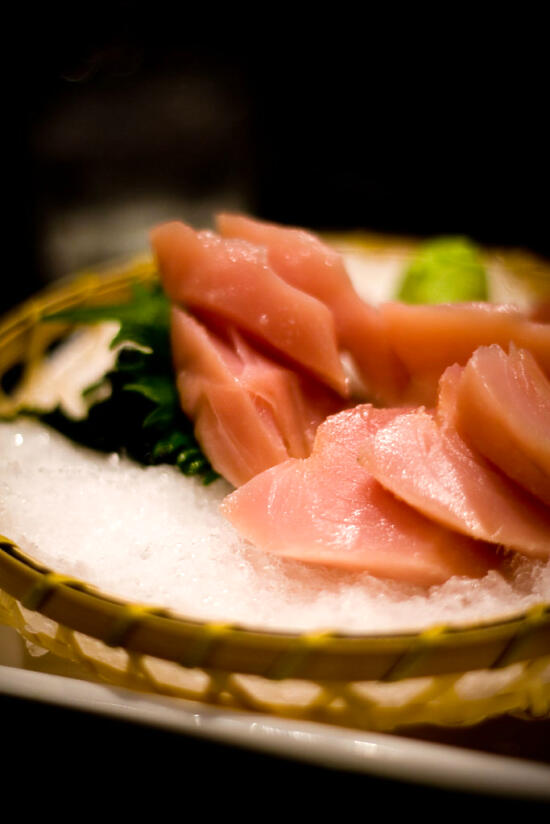 Son's favorite dish was the Hotate Butter Uni Nose. This was a sauté of mushrooms and scallops in butter, topped with uni and ikura. He thought that the scallops were perfectly cooked, and the uni reminded him of eating crab eggs. He really enjoyed the salty uni, and easily ate most of the dish by himself. (I only got one scallop!)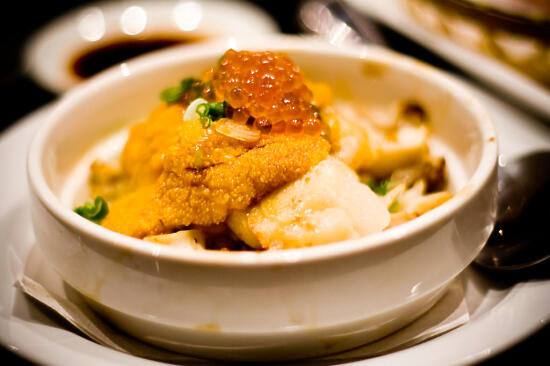 My favorite dish was the anago tempura. This consisted of a fillet of anago (eel) coated in tempura batter, then fried and sliced into inch-wide slices. Delicious. I have never had eel prepared in this fashion, but my goodness, it is delicious! The crunchy fried tempura batter complements the meaty, soft anago flesh. Incredibly good. I would get this again, and even make it at home if given the opportunity!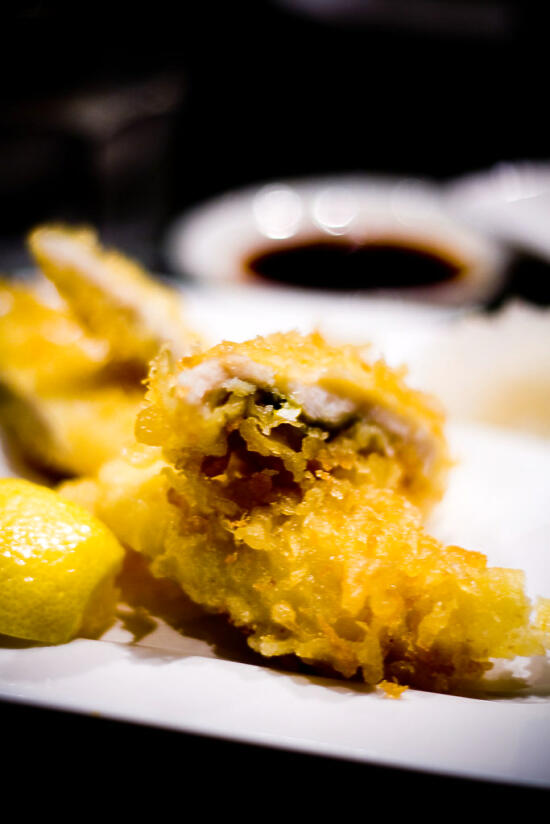 Although no one would admit to it, someone ordered sashimi spring rolls. Since the dish went unclaimed, everyone tried a piece of the spring roll. Son enjoyed it, although in my opinion it was just alright. The sashimi was very chewy which made the rolls difficult to eat, and I wasn't blown away by the combination of sashimi and vegetables they used in the roll.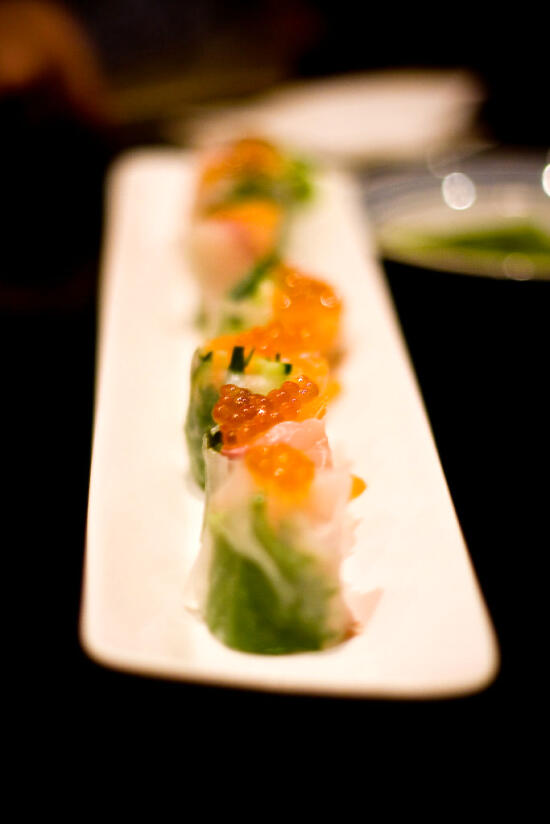 Although we didn't get pictures of most of the other dishes at the table, we did sneak a photo of the tempura dish next to us. The typical sweet potato, green bean, and other vegetables were present, but there were also a few types of tempura I had never seen – lotus root tempura and shiso tempura. Definitely out of the ordinary, but the person who ordered it didn't complain, so they must have been good.
At the end of the meal, several people at the table decided to order fried bananas with vanilla ice cream. Like most of the dishes here, I found this to be just okay. The ice cream was pretty much regular vanilla ice cream topped with a drizzle of chocolate sauce, and the banana was like any other fried banana I've had. This is definitely not something I'd order again… I could make it better and for less money at home.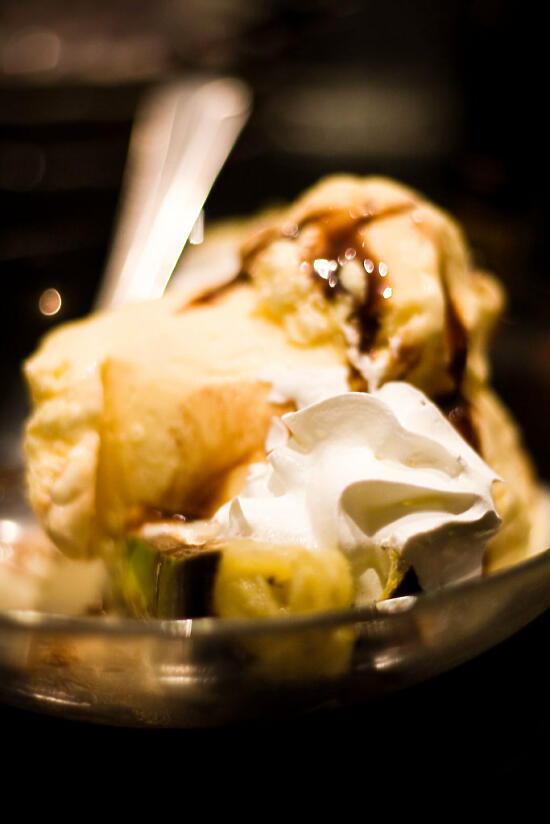 Fried Banana with Vanilla Ice Cream
Note: I know there have been a lot of restaurant reviews lately, but I promise I'll be back to recipe posts soon. I've been traveling for two of the last three weeks, and when I was home I barely had time to make two TWD recipes, never mind trying to cook other foods!