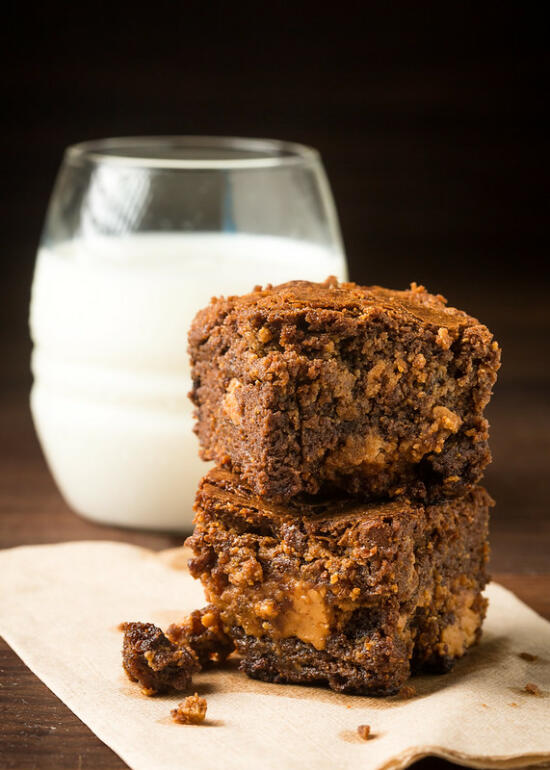 When you're just having one of those days (months… years?), when the stress is piling up and life has got you down, nothing beats the combination of peanut butter and chocolate.
Historically, the easiest way to get me out of a funk is with a pint of chocolate peanut butter ice cream (with a nice, thick peanut butter swirl, of course!)
But these brownies? Oh yes, they'll do. They very much do the trick.
Richly chocolatey, with a thick, creamy peanut butter layer. I'll bring the brownies, and we can commiserate together.
Recipe from Becca of Cookie Jar Treats, found on Fridgg.
Ingredients
1 cup natural peanut butter
1/3 cup honey
1/4 cup coconut oil
3/4 cup natural unsweetened cocoa powder
3/4 cup unbleached all-purpose flour
1/4 tsp salt
1/2 cup canola oil
1 cup sugar
3 large eggs, room temperature
2 tsp vanilla extract
Cooking Directions
Preheat the oven to 350°F. Line an 8×8 inch baking pan with aluminum foil. Grease foil with cooking spray.
In a large bowl, mix together the peanut butter, honey, and coconut oil. Cover the bowl with plastic wrap and chill in the refrigerator while you make the brownie batter.
Sift together the cocoa powder, flour, and salt into a medium bowl. Whisk to combine. In a large bowl, whisk together the canola oil and sugar until smooth. Beat in the eggs one at a time. Stir in the vanilla. Add the dry ingredients into the wet ingredients and fold to combine.
Spread half of the brownie batter into the prepared pan. Pour the peanut butter filling over the brownie batter, and spread the peanut butter filling towards the edges.Cover the filling with the remaining brownie batter.
Place pan on the center rack and bake for 20-25 minutes or until a tooth pick comes out mostly clean with the exception of a few moist crumbs and a bit of peanut butter filling. Allow the brownies to cool in the pan for at least half an hour before removing to a cooling rack to cool completely. Once cool, slice and serve.
Enjoy!