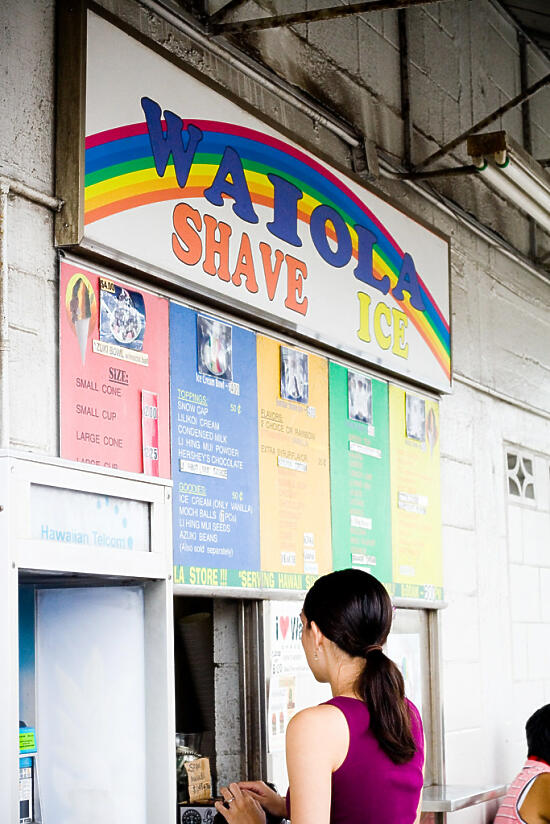 One of the places we were told that we must visit in Honolulu was Waiola Shaved Ice. (The other place was Mana Bu's, but we unfortunately never got to try it – the day we stopped by, they had closed just an hour after opening, so we missed it.) On our very last day, the day where it just happened to pour rain all day, we stopped by after checking out of our hotel.
We decided to get the ice cream bowl and the azuki bowl with mochi balls. Two bowls was a bit much for us to finish, but they were still delicious. We got rainbow flavorings and condensed milk on the ice cream bowl – a few scoops of ice cream, topped with shaved ice. The azuki bowl consisted of shaved ice, topped with azuki beans and condensed milk, and surrounded with pink and white mochi balls.
Son loved the ice cream bowl. While I found the flavorings (particularly red – cherry?) reminded me of medicine, Son absolutely loved the varied flavors. It went very well with the ice cream, and the bowl even came with a straw to drink the melted shaved ice! Quite enjoyable.
The flavors sink into the middle, but still yummy!
I, on the other hand, preferred the azuki bowl. I love the flavors of the azuki beans, and although these weren't quite as sweet as I would have liked, they were still delicious. I especially enjoyed the mochi balls. As we all know, I can never get enough mochi. The only thing I disliked about the bowl was the shaved ice – it was just ice. No flavoring, no nothing. The azuki beans and mochi would have been immensely more enjoyable with ice cream, since that would at least add some sweetness. Nevertheless, I did enjoy the bowl.
Azuki Bowl with Mochi Balls
We were glad to have been able to try Waiola Shave Ice, with one reservation – we wish we had chosen a hotter day to go!