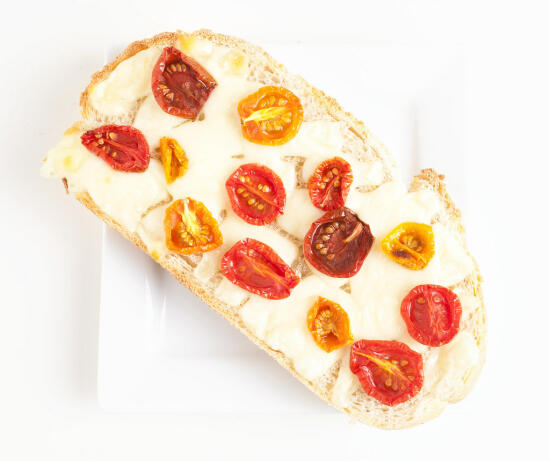 Mozzarella and Tomato Bruschetta
I grew up in a household where we used a lot of processed, prepackaged foods. We made a lot of things from mixes, or from canned condensed soup. We would have never even considered buying anything but Skippy peanut butter, or Best Foods mayonnaise, or that round mozzarella cheese that comes shrink-wrapped.
I still love most of the foods I grew up with. I can't help it, and it's probably the same for most of you. It's only natural to love the foods from your childhood.
But recently, I finally realized there was more out there. That I could eat better than that. That I could make things from scratch, which I've been doing for the last couple of years, but more importantly that I can buy quality food. Really, really, really good ingredients.
Last month, several things happened to open my eyes to this:
Andrew Wilder, a new food blogger that I met on the train in Seattle as we were both going to IFBC, decided to make October the month of unprocessed foods, and involve all sorts of bloggers in it. It was pretty awesome seeing this happen – when I first met him he explained to me how he was a really new blogger, trying to find his way in the world of food blogging. And then after the conference, after our plane touched down at LAX (we had the same flight back), we discussed his idea as we walked to the baggage claim area. He called it October: Unprocessed. And although I didn't fully participate, it made me a lot more conscious about how I eat. Holy cow, I used to eat a ton of processed foods. He helped me become far more aware of that
I went to BlogHer Food. The conference was great and all, but what really moved me were my friends there. Jen, Todd and Diane, Shauna and Danny (and Lucy of course!), Penny, Molly, Anita, Aran, Irvin and AJ, and so many more… These are all people whose work I look at, and it's all so inspiring. These people love food… and it shows in their blogs. I wanted to be able to love my food as much as they love theirs.
But most importantly, the one thing that made me want to completely overhaul the way I eat and cook were my Uncle Walter and Auntie Lydia. We stayed with them for a week after BlogHer Food was over. These people eat so well. Not only do they know of some excellent restaurants in their area, they also have a kitchen (and a good bit of their garage) filled with all sorts of fantastic food that they cook into excellent meals.
So my food habits have slowly begun to change. I shop at Whole Foods and the farmer's markets more often than the grocery store I used to frequent. I'm demanding higher quality. I'm willing to spend a little more to eat better, because not only does it taste better, but it's also better for me.
This simple recipe is an example of that. The tomatoes and mozzarella are from the farmer's market, the bread was from Whole Foods. And it's delicious.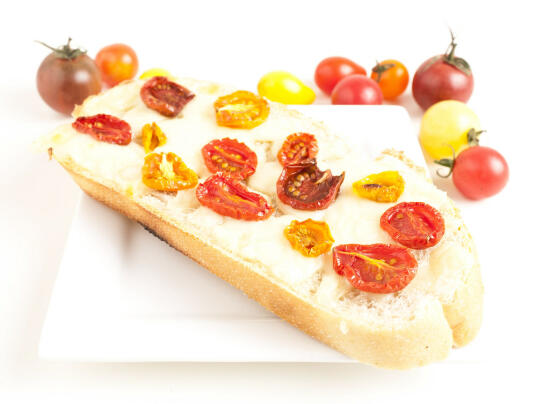 In other words, fancy pizza.
Ingredients
good mozzarella cheese
French bread
Cooking Directions
Thinly slice the French bread.
Top with slices of mozzarella cheese and roasted cherry tomatoes.
Toast on the 'dark' setting, or until cheese is bubbly. Or bake at 400°F for 5-10 minutes.
Enjoy!