Happy Valentine's Day!
Whether you're celebrating your sweetie, hanging out with your gal pals, or want to bring a treat into the office (because who doesn't love cupcakes?), this week I've rounded up ten of our top last-minute Valentine's Day treats from Fridgg.
For example, you could seduce your sweetie with these tasty oysters with chocolate and a saffron sauce!
These chocolate hazelnut truffles from Katherine of Gouda Monster are perfect for valentines or galentines!
This decadent dark chocolate and raspberry souffle from Serena of Foodful Life is sure to please!
This easy chocolate cherry banana bread from Joanne of Family Food Ideas is perfect to make for friends or family.
It wouldn't be Valentine's Day without something from Elizabeth of Sugar Hero! Her nutella pound cake petit fours are tasty and easy, especially if you use store-bought pound cake.
These nutella hearts from Stacie of Simply Stacie are totally sweet and super easy to make.
Another easy last-minute Valentine's Day from Stacie of Simply Stacie – hugs and kisses rolls!
Take a shot at love with these fiery chocolate shots from MJ of MJ's Kitchen.
These easy nutella cupcakes from Elizabeth of Sugar Hero! are so simple to make, they're perfect if you need a last-minute Valentine's Day treat!
Our top last-minute Valentine's Day treat also comes from Stacie – since they're made with jarred butter chicken sauce, these butter chicken hand pies are a breeze to whip up for a cute Valentine's Day dinner!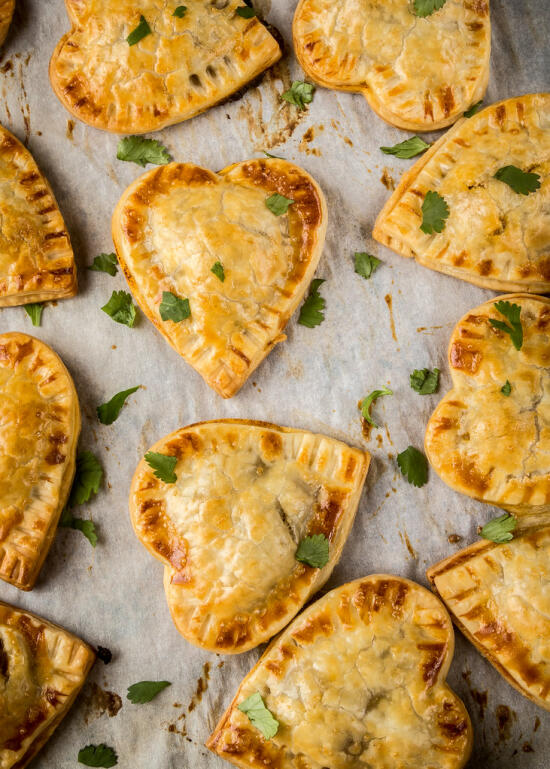 I love butter chicken, so I was excited to have an excuse to try out these fun butter chicken hand pies.
Despite a slight mishap on the butter chicken side of things, once the butter chicken was made I found these to be super easy to make, and quite tasty!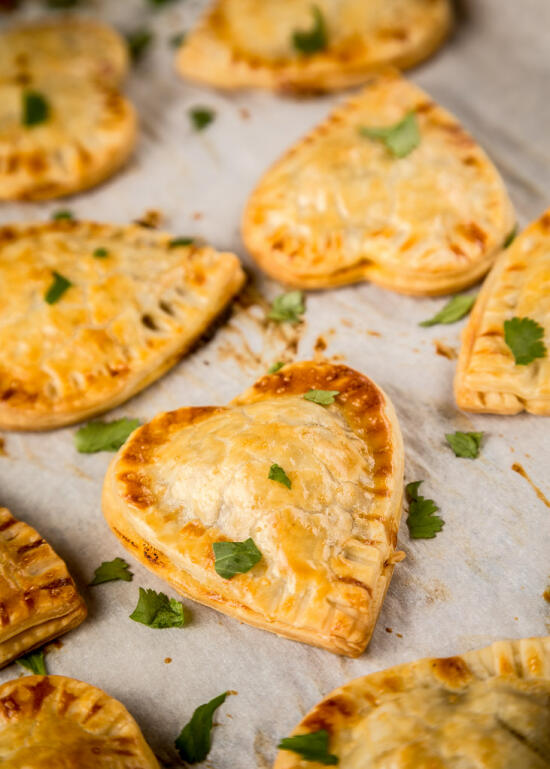 The original recipe used jarred butter chicken sauce, while I made my own butter chicken from scratch and used that as the filling instead. If you're looking for a quick last-minute treat, the jarred version may work better, but I urge you to try out the butter chicken recipe if you have more time – it's definitely worth the extra effort!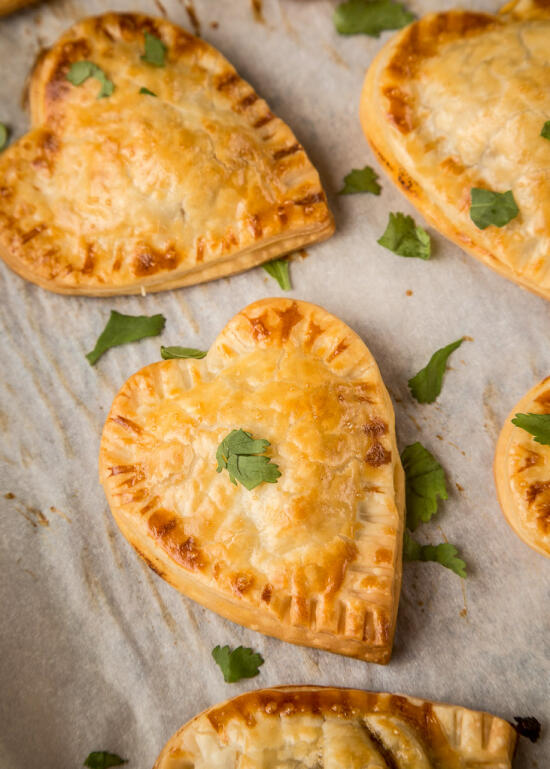 Butter Chicken Hand Pies
Slightly adapted from Simply Stacie.
Ingredients
1/4 batch of butter chicken (save the rest for another meal, or you can make multiple batches of hand pies)
1 tbsp fresh cilantro, chopped
1 package of refrigerated pie crust dough (enough for two pies)
1 egg yolk
1 tsp water
Cooking Directions
Cook the butter chicken. When the chicken is finished, shred one of the pieces of chicken and mix it with a bit of sauce to moisten, then stir the cilantro into the shredded chicken.
Preheat oven to 450°F. Line a baking sheet with parchment paper.
Unroll both pie crusts and, using a heart shaped cookie cutter, cut out as many heart shapes as you can from the dough.
Lay half of the hearts on the baking sheet. In the center of each heart, add about a teaspoon of butter chicken mixture. Place the remaining hearts on top to cover. Using a fork, press down the edges of each heart to seal.
In a small bowl, whisk together the egg yolk and water. Using a pastry brush, brush the egg mixture on the tops of the hearts.
Bake for 10 minutes, or until golden brown. Serve hot.
Enjoy!