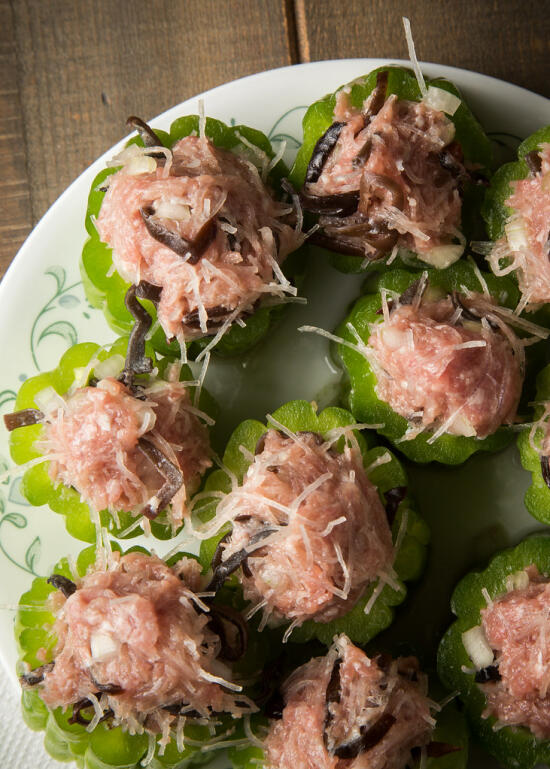 Who's ready for the New Year?
The Lunar New Year, that is. This year, it falls on January 28th – the end of the year of the monkey, as we usher in the year of the rooster!
While my family doesn't celebrate (we go crazy on January 1st), this is a big holiday for Son's family. And as his parents get older, some of the cooking responsibilities are being passed on to me.
This bitter melon soup is a must for his celebration. It was a favorite of his grandmother, so we make it every year for her spirit to enjoy on the New Year.
I was a bit nervous the first time I made it, because bitter melon is… well… bitter.
(Who'd have ever guessed?)
However, the blanching mellows it significantly, and the pairing with pork always works wonderfully.
If you're celebrating the Lunar New Year, this is a tasty addition to your table!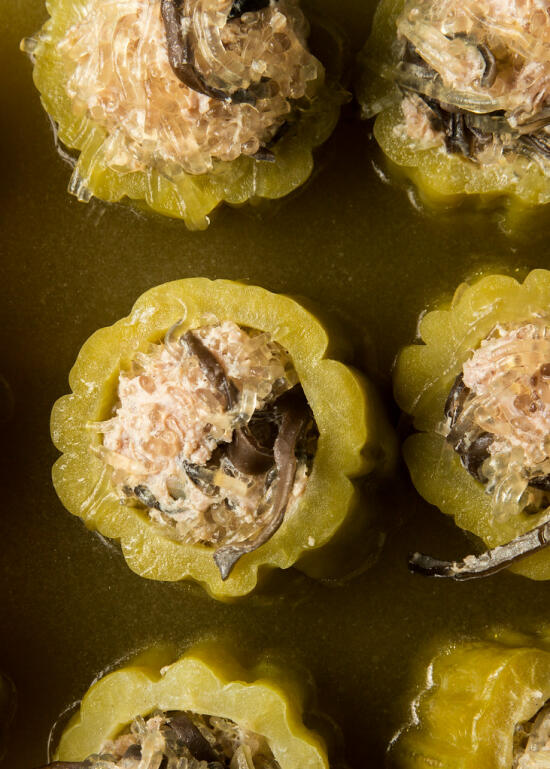 Recipe from The Ravenous Couple.
Ingredients
1/2 lb ground pork
1 tsp fish sauce
1 tsp sugar
1 tsp ground pepper (we prefer white pepper, but black pepper works just fine as well)
1/2 tsp salt
1 shallot, minced
1/4 cup dried wood ear mushrooms
1/2 cup bean thread noodles
2 8-12″ bitter melons
6 cups of chicken broth
1 green onion, thinly chopped
cilantro, chopped
salt
Cooking Directions
In two separate small bowls, soak the dried wood ear mushrooms and the bean thread noodles in warm water for about 10 minutes. Drain, then slice the wood ear mushrooms thinly, and cut the bean thread noodles into 2-3″ lengths.
In a large bowl, mix together the pork, fish sauce, sugar, pepper, salt, shallot, wood ear mushrooms, and bean thread noodles, and mix well. Set aside.
Quickly blanch the bitter melons in boiling water for about 1 minute – the color should turn a dark green. Remove and let cool. When cool enough to handle, slice bitter melons cross-wise into 1-1.5″ slices. Using a spoon or knife, carve out the center white pith and seeds with a circular motion.
Bring the chicken stock to a boil. Meanwhile, stuff the bitter melon slices with the pork stuffing. When the stock is boiling, gently drop in the stuffed bitter melons. Cover, reduce the heat to low, and cook for about 15 minutes or until the center of the pork is done. Season with salt to taste. Transfer to soup bowls and garnish with chopped green onions and cilantro. Serve with jasmine rice.