This weekend is the Lunar New Year! From the year of the monkey (a good bit of monkey business certainly did happen last year), we're moving on to the year of the rooster.
In our family, the new year is the perfect excuse for a feast. Ever since the majority of the cooking responsibilities have been passed on to me, I'm always looking for fun new dishes to try in addition to our traditional standbys.
Since our users have shared so many recipes on Fridgg in the last few years, I thought it would be fun to see what our top Lunar/Chinese New Year posts are.
Every new year needs a countdown, right?
TEN!
Our Lunar New Year feast often includes fish, and this steamed version with black bean sauce that Maggie from Omnivore's Cookbook posted sounds so easy to make.
NINE!
Our next post, also from Maggie (because Maggie is awesome and posts alllll the tasty Chinese recipes) is dumplings. Because really, who doesn't like dumplings?
EIGHT!
While fortune cookies might not be the most traditional New Year's food, these homemade ones from What Charlotte Baked would make a fun addition to your New Year's table, especially with some fun, personalized fortunes!
SEVEN!
Also not-so-traditional, but these cheesy shrimp baked spring rolls would make a tasty appetizer!
SIX!
Seriously, I wasn't kidding when I said Maggie has all the Chinese recipes. Our sixth most popular post is another one from her – Chinese Walnut Cookies!
FIVE!
If you're feeling ambitious, these duck pancakes – yep, another recipe from Maggie – would make an AMAZING addition to your New Year's table.
FOUR!
Jen, from Use Real Butter, is another of our more prolific posters, who shares quite a few Asian recipes as well. These spicy Sichuan pork wontons would be an excellent addition to your New Year's table.
THREE!
If you're looking for something simpler, this egg drop soup from Maggie is super easy to make, and uses ingredients you probably already have at home.
TWO!
Our second most popular Lunar New Year post on Fridgg is one of my favorite things to make and eat for the Lunar New Year – egg tarts!
ONE!
Drumroll please… our number one, very most popular Lunar New Year post on Fridgg is… red-cooked pork belly, from Cheryl of Black Girl Chef's Whites!
Now, I can't very well tell you that the pork belly is our best Lunar New Year recipe without trying it out myself, now could I?
(I mean, I could, but then I wouldn't have had the perfect excuse to make it at home!)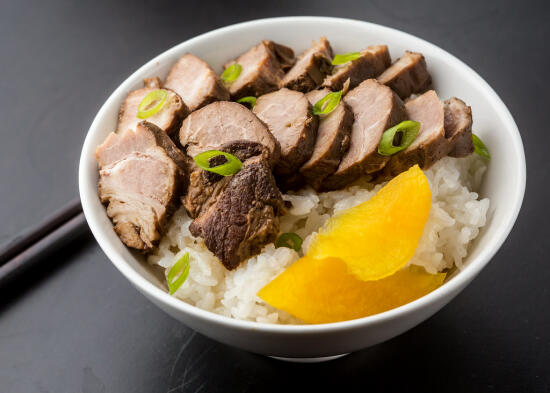 Despite possibly not actually getting pork belly…
(The Korean supermarket labeled the package "pork belly" but I don't know… does that look right to you?)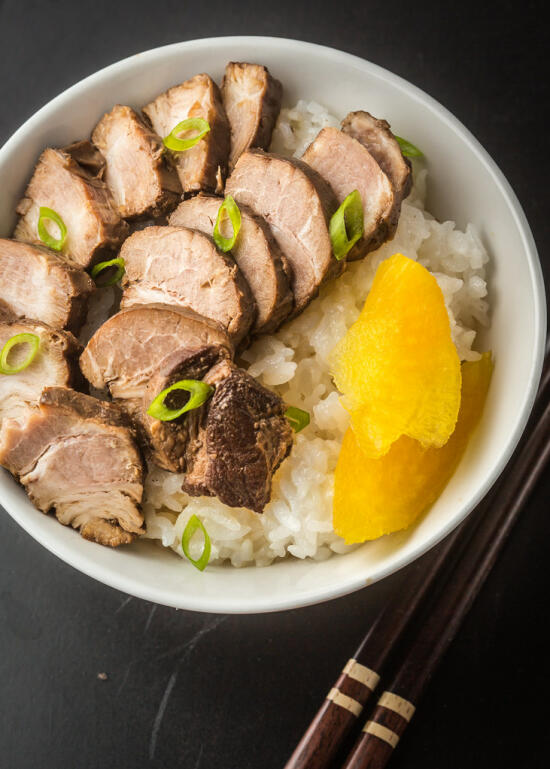 … and spending ten minutes staring at all the different soy sauces before giving up and just deciding to use the Kikkoman shoyu I have at home (which miiiight be why my pork belly isn't exactly red?)…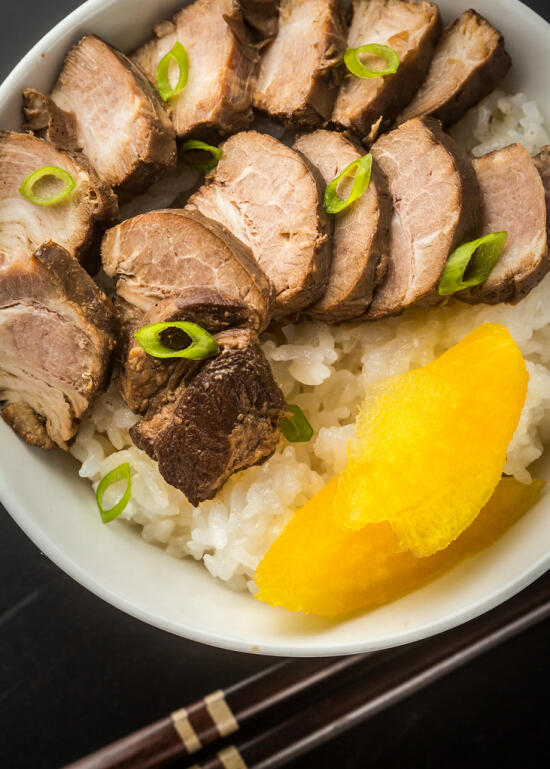 … and not realizing until I re-read the recipe several days later that, "Oh shoot! I totally forgot the cinnamon!"…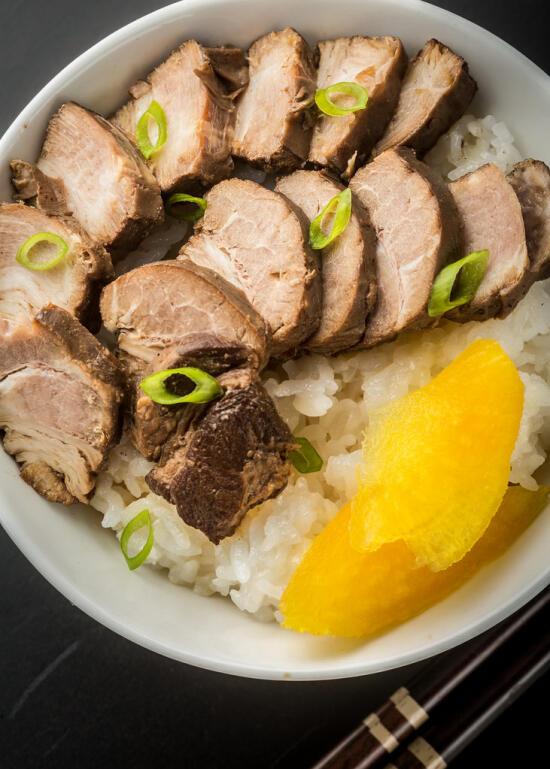 … it turned out amazingly! So good. Falling apart, succulent, perfect over a bowl of white rice. (And, if I do say so myself, those yellow takuan pickles were a genius addition, they were wonderful with the pork belly.)
So good, I have pork belly on my shopping list just so I can make it again soon!
So good… you should definitely include this on your Lunar New Year menu!
Red-Cooked Pork Belly
Recipe from Black Girl Chef's Whites.
Ingredients
3 qt water
1 cup mirin
1 cup dark soy sauce
1 cup light soy sauce
1 cup sugar
1 bunch green onions, sliced
1 cup sliced ginger
6 cloves garlic
2 sticks cinnamon
1 tbsp five spice powder
1 tbsp Szechuan peppercorns
2 lbs pork belly
Cooking Directions
In a large pot over medium-high heat, combine all the ingredients except for the pork belly.
Bring the cooking sauce to a boil, and let cook for about five minutes.
Add the pork belly, cover, and reduce to a simmer.
Cook the pork belly for two to two and a half hours, until very tender.
Remove the pork belly from the liquid, and slice to serve.
Serve over white rice.
Enjoy!