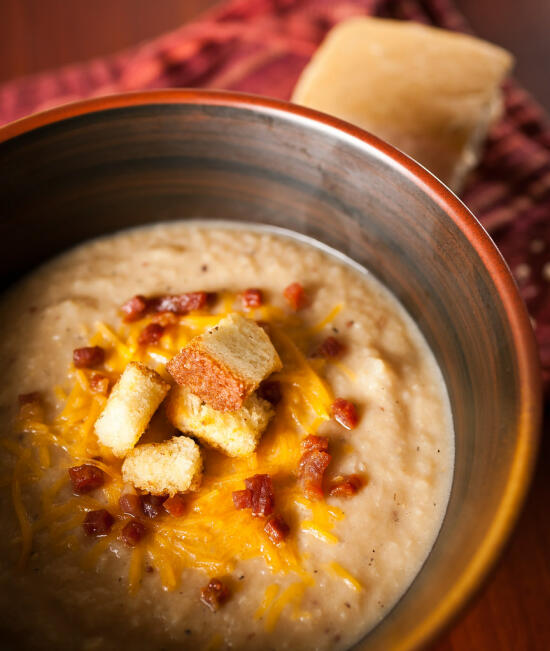 In today's edition of 'Foods Allison hated when she was a kid' (trust me, this could go on for a while)… CAULIFLOWER.
Growing up, my sister loved cauliflower. Me, I was more of a broccoli kind of girl. (Cauliflower for dinner?! Eeewwww… gross.)
(As an amusing aside, the other day I mentioned to my mom that I'm not a huge fan of bell peppers. She responded, "Really? I thought you like everything?!" I looked at her askance and burst out laughing. "You do realize I'm the kid who wouldn't eat anything when I was younger…" "Yeah," she mused, "you were so picky when you were little!")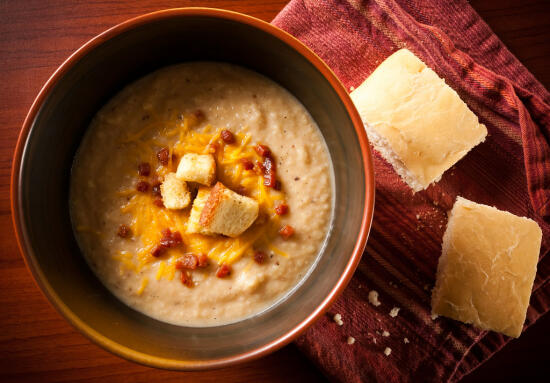 Look, mom, I'm eating cauliflower!
I actually had no plans to try making anything with cauliflower in it anytime soon… the subconscious memories of my childhood aversion to it meant that it simply never occurred to me to even consider buying any. But a conversation with a friend about roasting vegetables (hi, Joann!) convinced me that maybe it was time to give that squeaky white vegetable a try once more.
So I bought a head of cauliflower.
And proceeded to look at it for two days, never quite going through with my intention to roast it.
But then I saw this recipe for Creamy Cauliflower Soup and thought… "okay, I can do that."
Despite a few mishaps along the way (I didn't check my pantry before going grocery shopping, and found out once I started cooking that – oops – I only had chicken stock, no vegetable stock), the soup turned out wonderfully. The potato adds enough creaminess and the caramelized onions enough sweetness to make the soup taste really decedent, even though it's really just a bowl full of vegetables.
So do I love cauliflower now?
Well… not quite. The "squeakiness" of it still gets to me. However, I did eat up the entire batch of this cauliflower soup… so I will admit it's starting to grow on me.
Those croutons are to die for.
Creamy Cauliflower Soup
Total Time: 40 minutes
Ingredients
6 oz

whole grain bread, cut into cubes

2 tbsp

unsalted butter, melted

2 tbsp

olive oil

1 tbsp

dijon mustard

kosher salt

2 tbsp

unsalted butter

2

shallots, minced

1 medium

yellow onion, chopped

1 medium

potato, peeled and diced into 1/4-inch cubes

2 cloves

garlic, minced

3 1/2 cups

vegetable broth

1/2 head

cauliflower, chopped into small florets

2/3 cups

shredded cheddar cheese, plus more for garnish

2 tsp

dijon mustard
Cooking Directions
To make the croutons: Preheat the oven to 350? F. Place the bread cubes in a medium bowl and toss with the melted butter, olive oil, and 1 tbsp dijon mustard until evenly coated. Spread the bread cubes out in an even layer on a baking sheet and sprinkle with salt. Bake for 10-15 minutes or until crunchy.
Meanwhile, melt the remaining 2 tbsp of butter in a large pot over medium-high heat. Add the shallots and onion and cook, stirring occasionally, until slightly softened, about 4-5 minutes. Season with salt, then mix in the potato, garlic and vegetable broth. Cover the pot and bring to a boil. Lower the heat to a simmer, keep covered, and let cook for about 8 minutes or until the potatoes are tender. Add the cauliflower and cook about 5-6 minutes more, until the cauliflower is tender. Stir in the cheese and mustard.
Puree with an immersion blender (or a food processor, vented to allow the steam to escape). Mix in additional water or broth if the soup is too thick. Season with additional salt to taste. Serve warm topped with additional shredded cheese and the croutons.