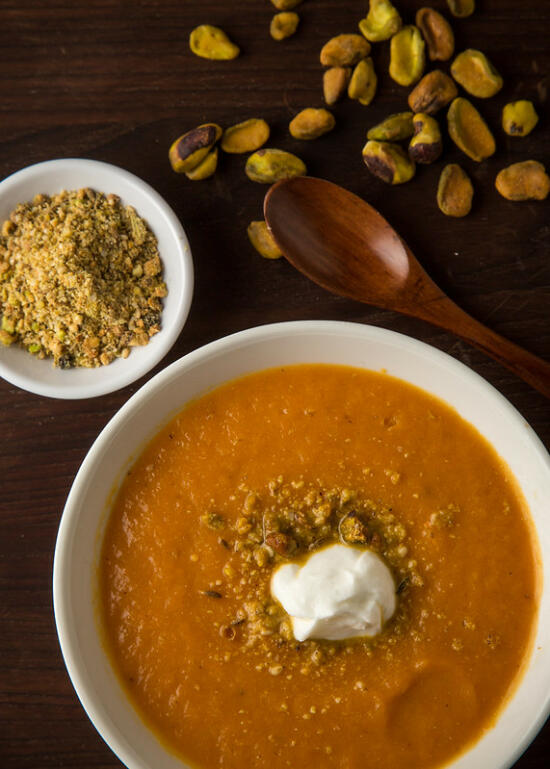 Happy New Year!
Raise of hands, who's making resolutions to eat better, exercise more, lose weight?
Well, lately I've got the exercise part down. (Easy – just find something that's a ton of fun! 😉 )
Lose weight? Hahahaaaa…. these hips are quite stubborn, I'm afraid.
And eat better… well, I try that every month or so, but things (ahem, somebody's got a sweet tooth) somehow always get in the way.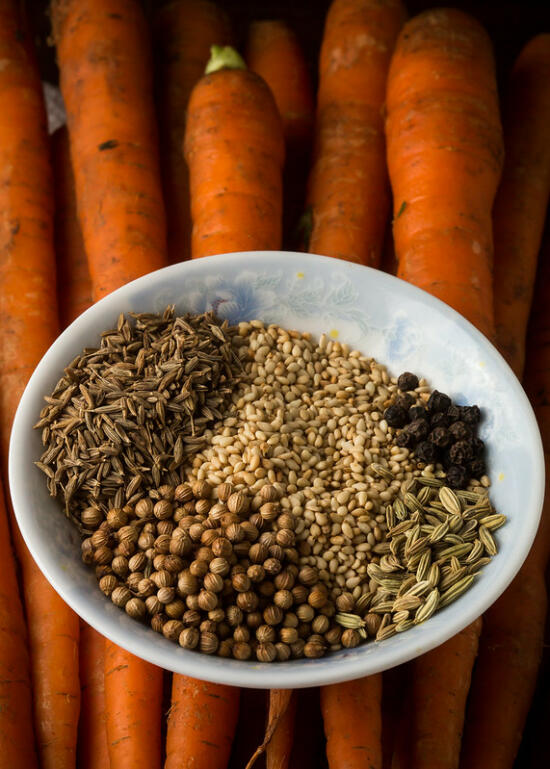 Don't worry – I'm not one to suggest a juice cleanse (I'd probably kill somebody) or going carb-free (I tried that once… can you say, "hangry"?)
I don't have the discipline to go on any of those fad diets. But what I can do is introduce more tasty, healthy things to my life.
This carrot soup is easy, good for you, and thanks to the dukkah, it's pretty interestingly-flavored, too. No boring health food here!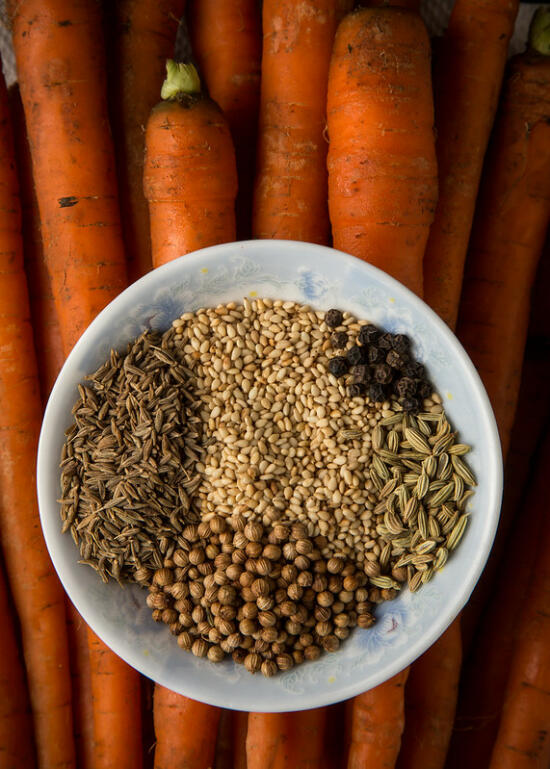 Recipe from Bon Appetit's December 2012 issue.
Ingredients
1/2 cup unsalted, shelled raw natural pistachios
2 tbsp sesame seeds
2 tsp coriander seeds
2 tsp cumin seeds
1/2 tsp fennel seeds
1/4 tsp whole black peppercorns
1 tsp kosher salt
2 lbs carrots, peeled, cut into 1″ pieces
2 tbsp (1/4 stick) unsalted butter, melted
fresh ground black pepper
1 qt vegetable broth
low-fat plain Greek yogurt
Cooking Directions
Toast pistachios in a skillet over medium-low heat, stirring occasionally, until golden brown, about six minutes. Transfer to a small plate and let cool. Add sesame seeds, coriander seeds, cumin seeds, fennel seeds, and peppercorns to same skillet. Toast, stirring often, until fragrant, about 1-2 minutes. Transfer spices to the plate with the nuts and let cool. Transfer nut and spice mixture and salt to a food processor or a mortar and pestle and coarsely grind.
Preheat oven to 425°F. Place the carrots on a rimmed baking sheet. Drizzle with the butter, season to taste with salt and pepper, and toss to coat. Roast until the carrots are tender and just beginning to brown, about 25 minutes. Let the carrots cool slightly.
Transfer the carrots to a blender. Add the vegetable broth. Blend mixture until soup is very smooth, 1-2 minutes. Pour the soup into a medium saucepan and bring to a gentle simmer over medium heat, stirring occasionally. You can add a little water to the soup for a thinner consistency, if desired. Season soup to taste with salt and pepper.
Divide hot soup among bowls. Spoon a dollop of yogurt on top of each bowl of soup. Sprinkle with the dukkah spice mixture.