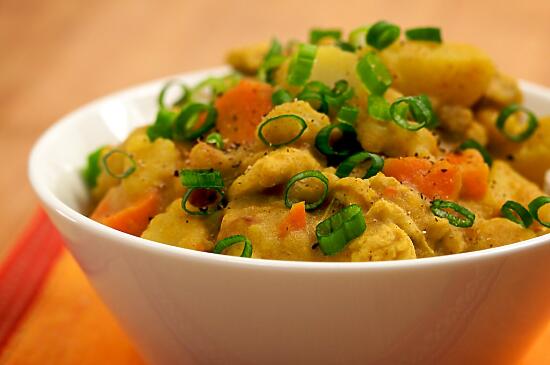 As I mentioned when I went to Hawaii, I've recently fallen in love with curry. All types of curry. To the point where I'll randomly have major cravings for curry – any kind of curry.
Such was the case earlier this week. All of a sudden, on Tuesday, I wanted curry, but I didn't have any S&B Golden Curry around – so no quick way to soothe my craving. However that wasn't a problem – it was easy to make my own.
This recipe is for Vietnamese curry. Though similar, it has a very distinct taste – different from Japanese, Indian, or Thai curries. Depending on the curry you buy, the taste varies, and can range from mild to quite spicy, so make sure to check your curry package for ingredients and/or spice level before you buy!
Here is the recipe I used, adapted from RecipeZaar. My curry craving has been satisfied – for now.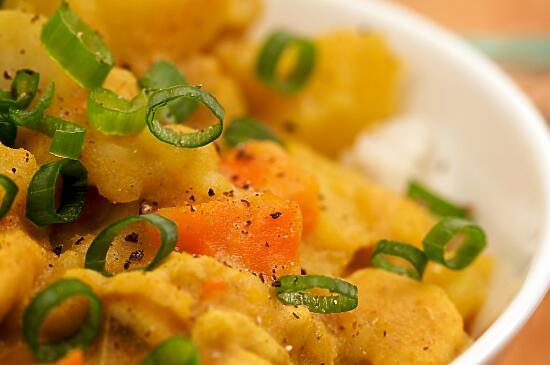 Ingredients
2 tbsp olive oil
1 medium onion, diced
2 cloves garlic, minced
2 lbs boneless, skinless chicken, cut bite-size pieces
1 tsp salt, to taste
1 tsp pepper
2 tbsp good curry powder
3 large potatoes, skinned and cubed
2 large carrots, skinned and sliced
1 (13 1/2 ounce) can coconut milk
1 (13 1/2 ounce) can chicken stock
Cooking Directions
Heat the oil in a large pot over medium heat and fry the onions and garlic for 1 minute.
Add the chicken, cook for three minutes.
Add the salt, pepper, and curry powder.
Stir in spices, let cook for a few minutes, or until the chicken is tender.
Add the remaining ingredients.
Bring to a boil, then let simmer for 30-60 minutes, or until the vegetables are at your preferred softness. We like the veggies soft, so we cooked the curry for an hour, but if you prefer harder/crunchier vegetables in your curry, then cook it for less time.
Serve over a bed of rice or with quality bread to dip in the curry.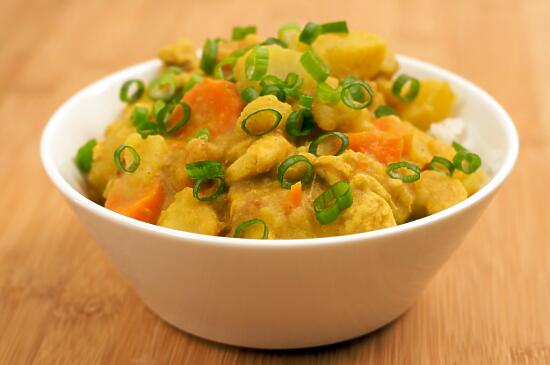 …and incredibly addictive.