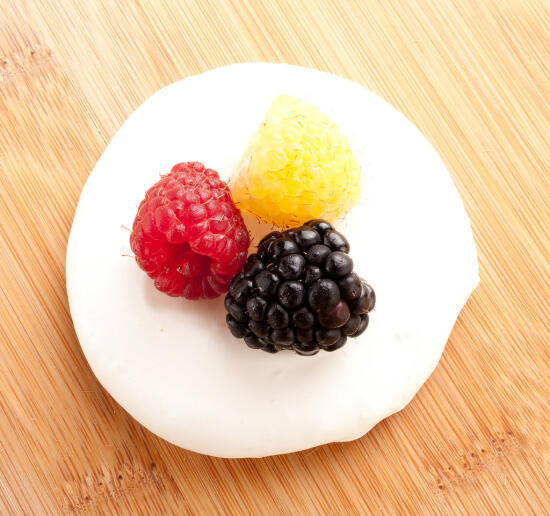 Meringues topped with fresh berries
A few weeks ago, Son and I drove up to San Francisco because I was going to the BlogHer Food conference. The organizers were awesome enough to put Son's name on the list for the final afterparty (thanks, Jaden!), and, well, we loved it. The (entirely gluten-free) menu was amazing, the music rocked, and people had far too much fun at the photo booth.
A dessert table at the BlogHer Food afterparty
But one thing that really stood out were the dessert tables.
Peanut Butter & Chocolate Mousse at BlogHer Food
Personally, I had a thing for the spoons of peanut butter and chocolate mousse. I'm a diehard peanut-butter/chocolate fan. Ooooh, they were so good.
Son, on the other hand, fell madly in love with the clouds of meringue, topped with fresh berries. (At least, I think it was meringue.) So much, in fact, that he's been begging me to make them ever since we returned from the trip.
Meringue with Berries at BlogHer Food
Finally I got around to attempting the recipe, when I realized that a cupcake recipe that I was making (which I'll post soon!) used four egg yolks – which would leave me with four leftover egg whites. Perfect!
I've never made meringues before. So… I didn't know what to expect, when I was preparing them. After mixing for 5 minutes (shush, I'm impatient sometimes), I got discouraged because it was still a very liquid mixture. What did I do wrong?!?! So of course, I ran back to my computer and looked up meringues, to try to figure out why it just wasn't working for me.
Turns out I was fine. I didn't do anything wrong. I just hadn't been mixing it long enough. Be ready to mix for at least 20 minutes (with my electric hand mixer, it took me 30 minutes on medium-high speed to get it to the proper consistency).
And when all was said and done? They came out wonderfully. The flat ones that I made (that you see in the photos) didn't even crack! (The ones where I just dolloped a spoonful of meringue on the pan and didn't flatten them at all did crack a little and ooze and bubble along the fault-line, but they were still tasty.)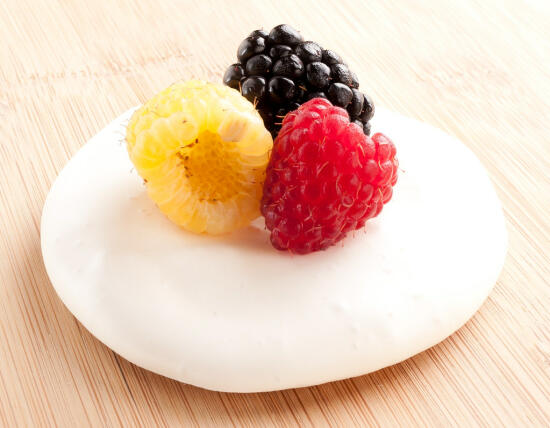 They're kind of like little clouds
Meringues, adapted from Authentic French Meringues on Allrecipes.com.
Ingredients
4 egg whites, at room temperature
2 1/4 cups (270 g) powdered sugar
fresh berries
Cooking Directions
Preheat the oven to 200°F. Line a baking sheet with parchment paper.
Whip egg whites until foamy using an electric mixer. Sprinkle in the powdered sugar a little at a time, while continuing to whip at medium speed.
Continue to whip until the mixture becomes stiff and shiny like satin and you have stiff peaks. This can take about half an hour, using a hand mixer.
Scoop dollops of the meringue onto the baking sheet, using the back of the spoon to flatten them a little and put a small indentation in the center of each disc of meringue. (Or you can pipe the meringue out onto the prepared baking sheet using a pastry bag fitted with a large round or star tip.)
Place the meringues in the oven and place a wooden spoon handle in the door to keep it from closing all the way. Bake for 3 hours, or until the meringues are dry, and can easily be removed from the pan. (After 1.5 hours it looked like it was done, but it was still a little gooey on the inside. I recommend cooking them for the full three hours.)
When the meringues are done, top with a few berried immediately before serving. Leftovers can be stored in an airtight container for several days.