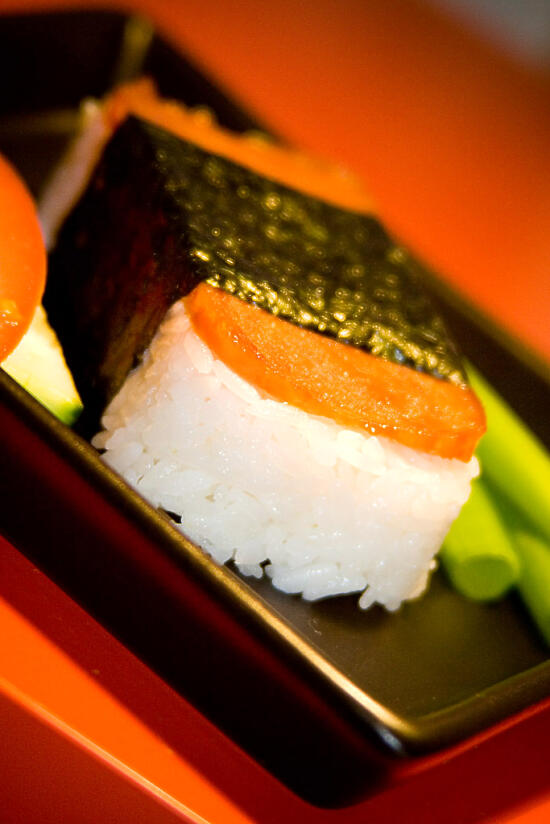 Every now and then, it's good to take a vacation. A time to relax and put all your worries aside for a week. Generally, it's recommended that you take a vacation once or twice a year. Of course as with many things in life, things can get in the way of this – work, school, family, or life in general. However if you let yourself go to long without a good vacation, there can be negative effects. Stress, burning out, even sickness can occur when you work non-stop for long periods of time.
The last time I have gotten any significant break was in the spring of 2005 – I took a leave of absence for the Spring quarter of my freshman year in college. However, even this wasn't much of a break – I was bedridden for much of the time, and in some ways this was even more stressful than being in school. (Another story for another time.) Since then, I've taken a full load of classes every quarter – even summers. Since graduating three months ago, I have been working non-stop, so there haven't been any breaks for me.
So Son (my boyfriend) and I have decided that we are taking a vacation. I know what you're thinking: "You just invited us to your spiffy brand new food blog, and now you're going to leave us?" No. I'm not. Yes, I'm taking a vacation from work and other stressors in my life, but I couldn't possibly take a break from you. Instead, everyone wins – I get my vacation, and for the week that I'm there, you get daily blog posts about all the good food I'm eating. (Of course we're going for the food. Why else would we travel?)
But where, you might ask, am I going? Hawaii. The land of spam musubi (and, I'm sure, plenty of other amazing food.) Thus I leave you with my recipe for spam musubi… although I'm sure in Hawaii they'll show me how it's *really* done.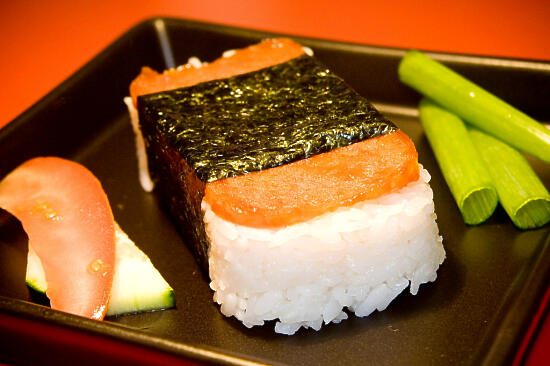 Ingredients
Cooking Directions
Cook the rice, using equal parts rice and water. I use a rice cooker, but you can also cook it on the stove if you don't have a rice cooker.
Mix the shoyu, oyster sauce, and sugar in a bowl until the sugar is completely dissolved.
Cut the spam into about 10 pieces, horizontally (like you are slicing the top off each time). Keep the can!
Place the spam in the shoyu mix, marinate for about 5 minutes.
Put the oil in a frying pan, heat over medium heat.
Fry the marinated spam until brown, about 2 minutes on each side.
Cut the nori into strips about 2.5 inches wide.
Wash the can that the spam was in very well.
Fill the can loosely with rice, then pack the rice into the can very tightly. It should end up about an inch or so thick. To get the rice out of the can, I slammed the can upside down on the cutting board until the rice came out. You might also try to line the can with plastic wrap before you pack the rice, so it's easy to pull it out.
Place the rice on one end of the nori, so that they are perpendicular.
Place a slice of spam on the rice.
Wrap the nori around the spam/rice stack. Hold closed for a few seconds, it should stick. If it doesn't stay closed, use a drop of water to close it.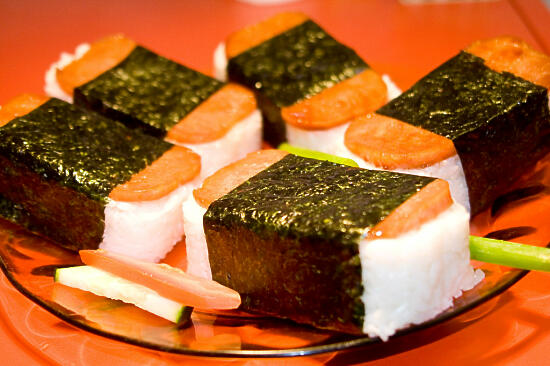 By the way, we'll be staying on Oahu. Any must-visit restaurants that you would recommend?