Started off the week with a bit of green.
One of my favorite comfort foods is a bowl of brown rice topped with sliced cucumbers, then topped with a swirl of Kewpie mayonnaise, a generous drizzle of okonomiyaki sauce, and a hearty sprinkle of bonito flakes. It's light but filling, and fairly healthy. My favorite sort of "reset" meal.
~~~~~
It's tradition for us to watch the Australian Open every January, and I'm a little disappointed now that it's over. But holy cow, that last match between Djokavic and Murray was exciting!
It's crazy how hard they work. I'm pretty sure I'd collapse on the court after the equivalent of just one of their rallys. o_0
~~~~~
What's going on here?
Lots of people refer to inari sushi as "footballs", so obviously they make the perfect Super Bowl snack!
But I couldn't just bring plain inari. It's become tradition for me to bring my spicy shrimp inari every year. They're easy to make, and everybody loved them.
I also made my grandma's seven-layer dip recipe, which the guys were crazy about. It will definitely be coming back for next year's Super Bowl party.
Also at our Super Bowl party this year: Rolo pretzels, chocolate chip cookies, eggrolls, pizza, and fancy wine (because that's how our guy friends roll).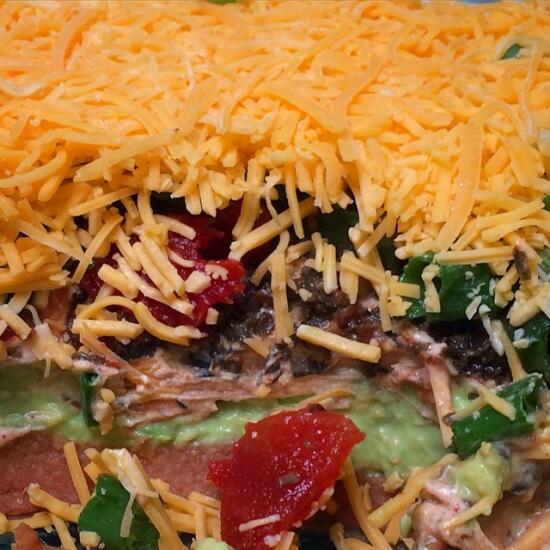 One of my favorite things about our Super Bowl party – every year, one of the guys brings fancy Japanese desserts from Chantilly. And every year I nab the black sesame cream puff, because, well, it's a black sesame cream puff, need I say more? 😀
~~~~~
The calendar says it's hot chocolate season, but the mild temperatures in LA make iced coffee seem way more appropriate.
~~~~~
Found some awesome chili. I still haven't tried making chili, but I was craving it and needed a quick, easy meal for when I don't have time to cook, so we tried this chili from Good Eggs. SO GOOD.
~~~~~
Guys! I poached eggs for the first time ever!
This is a super big deal for me, because traditionally if I'm intimidated by a new recipe or technique, I will procrastinate the hell out of it. But this time, I just went for it, and it didn't turn out half bad!
Going to poach allllll the eggs now.
The poached eggs were for a Lyonnaise salad, which was really freaking delicious. Recipe coming soon-ish, with much prettier pictures that Son took.
~~~~~
My sister requested poke for her birthday this week, but I've been overloaded with work and stuff, so I didn't think I'd have time to make it. But then I ended up having to be very close to Jus' Poke on her birthday, so I picked up a couple of pounds of poke for her. And spam musubi for us. 😀
~~~~~
Fun cactus flowers.
It rained! Sort of. More like sprinkled, but we'll take what we can get in California.
While I ran laps in the rain, Son took pictures of flowers. And then told me to run more. 😛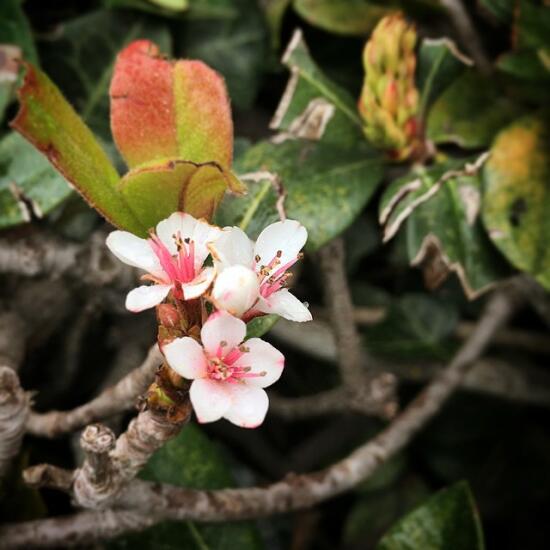 ~~~~~
It's a tradition in Son's family to take pictures of the birthday person with their birthday cake. This week was Son's dad's birthday, but since we didn't have Son's camera with us, we had to improvise a bit. For the record, using a double-layer of paper towels to diffuse the flash actually worked really well.
~~~~~
Guys, I think I've found my next band name – "Syntactic Sugar". Son said that in a meeting with a client this week, and I had to mute myself so they wouldn't hear me cracking up.
~~~~
Links I've loved lately:
I love scallion pancakes. I love quesadillas. So I'm pretty sure I'd love scallion pancake quesadillas. WHAT.
If I never make these banana muffins with toblerone chunks, it will only be because I know it would be waaaay too dangerous to have them anywhere near me.
Also, this chocolate chip banana cake. Merry-Jennifer's writing makes me really want to take up knitting.
Dude. Cookie butter macarons. Come to think of it, I do have a bunch of egg whites just hanging out in the fridge…
Can we have a Super Bowl do-over? Because I just found out about these kalbi chunked tots with gochujang cheese sauce, and I really need an excuse to have them in my life.
Also, this Taiwanese popcorn chicken.
This spicy garlic eggplant with ground pork sounds like the best kind of comfort food.
I need to try this recipe for creamy scrambled eggs, because that first picture is exactly how I wish my scrambled eggs looked.
Four words: chicken pot pie burger.
I kind of want to make this, mostly because it sounds really neat: sous-vide egg yolk tacos.
I just found out about the food blog Le Jus D'Orange, and I'm kind of obsessed. Case in point, this blood orange black sesame ice cream. Also, the scallion pancake quesadillas mentioned above.
I want to make this lemon curd ice cream, but with the passionfruit curd I have in my pantry.
This article about motivation vs. discipline is exactly what I needed.
This cake. Now I need to go hunt down some Girl Scouts…