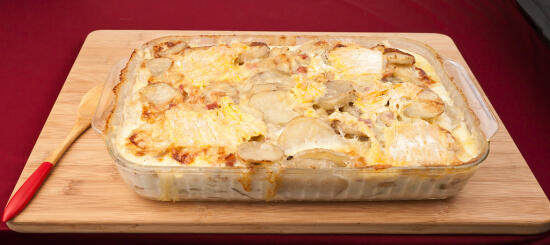 Barbara of Winos and Foodies is known for being a huge fan of Lance Armstrong and the Tour de France – after all, every year she organizes the wonderful LiveSTRONG with a Taste of Yellow event.
Once again, she's organized a great one – a series all about the Tour de France, that brings together a bunch of bloggers who are each assigned a stage of the Tour.
I got Stage 9, which happens today. It starts in Morzine-Avoriaz (check out Raita's blog to see what she did for Stage 8… heh, let me just say, great minds think alike… 😉 ), and finishes in Saint-Jean-de-Maurienne.
Saint-Jean-de-Maurienne is in the Savoie region of France – the mountainous region in the south-east. It has a rich history with cycling – the many mountain passes that surround the town are absolutely perfect for biking, and it just happens to be at the heart of the biggest cycling area for climbers.
Of more interest to foodies, the town has an annual bread festival (which will happen on the 5th of August this year), and is famous for its Opinel knives.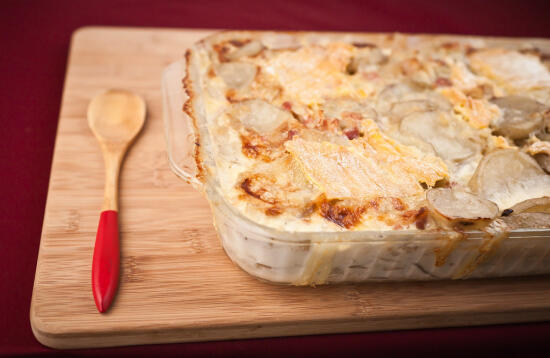 Ooey, gooey cheese and cream…
I was delighted to hear that I was assigned to a town from the Savoie region – for several years now, there has been a dish from that region that I've been wanting to try. This was the perfect excuse!
Potatoes, bacon, onions, garlic, cheese, cream, wine… you really can't go wrong with a Tartiflette. These are all the ingredients I love most! 😀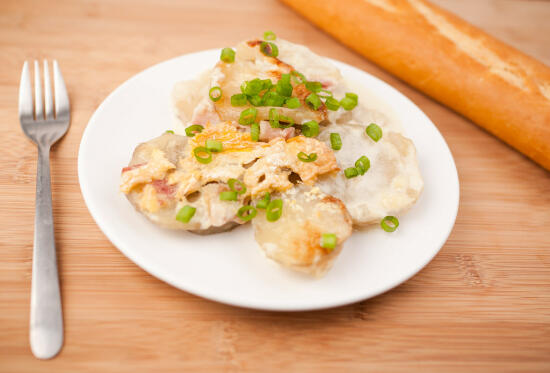 Perfect garnished with some chopped green onions!
Tomorrow's stage will be over on Mele Cotte, so make sure to check it out!
P.S. Did you know you can also hang out with me on the Fridgg page on Facebook?
P.P.S. Speaking of hanging out, you're following me on Twitter, right? Feel free to say hi, ask questions, poke fun at me… I always love getting to know my readers better. 😀
Tartiflette, adapted from Lucy's Kitchen Notebook:
Ingredients
potatoes to fill a 9×13″ pan (about 5-6 medium potatoes)
2 medium onion
1 lb good bacon, or other good cured pork
2 cloves garlic
4 tbsp butter
salt and pepper
1/3 cup heavy whipping cream
1/2 cup dry white Savoie type wine
1/2 of a Reblochon de Savoie
green onion
Cooking Directions
Heat the oven to 475°F (250°C).
Peel and slice the potatoes into medium-sized slices.
Roughly chop the onions.
Heat the butter in a heavy skillet and add the onions and bacon; sauté gently for 3-5 minutes.
Add the potatoes and continue to sauté for 5 more minutes.
Add the wine, give the potatoes a stir, season with salt and pepper as desired, then cover and let simmer and steam in the wine for 10 minutes.
Grease the baking dish with butter, crush the garlic cloves, and rub the garlic cloves all over the inner surface of the pan.
Add the heavy whipping cream to the potato mixture, and transfer it to the gratin pan.
Slice the Reblochon in half with a sharp knife flat wise, and place the two pieces on top of the potatoes, rind side up.
Bake for 10 minutes.
Turn the heat down to 400°F (200°C) and bake for 10 more minutes.
Turn off the oven but don't open it, and leave the dish in the closed oven for another 10 minutes.
Garnish with chopped green onions.
Serve hot with a salad, crusty bread, and the the wine you cooked with.