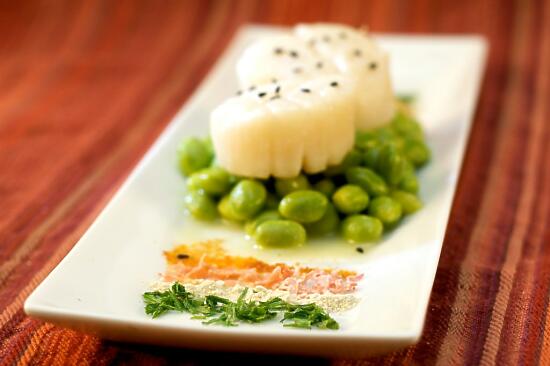 Poached scallops, edamame, and various powders
When I make a dish, I want to like it. I really do. But it seems all too often these days, I end up making dishes that involve way too much effort for a final result that's just… underwhelming.
Unfortunately, such was the case with this dish. Originally, the recipe called for skate wings, green beans, and different flavor powders. So I'm willing to accept that my dislike of the dish could be due to the changes I made to it. But given how often I talk about sustainable seafood over on Sushi Day, I couldn't possibly use the incredibly unsustainable skate wings in my dish. So I opted for the more sustainable scallops.
The best part of this dish, in my opinion, was the edamame – cooked in the beurre monte, it was actually quite good. But the scallops were bland (which makes me sad because I normally love scallops) and the powders weren't that great… sadly, not worth the effort.
If you'd like to see the original recipe, it (and a lot of information about molecular gastronomy) can be found here. (I would link to the blogger who hosted this month's Daring Cooks challenge, but I believe his blog is down at the moment. Besides, Audax Artifex always has some of the most creative dishes based around the challenge.)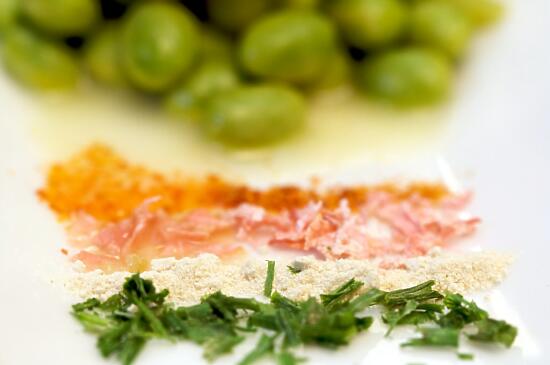 Green onion, wasabi, gari, and togarashi powders
Ingredients
8 scallops
300g shelled edamame
sea salt
4 sticks butter, cubed and cold
water
16 slices gari
8 stalks green onion
1 tbsp wasabi powder
1 tbsp togarashi
Cooking Directions
Wash and thoroughly dry the green onion.
Chop the green onion coarsely.
On a paper towel, microwave the green onion for on HIGH for 2 minutes. Set aside any fully dried green onion pieces. Microwave the remaining green onion 2 more minutes on HIGH or until fully dried, stopping at 1 minute intervals to set aside dried pieces (so they don't burn).
Crumble the green onion finely between your fingers. (Or if you have a mortar and pestle, or a coffee grinder, you can use them to grind the green onion.)
Dry the gari between two paper towels.
Microwave on HIGH until fully dry, about 2-3 minutes.
Crumble into a powder, like you did with the green onion.
In a small saucepan, bring the water to a boil, remove from heat and whisk in the butter 1 cube at a time. This should from an emulsion – known as a beurre monte. Keep this heated, but under 195 degrees.
Bring 100g water, 100g beurre monte, and edamame to a boil over high heat. Cook until the water has evaporated (about 3 minutes). When the pan is almost dry, remove it from heat and season with salt.
Bring 300g water and 300g beurre monte to simmer over medium heat, add scallops and simmer for 2 minutes. Remove the pan from heat and flip the scallops over and let rest in pan for two more minutes. Transfer to warming tray lined with parchment and season with 5 grams of fine sea salt.
To plate, top a scoop of edamame with the scallops. Garnish the plate with the green onion, gari, wasabi, and togarashi powders.