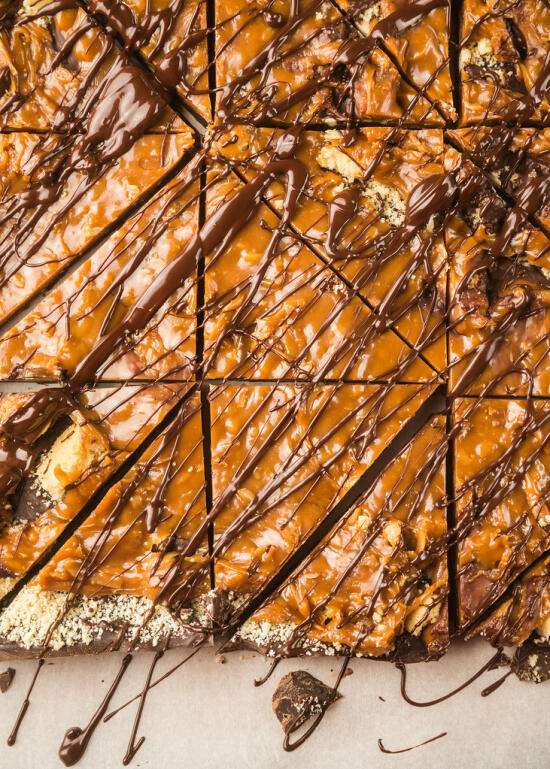 After yesterday's face-off between Thin Mints and Samoas, I couldn't let Thin Mints just run away with the victory that easily!
I mean, that Thin Mint Oreo Milkshake was insanely delicious, and I can't deny it deserved to win, but… to be honest, I've kind of always been just a bit more of a Samoas girl.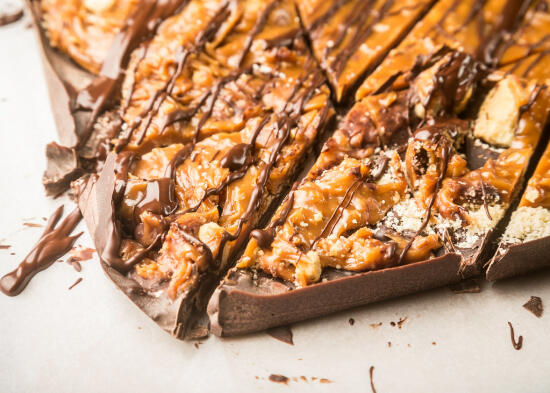 This Samoas bark was something I made for my sister last year for Christmas – we were visiting my grandparents for Christmas, and I wanted to be able to give my siblings something, but didn't want to have to lug all their Christmas gifts all the way to Arizona and back.
Since Kristen's known for being a lover of all things Samoas, I had the idea of making a Samoas-inspired chocolate bark for her. (Patrick got homemade licorice caramels – I'll be posting that recipe later this year.)
When I thought up the idea, I did a quick search to see if anybody had made this before. And while yes, of course there are people who've made Samoas-inspired chocolate bark before, none of the recipes out there were quite what I had in mind.
This recipe couldn't possibly be simpler. Layers of chocolate, shortbread, caramel, coconut, and more chocolate – just like the Girl Scout cookie! Except even more decadent, because you get way more chocolate and caramel in every bite with this version. (No regrets.)
If you like Samoas, then you'll definitely love this bark – and love how easy it is to make!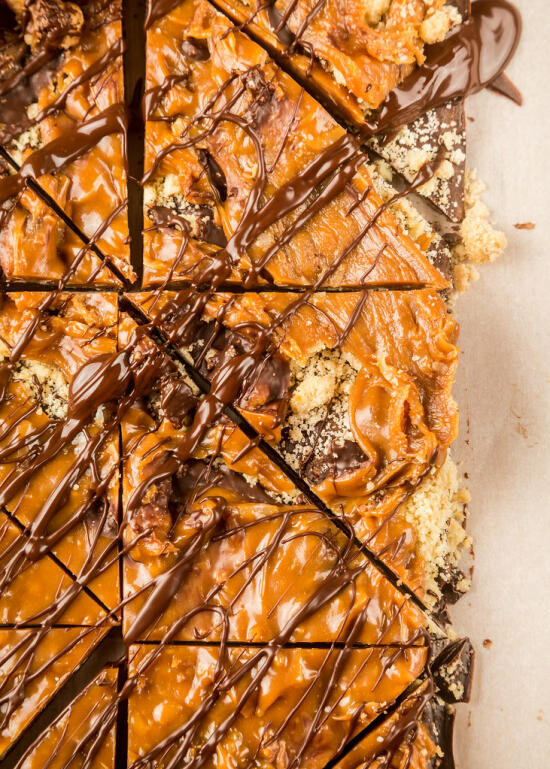 Ingredients
22 oz chocolate, divided
10.6 oz (2 packages) Walkers shortbread
22 oz caramel bits
1 cup coconut
Cooking Directions
Line a small rimmed baking sheet with parchment paper.
Melt 15 oz of the chocolate in a double-boiler, or in 30-second increments in the microwave, stirring well in-between microwaving.
Spread the chocolate evenly over the parchment paper.
Put the shortbread in a ziplock bag, seal the bag, then use a rolling pin to crush the shorbread into crumbs. Spread the crumbs evenly over the chocolate, and lightly press into the chocolate with your fingers. Let the chocolate cool completely before proceeding.
Melt the caramel in a double-boiler, or in 30-second increments in the microwave, stirring well in-between microwaving. Stir in the coconut.
Spread the caramel mixture evenly over the shortbread.
Melt the remaining 7 oz of chocolate. Drizzle the chocolate over the caramel, to create stripes. Let everything cool completely.
When the bark is completely cool, use the parchment paper to remove the bark from the baking sheet, and place the parchment-lined bark on a cutting board. Using a sharp knife, cut the bark into triangles (or whatever shape you prefer).
Enjoy!