When it comes to Girl Scout Cookies, are you Team Thin Mints, or Team Samoas?
Everybody's one or the other. My mom? Team Thin Mints. My sister… solidly in Team Samoas.
But what about Tagalongs, I ask you? Or Do-Si-Dos? Or the classic but unfairly maligned Trefoils?
Those cookies are great and all… but I guarantee you, it's the Thin Mints and Samoas people go for first.
(Trust me – I used to be a Girl Scout!)
So on Fridgg, which cookie comes out as the winner – Thin Mints or Samoas?
Thin Mints get an early lead, with Laurie's no-churn Thin Mint ice cream and Thin Mint truffles edging out Deb's Samoas scones!
And it looks like the Thin Mints are keeping their lead, with Jamie's Thin Mint-inspired naughty Girl Scout cocktail and Justine's Thin Mint pots de creme – although Claire's Samoa cookie doughnuts do look delicious!
But wait – do Samoas have a chance? Lisa's Samoa rice krispie treats, Phillip's Samoa mini doughnuts, and Jess' homemade Samoa cookies all look like winners!
But alas, it wasn't to be! Team Thin Mints takes the win, with this boozy Thin Mint Oreo Bailey's Irish Cream milkshake from Peabody!
Did your team win? Tell me who you were rooting for!
(As for me? I'm Team Tagalongs. I'm a rebel like that. 😉)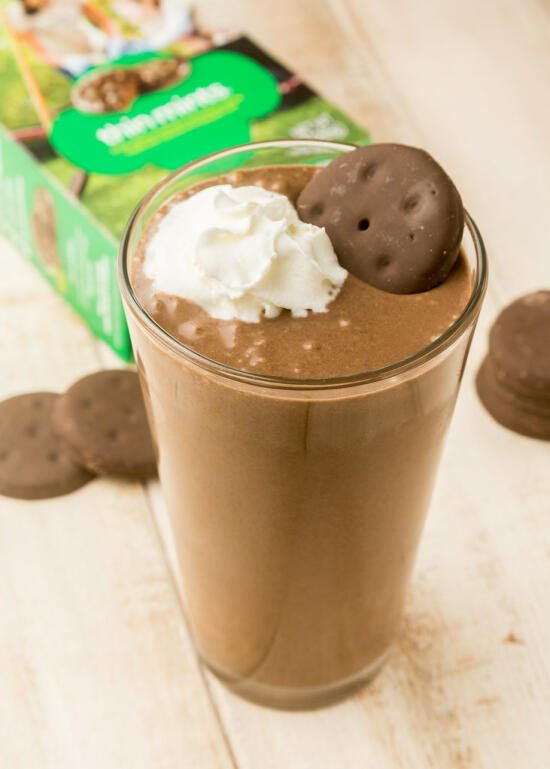 Obviously, I had to try out the winning milkshake – because when you mix Thin Mints, Oreos, ice cream, and booze, everybody wins!
And my goodness, was it delicious! It tastes like drinking minty oreos… not a bad way to enjoy your Girl Scout Cookies!
Thin Mint Oreo Bailey's Irish Cream Milkshake
Recipe barely adapted from Sweet Recipeas.
Ingredients
4 large scoops of good vanilla ice cream
100ml (about 3 oz) Bailey's Mint Irish Cream (or an equivalent amount of milk for a non-alcoholic drink)
4 Thin Mint cookies
4 Double-Stuffed Oreos
whipped cream and extra cookies to garnish
Cooking Directions
Add the ice cream, booze or milk, Thin Mints, and Oreos to a blender. Starting low and slowly increasing the speed, blend until smooth.
Pour into a glass, and top with whipped cream and additional cookies.
Enjoy!