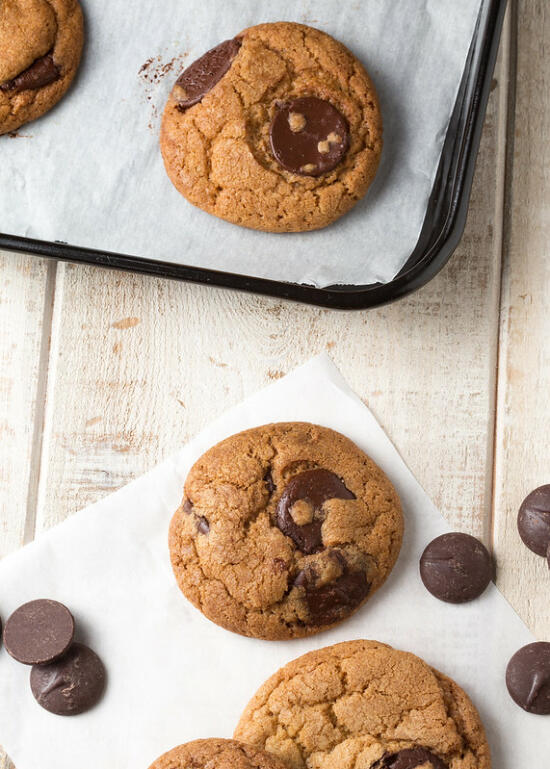 I know I've been going on and on about my new toaster oven, and by now you're probably thinking, "toast is great and all, but how much toasted bread can one girl eat?"
Well, I'm here to tell you the very, very best reason to pull your toaster oven out of storage.
Fresh.
Baked.
Cookies.
Make the cookie dough over the weekend, and if you have the time, roll the dough into balls, then stick them in the fridge. Then, during the week, any time you want a warm, gooey, fresh-baked cookie? Just place a ball of dough or two on a little parchment-lined baking sheet, stick it in your toaster oven, and 15-20 minutes later, fresh-baked cookies! The best.
Chocolate Chip Cookies
Recipe from my Aunt Lydia
Ingredients
2 cups + 2 tbsp all-purpose flour
1/2 tsp salt
1/2 tsp baking soda
1 1/2 sticks (3/4 cup) good European unsalted butter (I used Plugra), melted and slightly cooled
1 cup brown sugar
1/2 cup granulated sugar
1 egg + 1 egg yolk
2 tsp vanilla extract
1 1/2 cups semi-sweet chocolate chips (we prefer TCHO dark chocolate baking drops
Cooking Directions
Heat oven to 325°F. Adjust oven racks to upper- and lower-middle positions. Line two large baking sheets with parchment paper.
Mix flour, salt, and baking soda together in medium bowl; set aside.
Mix butter and sugars until thoroughly blended. Mix in egg, yolk, and vanilla. Add dry ingredients, mix until just combined. Stir in chocolate chips.
Refrigerate the dough for at least an hour, or up to two days.
Form 1/4 cup-sized balls of dough, and place on prepared baking sheets, leaving plenty of space between cookies.
Bake, switching the positions of the cookie sheets halfway through, until cookies are light golden brown and the outer edges start to harden but centers are still soft and puffy, about 15 to 22 minutes (every oven is different – my aunt bakes hers for 22 minutes, but mine, baked using the convection setting on my toaster oven, were done in about 15 minutes, so keep an eye on them).
Cool cookies on cookie sheets. Serve warm, or store in airtight container.
Enjoy!