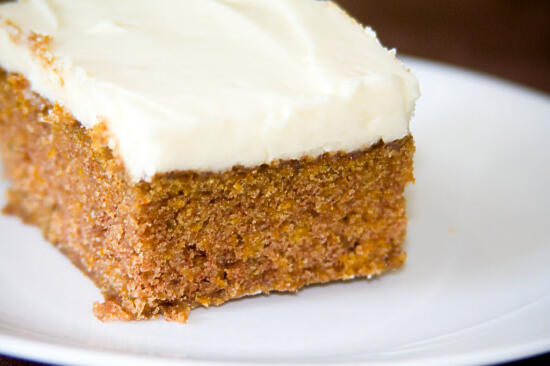 Carrot cake – my favorite use for carrots. Sure, it's not the healthiest option, but most people would look at you oddly if you accused me of being a health freak. Although I don't eat nearly as much sugar as I did when I was younger, I do still love my occasional desserts.
When I received a bunch of carrots in my CSA box (Community Supported Agriculture), my mind immediately went to carrot cake. A quick internet search turned up so many recipes, but which should I make? I narrowed my results down to a few that didn't contain any ingredients that I didn't have, and then to pick the one that I would ultimately make… eeny meeny miny mo. Yes, a very scientific method of picking a recipe. 😉
What did I end up with? The perfectly moist cake, the sweet cream cheese frosting… my only caveat is I must be sure not to make this too often. (I think eeny meeny miny mo turned up a very good result indeed!) In an effort not to allow myself to eat the entire cake, my family and Son's co-workers all got some carrot cake. All of them loved it just as much as I did… now to find some healthier recipes to use up carrots next time!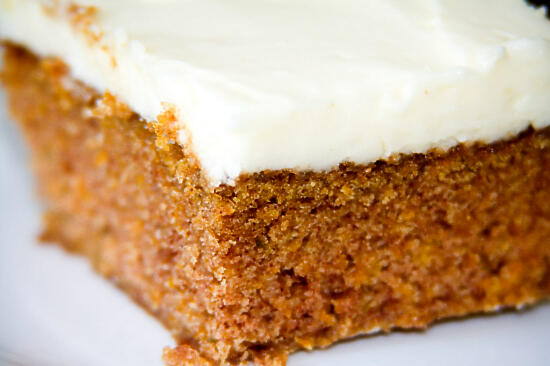 Here is the recipe, adapted from Tammy Elliot's recipe on AllRecipes
Ingredients
Cake:
4 eggs
1 1/4 cups vegetable oil
2 cups white sugar
2 teaspoons vanilla extract
2 cups all-purpose flour
2 teaspoons baking soda
2 teaspoons baking powder
1/2 teaspoon salt
2 teaspoons ground cinnamon
3 cups grated carrots
Frosting:
1/2 cup butter, softened
8 ounces cream cheese, softened
3 1/2 cups confectioners' sugar
1 teaspoon vanilla extract
Cooking Directions
Preheat oven to 350 degrees F (175 degrees C).
Grease and flour a 9×13 inch pan.
In a large bowl, beat together eggs, oil, white sugar and 2 teaspoons vanilla.
Mix in flour, baking soda, baking powder, salt and cinnamon.
Stir in carrots.
Pour into prepared pan.
Bake in the preheated oven for 40 to 50 minutes, or until a toothpick inserted into the center of the cake comes out clean.
Let cool in pan for 10 minutes, then turn out onto a wire rack and cool completely.
To Make Frosting: In a medium bowl, combine butter, cream cheese, confectioners' sugar and 1 teaspoon vanilla.
Beat until the mixture is smooth and creamy.
Frost the cooled cake.