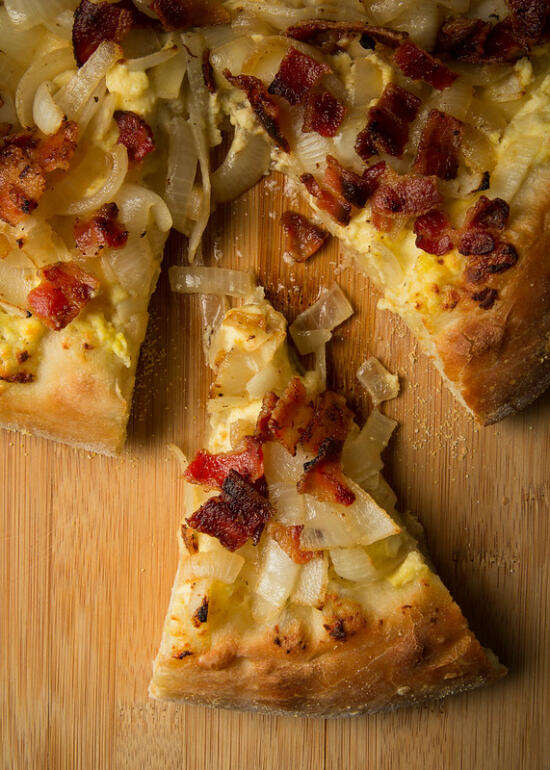 Caramelized onion, bacon, and ricotta pizza
Most of my cooking these days falls into the, "What the heck do I do with all these veggies from my CSA box?" category. Which is good, because it means I'm cooking more (and blogging more!) (and eating better!), but let me tell you, sometimes it's a challenge.
Like, kale. We are up to our ears in kale, and have no idea how to use it. (And don't tell me kale chips – unfortunately, we're not really fans of them.)
Or collards. Uh… help? I've never cooked with collards before, so I have no clue what to do with them.
And chard… yeah. Can you see a theme here? It's the greens I have a problem with – everything else is so easy and delicious roasted!
But with the swiss chard we got, at least I was able to find something that sounded good. I was going to make pizza!
Except Son "doesn't like pizza" (or so he says). So I put off making it for a few days until my little sister was in town.
Yeah… turns out that was a few days too many, because by the time she came over, the swiss chard was ready for the trash can. Oops. -_-
Oh well. I omitted the swiss chard, and made the pizza anyways… and added bacon, because, well, you know me. And my first pizza was a delicious, delicious success! (More or less. I tried hand-stretching the dough I got from Trader Joe's because I was too lazy to get out the rolling pin… so I got really thick crusts, and a really thin, soggy center. It was tasty, but don't do that. Don't be lazy like me.)
And Mr. "I don't like pizza"? Ate three pieces. And then another the next day. HAH!
Based on this Onion Pizza With Ricotta and Chard recipe from the New York Times.
Ingredients
2 tbsp extra virgin olive oil
1 1/4 pounds onions, sliced
2 garlic cloves, minced
Salt and freshly ground pepper
1 14-inch pizza crust
cornmeal or semolina
3/4 cup ricotta (6 ounces)
2 ounces Parmesan, grated (1/2 cup, tightly packed)
1 egg yolk
4 sliced of bacon, cooked until crispy and crumbled
Cooking Directions
Half an hour before baking the pizza, preheat the oven to 500° F.
Heat the olive oil over medium heat in a large, heavy skillet. Add the onions. Cook, stirring often, until tender and just beginning to color, about 10 minutes. Add the garlic and a generous pinch of salt. Turn the heat to low, cover and cook another 10 to 20 minutes, stirring often, until the onions are golden brown and very sweet and soft. Remove from the heat.
Roll out the dough, oil a 14-inch pizza pan and dust with cornmeal or semolina. Place the dough on the pan.
In a medium bowl, combine the ricotta, egg yolk, and Parmesan. Spread over the pizza dough in an even layer, leaving a 1-inch border around the rim. Top with the onions. Sprinkle with bacon.
Place in the hot oven, and bake 10 to 15 minutes until the crust and bits of the onion are nicely browned. Remove from the heat, and serve hot or warm.