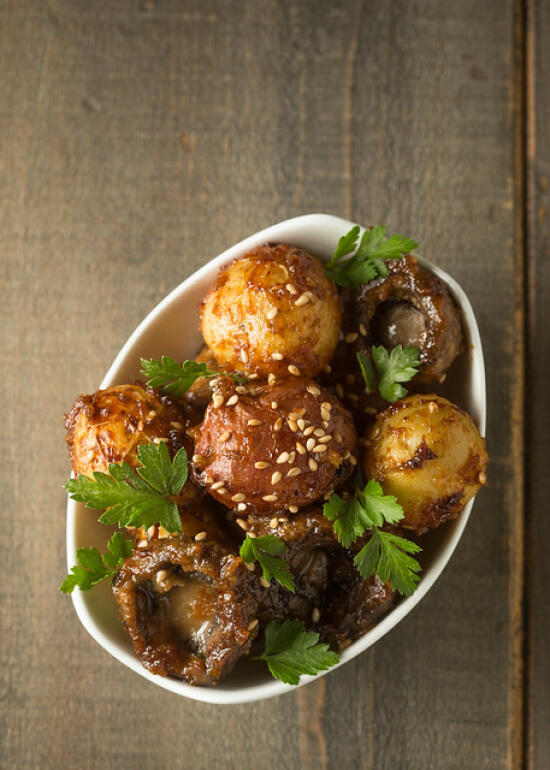 "We're making pot roast and artichokes tonight if you wanna come over."
I had planned on stopping by my dad's house that evening anyways to check in on him, so when my sister texted me, my answer was an obvious yes.
"Shall I bring anything?"
"If there's a vegan side dish you want to bring, that would be cool cause I think Vivian [our brother's girlfriend] is gonna be there and she's vegan."
I'm always up for a food challenge, so I dug through my bookmarked recipes, looking for something tasty. It needed to be something easy, too, as I only had a few hours to run to the store and cook something before I was supposed to be at my dad's.
This Miso-Roasted Potatoes and Mushrooms recipe from A Thought For Food fit the bill perfectly. Vegan, easy to make, sounded tasty, and (hopefully) filling enough to act as a main for Vivian.
Within a few hours, my kitchen smelled delicious.
We may have snuck more than a few bites before we left for dinner.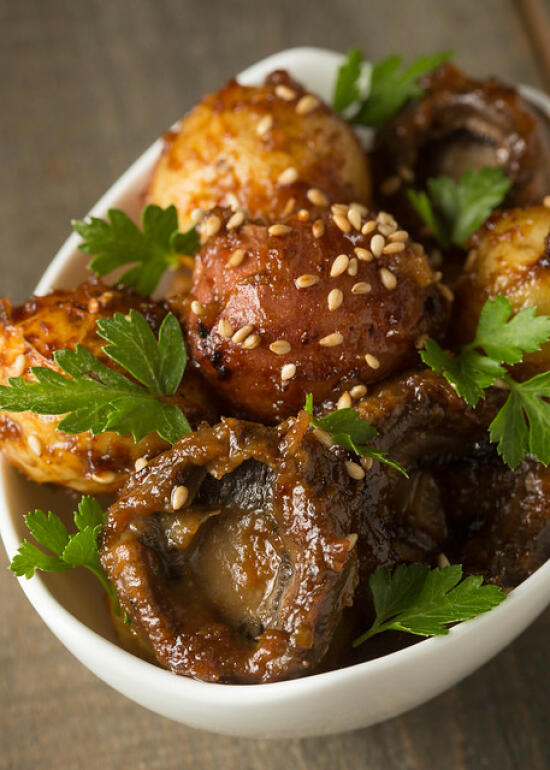 Dinner was a rousing success! Everyone loved the miso potatoes and mushrooms. The pot roast, brussels sprouts, and artichokes my sister and her girlfriend made were delicious.
I've already invited myself over to do it again next Sunday. 😀
Recipe slightly adapted from A Thought For Food.
Ingredients
1 lb fingerling potatoes
1 lb white mushrooms
1 garlic clove, minced
2 tsps minced ginger
3 tbsp white miso
2 tbsp brown sugar
2 tbsp sesame oil
2 tsp chopped parsley (optional)
4 stalks green onions, chopped (optional)
1 tsp sesame seeds
Cooking Directions
Preheat oven to 400°F. Line a rimmed baking sheet with parchment paper.
In a large mixing bowl, whisk together the miso, brown sugar, sesame oil, garlic, and ginger. Add the potatoes and mushrooms to the bowl, and toss to coat.
Transfer potatoes and mushrooms to the lined baking sheet. Place in oven and cook for 30-45 minutes, or until you can easily pierce the potatoes with a fork, stirring halfway through.
Transfer roasted potatoes and mushrooms to a serving bowl. Sprinkle fresh parsley, green onions, and sesame seeds on top.