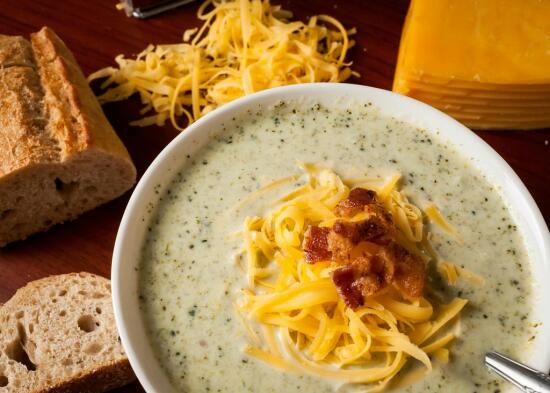 I recently signed up for the Farm Fresh to You delivery service, because I've decided I need more produce in my life (and I got a good deal through LivingSocial). Of course, getting a big box of produce also means you have to figure out what to do with everything in the box. The artichokes and strawberries were easy (we ate them right away), carrots went into a big batch of curry, lemon went into honey-lemon "tea" (I spent that week sick as a dog), lettuce turned into salads. But what to do with the broccoli?
Then I saw this recipe for broccoli cheese soup on Brown Eyed Baker, and it sounded really good. So once I got better, I made the soup… with a few alterations. A little more broccoli, throw in the potatoes that I had just because they were there. Add some garlic powder because it needed just that slightest kick of flavor. Cook it a little longer so the vegetables are meltingly soft. And add bacon, because… well, why not? We all know bacon makes everything better.
Of course, the test for whether something is good is never whether Son likes it or not. He'll eat just about everything, and yet he isn't much of a fan of cream-based soups. (He ate it anyways.) So instead I brought my dad a bowl of it. The verdict? He loved it.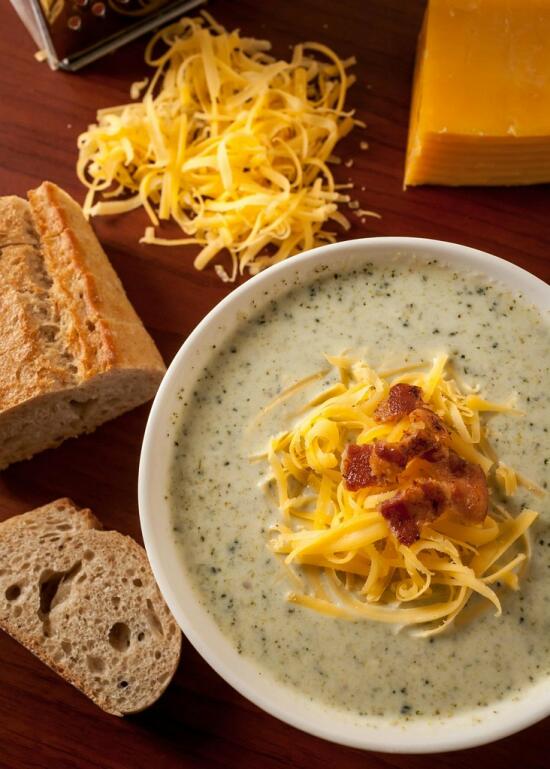 Ingredients
1 stick (1/2 cup) unsalted butter
1 small yellow onion, finely chopped
3 tbsp all-purpose flour
3 cups whole milk
1 1/2 cups half-and-half
3 heads broccoli, stems removed and discarded, and florets cut into bite-size pieces
1/2 lb potatoes, diced
a pinch of nutmeg
12 ounces mild cheddar cheese, shredded (about 3 cups)
Salt and pepper
1 tsp garlic powder
12 slices of bacon, cooked
Cooking Directions
In a large pot, melt the butter over medium heat. Add the onions and cook for 3 to 4 minutes, until they begin to soften. Sprinkle the flour over the onions and stir to combine, cooking for about 1 minute. Slowly whisk in the milk and half-and-half.
Add the nutmeg, broccoli, potatoes, a dash of salt, freshly ground black pepper, and garlic powder. Cover and reduce the heat to low. Simmer for about an hour, or until the broccoli is tender. You can add the cheese now, or add it to taste when you serve the soup. (I like cheese, but Son isn't as much of a fan so he didn't add any.)
Blend with an immersion blender, or carefully transfer to a blender or food processor to blend. Top with cheddar cheese and crumbled bacon. (You can also add croutons, if you'd like.)
This makes a fairly thick soup. I like it that way, but if you prefer a thinner soup you can mix in a cup of vegetable broth to thin it out.
Enjoy!