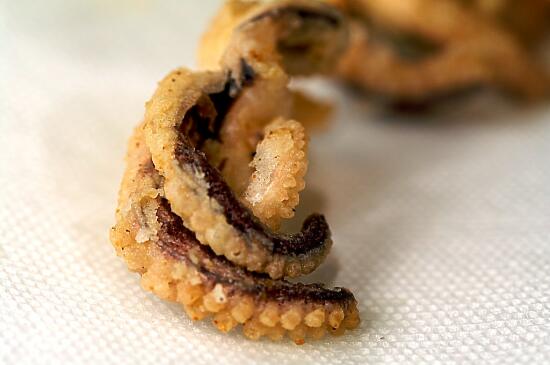 I first tried calamari three years ago, when Son took me to a sushi restaurant for my birthday. I enjoyed it quite a bit, but this was an entire year before I began blogging – I didn't cook much at home, so it never occurred to me to try making calamari on my own.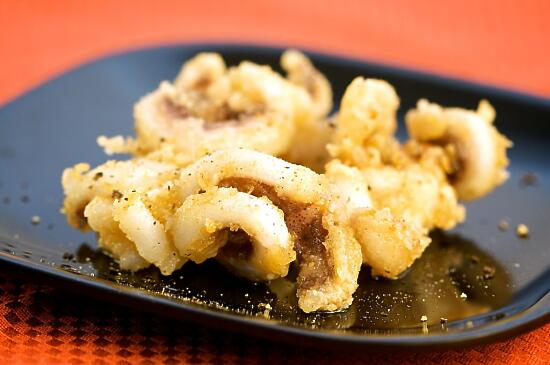 A year ago, my brother first tried calamari. It was love at first bite, and he's been begging me to make him calamari ever since. Of course we've both been busy, so we've never had time to get together and make calamari (meaning I cook, he pigs out)… until now.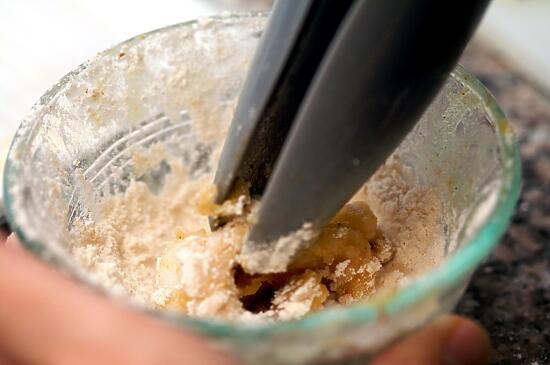 On Christmas, after the family had finished opening presents, my brother went to the fridge and presented me with a package of raw octopus. "I'm gonna come over to your apartment this week, and you're going to make me calamari." Now that he has his driver's license (goodness help me) he looks for any excuse to drive to my apartment, especially when I'm cooking. Of course, I'm always happy to have my little brother visit (even if the thought of him driving scares the **** out of me!)
…place in a pot of hot oil…
Wow. I never realized just how easy it would be to make calamari. I imagined some ten-step process of coating in flour, then some fancy batter, then frying it and so on and so forth. In reality, it couldn't be easier – all you have to do is coat it in flour and fry it. We gave it a double coating (coat, fry, coat, fry again) so it would be extra crunchy and also cook longer (even though the octopus was sashimi-grade, my brother's not supposed to eat raw seafood due to his leukemia.)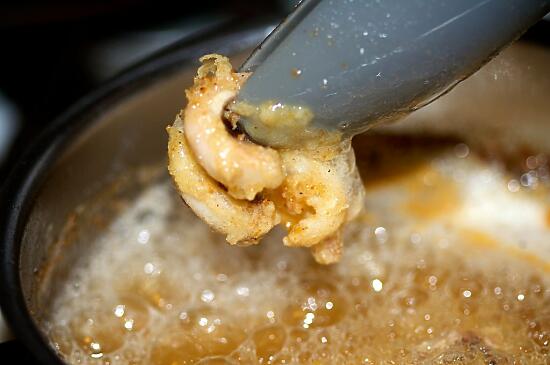 The result? Delicious. Or at least, I assume so. I didn't actually get any – I was so busy cooking, the two boys ate it all up before I could get any! According to my brother, he'll be over here very often so I can make him more calamari. Success!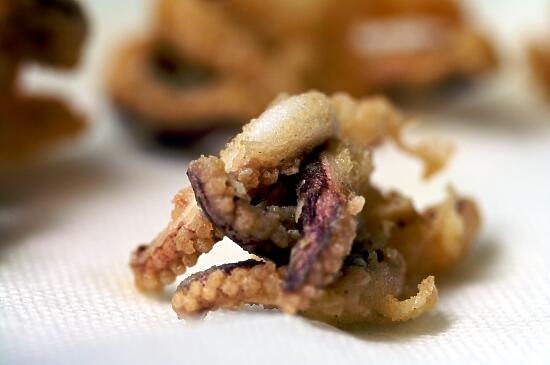 Oh, and yes, I know, calamari is supposed to be made with squid, not octopus. We used octopus because that's what my brother had bought for me to cook. Turned out just as well, but be forewarned that octopus is much chewier than squid… so if you are like me and don't like super-duper rubbery foods, then go with squid instead.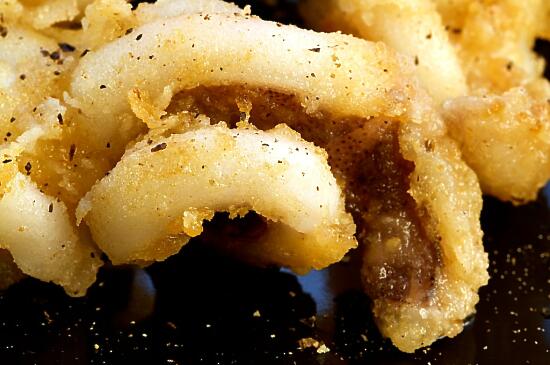 Ingredients
raw octopus or squid
flour
seasonings (I used Old Bay Garlic and Herb)
vegetable oil
Cooking Directions
Mix the flour and seasonings.
Coat the squid well with the flour mixture.
Deep fry the coated squid in a pot of hot oil until golden brown.
Repeat steps 2 and 3.
Let drain on paper towels.
Enjoy!