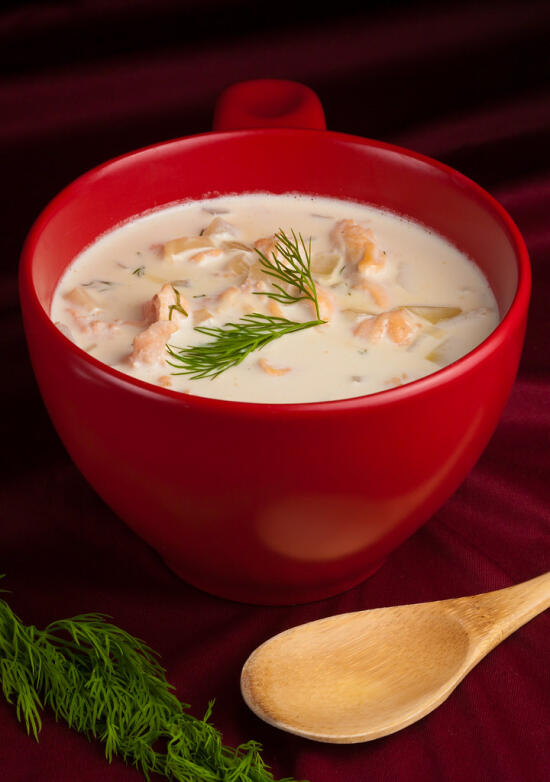 When you order fish from I Love Blue Sea, you essentially have to order an entire fish. It makes sense – the fish has to be extremely fresh so that it will be sashimi-grade, and they can't just have half-fishes sitting around waiting for the next order. That would be wasteful.
So after making a few different dishes for Sushi Day, I had a good bit of fish left over. Obviously I wasn't going to throw it away… I spent good money on that arctic char! No… I had to find a good way to use it up.
When I need to use up an ingredient, I look to my kitchen to see what other leftover ingredients I have sitting around that also need to be used, and see if there's a way I could put them together.
An onion.
Some garlic.
Heavy cream.
A sweet potato.
Hm…
SOUP!!!
So I turned to my bookmarked recipes, to see if I had any links for salmon chowders (since arctic char is in the same family as salmon, but it's pretty rare that you're going to find an arctic char recipe on most food blogs).
None. Dang.
However, I did have a recipe for garlic soup that I'd been wanting to make, which would use the onion, garlic, and heavy cream.
Garlic soup probably would go pretty well with some sweet potato and arctic char… right?
So I looked to AllRecipes.com for a salmon chowder recipe (for years AllRecipes.com has been my go-to site when I need a recipe for anything… at least, after I've looked through my list of bookmarked blog posts), and sort of fudged the two recipes together to come up with something that I hoped would work.
Let me just say, my apartment smelled like heaven while this was cooking.
Trust me… if you only ever make one thing from any of my sites, this is the one you want to make. On a cold, stormy, wintery day when the scent of it cooking will fill your home and make everything seem warm and comfy. And then cuddle up next to a fire with a bowl of soup and your loved ones, and… okay, I'm getting carried away. And overly romantic. Anyways.
You want to make this. Heck, I want to make another batch of this… right now. I think I'm going to have to order another couple of pounds of arctic char now…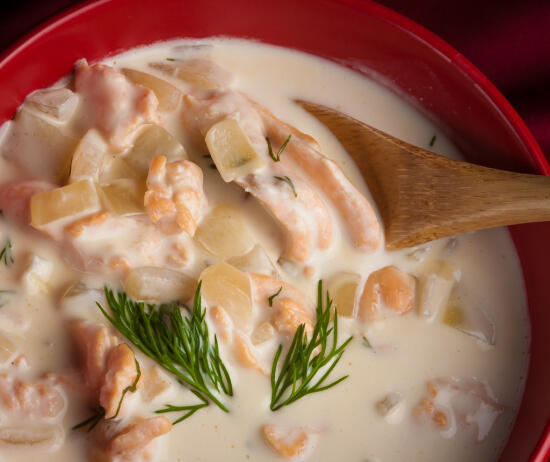 … with a yummy garlic soup base.
I adapted this recipe for garlic soup for the base of my chowder (because we LOVE garlic in this household), and then took inspiration from this salmon chowder recipe to figure out how to add the fish and potatoes into the soup.
Ingredients
1 tbsp rendered pork fat
1 onion, diced
12 cloves garlic, chopped
1 cup white wine
1 sweet potato, peeled and diced
1 quart chicken stock
1 1/2 cups heavy cream
1 fillet arctic char (about 1/3 lb), skinned, boned, and chopped
1 tsp dill, chopped
Cooking Directions
Melt the fat in a hot pan.
Add the onion and garlic, cook until caramelized.
Add the white wine, simmer, covered, for 10 minutes.
Add the stock and sweet potato. Bring to a boil, then simmer for half an hour.
Add the heavy cream, arctic char, and dill. Cook just a couple of minutes longer, until warmed through and the arctic char has turned a opaque light pink.
Enjoy with crusty bread or white rice.