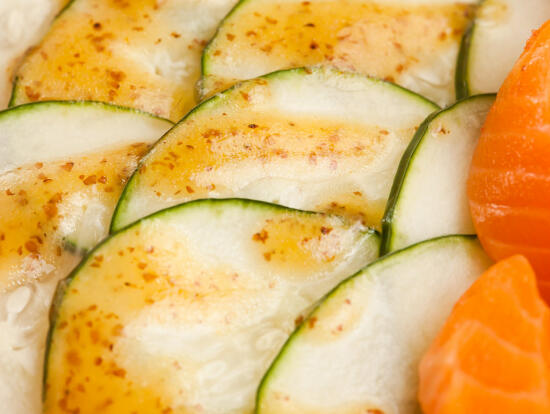 Marinated cucumber (with honey mustard vinaigrette)
I love simplicity. And I really love when simple dishes are fantastic.
These marinated cucumbers… I've been eating them as long as I can remember. My mom has always made them, and I believe she got the recipe from my grandmother (and I wouldn't be surprised if she got the recipe form her mother, who grew up in Japan).
They're so good with rice and fish. And so easy to make!
(In the picture, they were drizzled with a sweet mustard sauce, inspired by the one found on Steamy Kitchen. That recipe that I used can be found on Sushi Day.
Ingredients
cucumber
1/8 cup rice vinegar
1/8 cup sugar
1/8 cup water
Cooking Directions
Slice the cucumber very thinly (I use a mandoline).
Mix the rice vinegar, sugar, and water. Marinate the cucumbers in this mixture for at least four hours.
Discard the marinade, and enjoy the cucumbers!