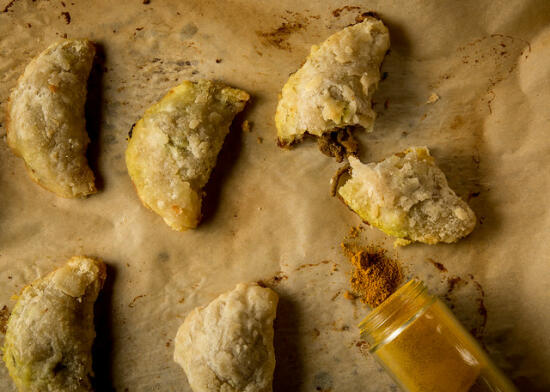 Shumai, har gao, char siu, xiao long bao. It wasn't always the case, but these days dim sum (and dumplings in general) are among my favorite comfort foods. (Seriously, is there anything better than a steamer full of xiao long bao – soup dumplings – on a cold rainy day, or the soft warmth of a char siu bao?)
Also among my list of foods that make me happy, pretty much anything that Jen Yu ever posts on her blog.
She posted these Chinese Beef Curry Pastries to Fridgg two years ago, and I knew I had to make them.
… which I did, a year later.
… and now I'm finally getting around to blogging about them, another year later.
I'm timely like that.
These do take a bit of time to make, what with the pastry dough and wrapping the dumplings, so this recipe would make a great weekend project.
Even better, get the ingredients for several batches (or different types of dumplings), invite a bunch of friends over, and have a dumpling party! (Also known as the best, and tastiest, way to get all your friends to do all the work.) Woohoo!
But whatever you do, don't be like me and take forever to get around to making these. They're wonderful, and delicious, and totally worth the time it takes to make them!
Chinese Beef Curry Pastries, from Use Real Butter
Ingredients
1 batch pastry dough
1-2 tbsp vegetable oil
1 onion, diced
4 tbsp curry powder
1 lb ground beef
4 tbsp shoyu (soy sauce)
2 tsp salt (to taste)
1 egg yolk
Pastry Dough
3 cups (15 oz) all-purpose flour
3/4 tsp salt
9 oz butter, chilled and cut into cubes
8-10 tbsp water
Cooking Directions
To make the pastry dough, mix the flour and salt together in a large bowl and cut the chilled cubes of butter into the flour until it resembles pea-shaped pebbles. Add water to the dough, one tablespoon at a time, tossing it with a fork to incorporate until it just begins to stick together when you pinch the dough between your fingers. Form the dough into a ball, wrap in plastic, and chill it for an hour in the refrigerator.
Heat the vegetable oil in a large frying pan and sauté the onions and a tablespoon of the curry powder in the oil until the onions begin to sweat. Add the beef, shoyu, and remaining curry powder. Cook until the beef browns. Stir in salt, to taste.
Preheat the oven to 450°F. Line a couple of baking sheets with parchment paper.
When the dough is fully chilled, set it on a floured workspace and roll the dough out to 1/8-inch thickness. Cut out 3-inch circles with a biscuit or cookie cutter. Combine the scraps, roll it out, and cut more circles until you are out of dough.
Place 1-2 tablespoons of beef filling on each circle of dough and fold the dough over (in half) to form a semi-circle. Pinch the edges together to seal the pastry (feel free to use fancy dumpling sealing techniques, if you know them). Set the pastries on the parchment-lined baking sheets. Beat the egg yolk and brush it over each pastry.
Bake for 12-15 minutes until the pastry turns golden brown. Serve hot. Makes 2-3 dozen (depending on how many circles you got from the pastry dough).
Enjoy!